Palm Treo 800w Review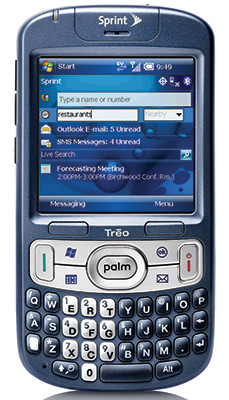 By: Ryan Kairer
July 23, 2008
The Treo 800w is Palm's first new Treo smartphone in over a year. Unlike its predecessors that were broadly aimed at the general prosumer category, the Treo 800w is squarely targeted at the business professional. As such, the Treo 800w packs in an array of features for the mobile road warrior combined with the IT friendly Windows Mobile operating system.
The CDMA powered device premiers on Sprint in the US. It is available now with a $250 debut price after the usual service agreements and rebates.
Design
The Treo 800w makes its debut on Sprint in a slate blue color with a pleasant soft touch finish. It continues to refine the standard Treo form factor. The front of the device is dominated by the recessed touchscreen, followed by the row of application buttons, navigational pad and QWERTY thumb-board.
The overall design of the Treo 800w is functional and classy. At 5 ounces its one of the more pocket friendly designs to come out of Palm, but its main drawback is the thickness. At .7" inches it is still quite stodgy, even by last years standards.
The ever convenient ringer silencer switch is present along the top. Just to the left of it lies the newly introduced Wi-Fi button. The left side contains the volume keys and customizable side button. The right side features the stylus silo, IR window and the microSD card door, which is attached by a rather flimsy plastic hinge. All of the aforementioned buttons are stylistically linked via a chrome band that wraps around the sides. The bottom of the device is much cleaner than devices past, with its smooth and solitary micro-USB port.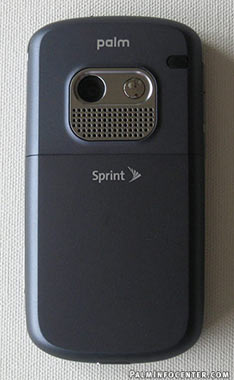 Palm's namesake and logo has been incorporated into to the 5-way navigator as it is on the Centro. The rest of buttons on the device have been nicely refined. All except the keyboard lay unobtrusively flush with the device. The back is relatively smooth yet quite grippy. The camera lens and silver speaker grill plate lie above the removable rear battery cover. The cover lacks any obvious release mechanism and presents somewhat of a challenge to slide off. It's a relatively minor annoyance, yet worst pointing out as reseating the battery is the sole means of rebooting the device.
The included stylus is by far one of the worst I've come across to date. The days of a balanced and metal styli are long gone, as this plastic excuse for a pointer is incredibly flimsy and bends in your fingers at the slightest application of pressure. Fortunately you don't need to use it that often however, a proper replacement stylus should be one of the first accessories any owner invests in.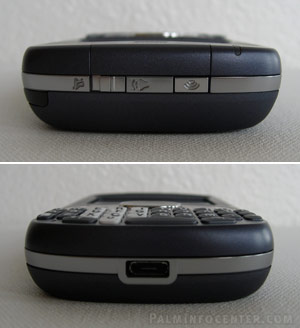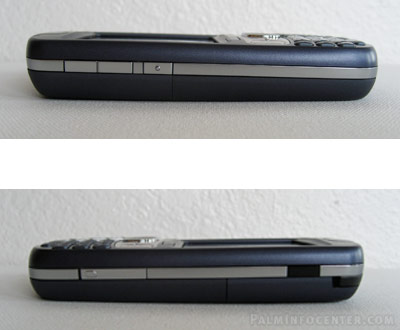 The 800w's dimensions are 2.28" (W) x 4.41" (L) x 0.73" (D) (58 x 112 x 18.5 mm) and it weights in at 5.0 oz (142 g). The unit itself is only a little larger than a Palm Centro and a healthy amount smaller all around than its predecessor the Treo 700w. Users migrating from a Treo 700 series or earlier device will see the most benefit as the 800w is much more compact and nearly 2 ounces lighter.
<!- TREO 800w SPECS TABLE ->
SPECIFICATIONS

Size & Weight:
2.28" (W) x 4.41" (L) x 0.73" (D) (58 x 112 x 18.5 mm); 5.0 oz (142 g)
Processor:
333 MHz TI OMAP 2131
Operating System:
Windows Mobile 6.1 Professional
Memory:
256MB user memory (170MB user available), 128MB program memory
Expansion:
microSD/microSDHC
Screen:
320x320 pixel; 65k-color; transflective back-lit
Audio:
mono rear speaker; microUSB out; Bluetooth A2DP
Power:
Replaceable Li-Ion Poly (1150 mAh)
Connectivity:
CDMA (EvDO Rev A), Wi-Fi (802.11 b/g/x), IrDA, Bluetooth (v2.0 + EDR); A-GPS
Treo 800w Hardware
The Treo 800w is powered by a TI OMAP 2431 application processor clocked at 333 MHz. The phone radio is a digital dual band CDMA (1900/800 MHz) unit utilizing a Qualcomm MSM6800A chipset. For wireless data the 800w supports EV-DO (Rev A, Rev 0 and 1XRTT) and Wi-Fi (802.11b/g). 128MB of RAM is dedicated to program memory and 256 MB is for user storage, of which 170 MB is actually user available.
System memory seems generous for a Windows Mobile device. However, with most competing devices now offering built in memory in the gigabyte range at similar price points, this is certainly on the lower end of the scale. Fortunately the microSD card slot is on hand which can support expansion cards up to 8GB and likely higher as they become available.
Processor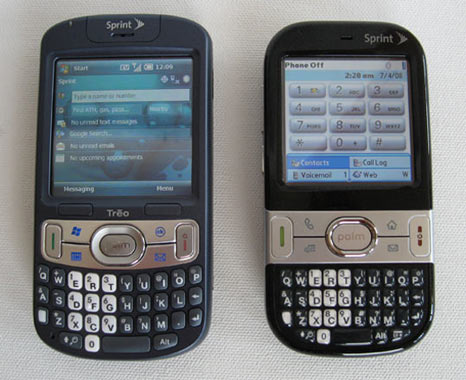 The Treo 800w clocks in at 333 MHz. While raw MHz isn't the most telling measure of performance, this is just a scant 21 MHz more than smartphones Palm released over four years ago. Overall performance is acceptable, however certain functions occasionally cause the device to stagger. Most menus and applications are quite responsive, but at times some seemingly common tasks could cause the device to struggle.
Browsing the (non mobile) web proved to be one of the biggest challenges for the 800w. The Internet Explorer browser typically didn't do to well with the many desktop sized web pages. IE has received a few improvements in WM 6.1, but these seemed to be nearly useless in practice. A new zoom feature is said to give you a desktop like overview of the whole page layout. Whenever I actually tried to use this functions it wound up being uselessly slow, furthermore you have to wait until the entire page has finished loading before it even becomes available.
Fortunately there are some promising alternative browser choices on the horizon for Windows Mobile such as Opera Mobile and SkyFire. I'd usually endorse Opera Mini as a viable alternative, however the 800w lacks a built in Java VM necessary to run it. Microsoft really needs to invest some time in Pocket IE if Windows Mobile is to remain competitive. Much like its desktop counterpart, its feature set and current level of performance and is largely behind what exists from alternative vendors and platforms today.
A few other tasks were also disappointing on the 800w. Word Mobile seems to take an unusually long time to create and open documents in the new Office 2007 native .docx format. Simply creating a new .docx document takes a minimum of ten seconds. Larger files took even longer to open on average. Working with Excel Mobile and other document formats did not produce the same delays, so this was somewhat of a minor annoyance. Another small thing that the device had trouble with was larger (100k+) html email messages. It had a hard time opening and scrolling through some email newsletters. A good majority emails are usually much smaller in size and are typically just plain text, so it's not always and everyday issue but is again another irksome symptom of the underpowered processor.
Wireless Data & Wi-Fi
Wireless data speed certainly doesn't disappoint on the Treo 800w. Equipped with the latest EvDO Rev A the 800w can pull in download speeds anywhere from 600 kbps to 1.4 mbps and uploads speeds in the range of 350 - 500 kbps under ideal conditions according to Sprint. In my testing location (coastal San Diego) my speeds averaged around 600-800 kbps according to the dsl reports mobile speed test. Speeds will often vary greatly depending on your area and signal circumstances. Browsing the web at these speeds was quite pleasant, but was even faster when using Wi-Fi.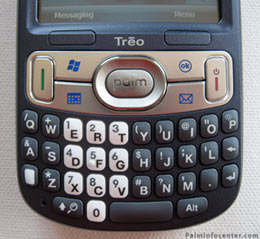 A major highlight for any long time Palm/Treo follower is the long overdue inclusion of Wi-Fi technology. The Treo 800w supports both 802.11 b/g networks as well as 802.1x (EAP-PEAP, EAP-TLS and EAP-TTLS). Palm has made it incredibly simple to setup and manage Wi-Fi connections via a dedicated Wi-Fi button on the top of the device with can connect to open or known networks and power down the Wi-Fi radio via the touch of a button.
The Wi-Fi wireless works well and doesn't seem to be as big of a power drain that you would expect, largely thanks to Palm's optimizations and the efficient Wi-Fi button. This is a well thought out feature that greatly simplifies and eliminates the complexity of managing the typical Wi-Fi process.
Display
With the 800w, Palm's Windows Mobile powered line now equals Palm OS Treos of years past in terms of screen resolution. The 320 x 320 pixel touchscreen is significant improvement over the former 240 x 240 grid of old. Text and graphics are much enhanced. Most curiously, the option for ClearType is not turned on by default. The setting (found in: Start - Settings - System - Screen - ClearType) provides for vastly improved, systemwide anti-alised text and should be the first thing new owners enable.
The display quality itself is adequate. The screen's surface is plastic and requires more of a push than I'm used to on other touch screens. I also have to set it to at least 80% max brightness just for it to be acceptable in most circumstances. That said, it does hold up well outdoors and in direct sunlight.
Keyboard
The keyboard is up to the usual Treo standard. If you're used to the Treo line, it really doesn't differ too much from previous incarnations. Among the front-facing thumb board set, the Treo design remains one of the better ones out there. The keys aren't gigantic by any means, but they are spaced well enough that most people will get by at a reasonable speed without too many errors.
Camera
The 800w includes a 2.0 megapixel digital camera. It can take photos at a max resolution of 1600 x 1200 pixels and has a 2x digital zoom. It can also shoot video clips at either a 176x144 or 320x240 resolution and the length is only limited by the size of your memory card. You can manually adjust the brightness settings by pushing right or left on the d-pad, and the program will let you save to pics internally or to your microSD card. The camera quality is pretty standard for a smartphone. It shoots semi-decent pictures in bright, well lit situations and fails miserably in poorly lit, dark conditions. Outdoor scenes and good natural lighting conditions will give you the best results but without the ability to focus your results may be mixed. The following are a few raw, uneditied shots taken with the Treo 800w in various lighting situations:
<!- CAMERA EXAMPLES ->
Battery
The Treo 800w is equipped with a Lithium-ion 1150 mAh removable battery. This is the exact same pack that is in the entry level Palm Centro. It is rated at an imaginary talk time of 4 hours talk and 200 hours standby.
The 800w is a much more powerful device and frequent use of its wireless features take their toll on the relatively modest power cell. Given that fact and keeping the amount of features in mind, battery life was tolerable, but by no means great. Heavy Wi-Fi users and anyone who plans to leave on push email services while on the clock will likely be recharging daily. More common usage patterns will likely be able to get by with a top up every other day or so. If the 800w does have one thing going for it in the battery department, it's that it does recharge rather quickly.
Treo 800w Software
The Treo 800w is running Windows Mobile 6.1 Professional Edition. The on device version number of my review unit was listed as CE OS 5.2.19216 (Build 19216.1.0.5). The Palm Software version was Treo800w-1.03-SPNT (hardware version A, Firmware version 116). Windows Mobile provides a robust multitasking environment and 6.1 brings new support for enterprise functionality. There is also a wide range of Windows Mobile software available theses days and the overall OS is reasonably customizable.
What good is a laundry list of features if you can't tie them all together in a truly useful manner? Except in a few areas (ahem... web browsing) the 800w stands far above many other Windows Mobile clones in usability largely because of Palm's software customizations. These include all the useful today screen plugins that first debuted on the Treo 700 series as well as improved shortcuts and call management, the excellent threaded sms application, voicemail controls, ignore by sms feature, the ability to easily search the web, contacts and business right from the home screen. Little things such as the dead simple keyguard operation go a long way towards a more pleasant smartphone experience.
GPS
The Treo 800w contains another first for Palm with the inclusion of a built in GPS (Global Positioning System) receiver. The 800w uses an Assisted GPS system for improved accuracy and faster positioning fixes. The primary benefit is that GPS start up times are very quick for a mobile device, but it also requires the cell radio to be operational as most of the work is handled by the cell tower. Signal acquisition times were fast, generally under 30 seconds, and it even performed well when indoors.

Palm created an easy to use plugin situated right on the today screen to simplify location based searches. You can simply type in a business name or point of interest topic and it will automatically determine your location and give you a list of nearby results along with contact and directional info. It's nice that you don't even have to activate GPS or configure anything, it simply works. In addition, the point of interest results are always up to date as they pull down the latest information from the Internet. To get more sophisticated turn by turn, voice guided directions on the Sprint 800w, you have to purchase the Sprint Navigation package or another third party solution. Google's free Google Maps application for Windows Mobile also works well and supports the gps functionality.
Messaging
Since this is a business class device, much of the focus is around email. The 800w ships with the standard Windows Mobile Pocket Outlook as its default email application. Pocket Outlook provides nearly everything you'd need to stay on top of your corporate email, calendar and contacts. Out of the box Exchange support with Microsoft Direct Push Technology is present along with the usual POP3 and IMAP protocols. HTML support, native Microsoft Office documents, PowerPoint and PDF and zip file attachment support are also fully accounted for.
The Treo 800w connects directly with Exchange Server 2003 SP2 or 2007 and can easily work within a company's existing Microsoft infrastructure. Windows Mobile 6.1 also includes improved enterprise functionality including support for System Center Mobile Device Manager 2008 which helps administrators manage phones similarly to a Windows-based PC or access company data via a mobile VPN; and support for Exchange Server 2007 SP1 advanced mobile policies.

Multimedia & Entertainment
A pocket version of Windows Media Player is built in for basic video and audio playback. While it does a fairly decent job with streaming media and video playback, it offers only limited support for a few file formats and codecs. Media Player is also not very YouTube friendly, as it could not stream videos from the mobile version of the site at m.youtube.com. Browsing the media library is also somewhat unintuitive. Again you're left to third party solutions such as CorePlayer to pick up the slack.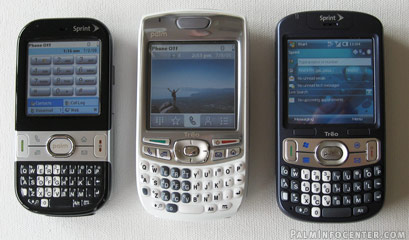 A major obstacle to anyones multimedia enjoyment on the 800w is the complete lack of a standard audio out port. The micro USB 2.0 port is used for power and data transfer and is the sole means for audio out via the included headset. There is no 3.5 mm stereo headphone jack or even the more common 2.5mm ports seen on phone's, so forget about using your own existing earbuds. Palm doesn't even see it fit to make an official adapter accessory available. There is a $15 dual power/audio adapter, but this only gives you an additional microUSB port, not a headphone jack. This is quite disappointing and a major inconvenience for anyone that regularly uses their smartphone for music or movies. The Bluetooth A2DP stereo audio profile is present, but I hope a third party vendor will come to the rescue of wired headset users.
There are also some nice extras included on the Sprint Treo 800w. In addition to the Windows staple games Solitaire and Bubble Breaker, a full version of Astraware Sudoku and Aces Texas Hold'em Poker are included on the device. Sprint also adds a copy of Handmark's Pocket Express news and information service, Sprint IM, Sprite Backup and the Sprint TV service which includes over 50 channels of live television and special programming.
Conclusion
Designed with the mobile productivity in mind, the Treo 800w is a business friendly device that offers a solid base to build upon. Despite its periodic performance bottlenecks and lack of attention to multimedia, the Treo 800w easily bests most other Windows Mobile powered devices in overall usability. For the most part the 800w makes up for its deficits with the sheer amount of functionality it brings together in one device. There is a lot to like yet also a good amount to nitpick, but when you look at the overall package this is a respectable addition to Palm's smartphone lineup.
The Treo 800w is available today for consumers and businesses at Sprint Stores, online at Palm.com and through Sprint or Palm's B2B sales organizations. It will be available for $249.99 after discounts and rebates with a two-year contract. Its regularly sells for $599 without a contract.
Article Comments
(40 comments)
The following comments are owned by whoever posted them. PalmInfocenter is not responsible for them in any way.
Please Login or register here to add your comments.