Treo 755p Review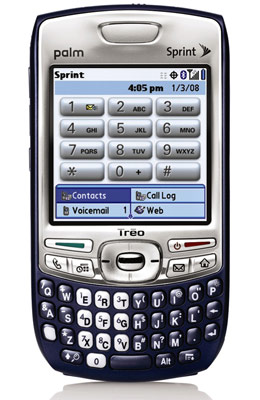 By: Ryan Kairer
May 16, 2007
© PalmInfocenter.com
The Treo 755p is the latest Treo smartphone from Palm and the first new model released in 2007. The 755p essentially combines the software and features of the Treo 700p with the slimmer, antenna-less 680/750 form-factor. The 755p aims to take its place as the new flagship Palm OS Treo, sporting 3G wireless speeds with a lighter form factor and more attractive case design. It premiers first on the Sprint Network in the US, with Verizon expected to eventually offer it as well.
The Treo 755p is available in two different colors from Sprint, midnight blue and burgundy. The midnight blue model is a slightly lighter shade of blue than the Treo 750's navy blue hue. The choice of colors on Sprint reminded me of the m505 "patriotic editions", that Palm released in late 2001. The outer casing is made of the smooth and grippy "soft touch finish" material also found on the Treo 750 and 650 Black Tie edition. Overall, this finish gives the 755p a excellent feel in the hand and a grippier quality that clings to surfaces better than standard plastic found on earlier devices. It also has some improved hand ergonomics, with its more angled in sides on the back.
The nicest element the 755p's design is the slimmer and lighter form factor. While it doesn't seem like much of a difference on paper, the new size is a welcome change and noticeable difference in your pocket. Compared to the Treo 650 or a Treo 700p, there is a noticeable difference in weight, not so much with the thickness. The 755p is 2.3mm slimmer, but still a bit on the thick side for a mobile phone.
The very top of the 755p contains the famous and ultra convenient silent mode switch. The left side has the volume keys and a customizable side button, which is set to activate the voice recorder by default. The right side holds a side mounted IR window and the memory expansion slot covering. A small door opens to reveal the miniSD expansion slot. The door is easy to access and remains hinged to the side via two flexible rubber joints. Gone are the days where you have to worry about the memory card becoming loose in your pocket as it is kept secure behind the cover.
On the front facing top is a small "hidden" LED. The LED has been cleverly blended in with the silver finish. It's still in the same spot to the left of the Palm logo, however it can only be seen it when it is actively illuminated. The LED provides notifications for alerts such as new messages and low power and lights up when the phone radio powers up and during charging.
In the center top front is the main phone earpiece speaker. That's followed by the touch screen display, the application and phone buttons array, the 5-way navigator and the thumb keyboard. Along the very bottom is the 2.5 mm headset port, charging and hotsync connectors and the phone mic.
The center 5-way navigator is a bit larger and has more of a inward curve to it making it a little easier to grip and thumb around with. The row of application buttons below the screen are user changeable and by default take you to the Phone app, Agenda view (calendar), Email and Home (programs). Hitting the blue option key before tapping a button gives you a few more shortcuts which you can also customize individually. The app buttons are now literally paired up together on each side, though they still operate independently. The home button has a new feature if you hold it for a few seconds it pops up with a list of your last 8 apps so you can quickly jump between apps.
The Treo 755p has the now standard green and red dedicated send/end call buttons just below the display. The red end key also turns the screen on and off and activates the keyguard. You also hold down the red phone key for a few seconds to turn the phone radio on and off.
The keyboard has rounded square-ish thumb keys in the usual smile pattern arrangement. This time around the keys are a slightly smaller and packed in just a bit closer together. Palm has even changed to font used on the keys to the letters fit better. I didn't notice a big difference in typing speed or accuracy. The overall thumboard experience wasn't any more difficult than earlier models, but its worth pointing out even if the changes are relatively minor. The backlighting on the keyboard and buttons is bright and consistent and the keys have a nice white illumination. They keys themselves feel very solid and sturdy.
The stylus silo is in the usual top rear corner the back, while on the opposite corner is a black rubber cover for the internal antenna. Just below that in the top center of the back is the speaker grill, camera lens and portrait mirror assembly. The stylus included is comprised of mostly black plastic, with a chrome metallic grip at the end. The stylus has a cheap flimsy feel and is especially "bendy" at the top. This is probably one of the worst styli to come with a Treo to date, but since its so rarely used and not relied on for input, it's not so much of a big deal.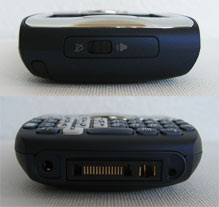 One interesting design change is the removal of the reset button. You're simply expected to remove the back cover and disconnect the battery in order to reboot the Treo. The same procedures apply for hard resets, simply remove the battery while holding down the power button as the device restarts.
Size wise, the Treo 755p has dimensions of 4.4" x 2.3" x 0.8" inches (111.7 x 58.4 x 20.3mm) and weighs in at 5.64 ounces (160g). It shares the exact same dimensions as the 680 and 750, and is only a negligible 0.2 ounces heavier.
755p Hardware
SPECIFICATIONS

Size & Weight:
4.4" x 2.3" x 0.8" inches (111.7 x 58.4 x 20.3mm); 5.64 ounces (160g)
Processor:
312 MHz Intel PXA270
Operating System:
Palm OS Garnet v5.4.9
Memory:
128 MB nonvolatile RAM; (62.8 MB user accessible)
Expansion:
miniSD slot
Screen:
320x320 pixel; 65k-color; transflective back-lit
Audio:
2.5mm jack; rear speaker
Power:
Replaceable Li-Ion Poly (1600 mAh)
Connectivity:
CDMA (1xRTT, EVDO Data), Multi-Connector, IrDA, Bluetooth (v1.2)
Inside, the Treo 755p is powered by a 312 MHz Intel XScale processor. This is the same chip found in the 650, 680 and 700p. It also features the same amount of internal memory as its predecessor with a 128 MB non-volitile (NVFS) chip for program memory of which 60 MB is user-available for storage. The miniSD memory expansion slot can accommodate standard and minSD SDHC cards up to 4 GB in size.
Display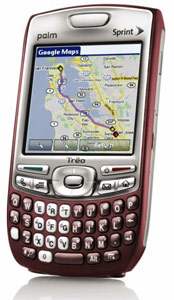 The display is the standard Palm OS Treo 1.74" x 1.74" inch, 320 x 320 pixel TFT screen that supporting up to 65,000 colors. The display seems identical to the one found on the 700p. It's a nicer screen than the Treo 650 and 750, but falls a little behind when compared to the 680 display, which offers better whites and more accurate colors. Other than that no complaints, as the 755 still retains the advantage over most other smartphones on the market in display resolution. The screen gets good marks for viewability in outdoors and in direct sunlight, and is plenty bright for daily use even on the middle setting of the brightness slider.
Phone
The phone uses a (850/1900 MHz) CDMA radio. The 755p can access high speed EVDO wireless data networks and can fall back on a 1xRTT connection when out of range of an EVDO signal. Current EVDO speeds average around 300-600 kbps for general web surfing, and you can get bursts of up to 2 mbps when downloading larger files. Of course speed will vary and depends on a number of conditions and signal strength. You can also use the Treo 755p as a wireless modem for your laptop or desktop computer via Bluetooth or USB cable.
Phone call quality seemed excellent in our informal tests. I never experienced much trouble with noise or other problems hearing other callers. Call volume through the main ear-speaker was loud and clear. The volume was a definite improvement over previous models which could be notoriously soft. Signal quality also seemed agreeable, even with the new internal antenna design. The speakerphone was also adequately loud and actually seemed a bit clearer.
The FCC report shows there has been little improvement in the SAR rate. SAR is a value that corresponds to the maximum relative amount of RF energy absorbed in the head of a user of a wireless handset. The GSM Treo 650 and CDMA 700p ranked among the highest radiation mobile phones in the US with a SAR of 1.51 and 1.48 W/kg respectively. The 755p comes in at 1.46 W/kg.
The 755p includes a 1.3 megapixel digital camera built into the rear of the device next to the speaker grill. It can take photos at a max resolution of 1280 x 1024 pixels and has 2x digital zoom. It can also record video clips with audio at a 352 x 288 resolution. The camera quality is pretty standard for a phone-cam. Outdoor scenes and good natural lighting conditions will give you the best results, while indoor and low light scenes will often yield unexpected results. While the megapixel rate is the same as the 700p, I think this model does a little better in low light indoor situations. Below are a few raw, unedited Treo 755p photo examples taken at the maximum resolution in various lighting conditions (sunny landscape, shade, indoors, closeup):
The 755p also has Bluetooth v1.2. This allows for wireless accessories such as GPS navigation kits and wireless Bluetooth headsets. Palm says users can expect increased compatibility with Bluetooth devices over previous models. Native Bluetooth stereo A2DP support is still missing, but there is always Softick Audio Gateway.
Audio
Like previous Treos, the 755p has a dual speaker design, with the front earpiece speaker used for phone calls only while the rear handles the speakerphone, sysytem sounds, games and music. If you want to listen to digital audio via a headset with standard headphones you'll need to use a 3.5mm stereo adapter accessory. The rear mono speaker is well placed just under the camera and can get quite loud. It works well as a small portable stereo, but won't do so well in a noisy environment. There is a varied selection of ringtones that can also be used as alarm sounds. The sound manager application allows you ro record your own custom audio clips that can be used for ringtones and alarms. You can also transfer most .wav and midi files via Bluetooth, beaming or hotsync from your PC for use as ringtone sounds. A new freeware utility has been released that will let you create mp3 ringtones on the device from your personal collection.
Battery
One unique feature the 755p brings is a larger capacity battery than its sister models. It packs in a 1600mAh battery. This is larger than the 680 & 750's capacity, though it's 200mAh less than the original 700p battery. The battery resides in a slightly deeper battery cavity than the 750/680 due to the smaller memory card format and lack of a SIM card tray. Palm claims a continuous 4.2 hours talk time. In my regular real world usage patterns with a few brief phone calls a day with sporadic web, email and other software use, I saw about a two and a half day max battery life between full charges. Generally, I'd expect to have to charge every other day on a regular basis/ If you use the phone frequently or make use of the push email functionality you'll definitely experience a much shorter life-span. Since everyones individual usage pattern will vary it's tough to make an overall call on battery life. It still fairs about the same when compared with the Treo 750 and 680, even with the larger battery size.
Software
The Treo 755p runs the Palm OS Garnet operating system v5.4.9. There have literally been no major or even minor changes to the OS that I am aware of, as has been the case for some time now with Palm OS Garnet. The 755p basically includes the same set of software as found on the 700p, with a few updated apps and additional third party add-ins.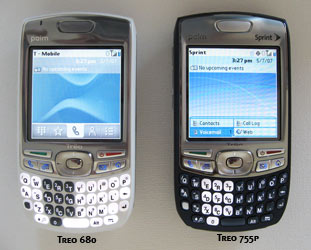 One odd aspect of the 755p is that it includes the same phone dialer and call management software as the 700p and not the new and improved suite from the Treo 680. It's a perplexing that Palm could not dedicate the resources to take advantage of its own improved dialing and calling interface.
Phone Functionality
The Phone application is the main center of of the Treo's phone functionality. It provides phone information such as signal strength, new email and message indicators and can be setup to show your next appointment as well as display a custom wallpaper or number pad. It also controls dialing, call logs, viewing contacts and accessing your favorites shortcut buttons. From here you can simply start dialing numbers, or type in letters and it will display a matching contact list. The favorites function allows you to setup quick shortcuts to frequently dialed numbers, groups of contacts, device applications, emails and web links. It has a scrolling animation when you expand the list, which can store up to 70 custom buttons.
With the addition of the dedicated green and red send/end buttons, initializing and ending calls is more straightforward. Tapping the green phone button from within the phone app will bring up a shortcut list of your recently dialed calls and can jump to your call history or the numeric dialer. When a call is in progress, call related options and functions are available as large on screen buttons. With one click you can start a conference call, mute the mic, switch lines on call waiting or exit out to the device to lookup something in your datebook or other application and remain on the call.
When you have an incoming call, the phone displays the name and caller picture (if you have one assigned). On the Sprint model, if the number is not found in your contacts, the screen will show which US state the call is coming from based on the area code. The "Ignore by Text" option is also present on the incoming call screen. This feature enables you to decline a call and quickly type in an sms message letting the caller know you are busy with a text message note. Another unique and useful feature on the Treo is that it will ask you to save unknown numbers as new contacts or add to an existing contact when you dial or receive a call from a number not already stored on your device.
Another excellent aspect of the Treo is the design of the messaging application. SMS conversations are saved and viewed by each individual person in an IM threaded chat style view. When composing a new text or mms message the software will automatically bring up your lists of contacts so you can just type the first few letters or numbers of a recipient and it will show matching numbers and email addresses from your list of contacts. Attaching photos and voice memos to multimedia messages is pretty painless and quick.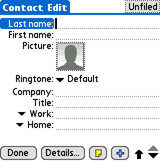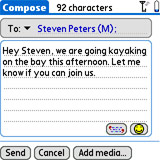 The Sprint model includes a new IM application. It's actually just a shortcut icon that points you to a free, over the air download. The app supports AOL IM, MSN/Windows Live and Yahoo! Messenger. The Sprint IM app actually charges you by the message, and each message sent goes for the standard sms fee of 15 cents per. If you have an unlimited messaging plan the fee's aren't likely to be an issue, without one it can get expensive pretty quickly. Most heavy IM users would be better served with a more economical and feature-full app such as Mundu IM that has a one time upfront fee and no messaging charges.
Also included on the Sprint Treo 755p (Verizon may not offer the same features), is a download link for a trial version of Mobile Voice Command. Mobile Voice Command works as a voice dialer and voice command recognition utility. It works by holding down a key, by default the third side key, and issuing voice commands such as "Call Bill at Work", "Add Appointment, meeting with marketing at 10 AM" or "goto website google." It worked pretty well in our tests, but had trouble in noisy situations and with some more complex names. If you decide to keep it, Sprint is selling it as a monthly subscription. Sprint also includes a copy of On Demand, which is a customized version of Handmark Express. On Demand provides a mobile optimized interface to browse news, sports information, stocks, maps, weather forecasts and reference material, definitely a nice touch and handy app to have around.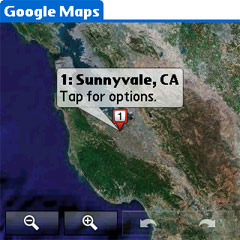 Palm has also worked out a deal to include Google Maps application with the device. Google Maps for Palm OS is also available for other Treos but the 755p is the first device to include it in the rom. The programs works just like the web service and includes worldwide maps and satellite photos, driving directions, local business searches and traffic data for select US cities. Palm also added a "map" button to the contacts list, that will open up Google Maps and display your contacts location on a map.
Palm usually includes a new game or two with each device on the installation CD, however this time around the a popular title is included on the device. A full version of Astraware's Bejeweled is included in the device rom as well.
Spint's 755p includes a SprintTV streaming media application. This app includes a number of subscription based channels that you can stream to your device, similar to MobiTV. I was rather disappointed with this service as there is a limited number of channels to choose from. They are also mostly sold individually and are on the expensive side with monthly subscriptions fees for about $3-6 a month. While there are a few well known channels, most are stripped down mobile editions with brief clips and highlight shows that loop throughout the day, as opposed to actual live TV feeds. You can also subscribe to some music channels as well as SIRUS satellite channels. SprintTV does not support background play, so if you leave the app it will stop streaming.
When you get a Treo, you also get the full range of classic Palm OS PIM apps. The PIM suite includes the usual contacts, calendar, to-do list and memos. Other programs included are: Voice Recorder, My Treo, Calculator, HotSync and World Clock. Don't forget, there are thousands of commercial titles, freeware applications and games available for the Palm OS platform that you can download and install to your device in addition to what is built-in. There are also a lot of treo specific programs and utilities from the active developer community that can do a lot to improve and extend your smartphone functionality.
The version 8.002 of Dataviz's Documents to Go is included in the rom as well. Docs to Go supports creating and editing native Microsoft Word, Excel and Powerpoint files. v8 also includes PDF to Go, which is a native Adobe PDF document viewer. You can view and edit office files received from email attachments, stored on SD or beamed and transfered to the device from your home computer. Docs to Go also comes with a hotsync client that can keep your documents in sync with your desktop. v8.02 is not the latest version and does not support the new Office file formats introduced with Microsoft Office 2007. For those features you will need to purchase Documents to Go v10.
Pocket Tunes is included on the device for MP3 digital audio and music playback. Owners will have an option to upgrade to Pocket Tunes Deluxe for WMA/PlaysForSure compatibility which allows you to subscribe to some online digital music stores. Pocket Tunes works well and has robust support for playlists, background play and sorting through artists and tracks on SD cards.
The 755p also includes the nice streaming media features that debuted on the 700p. Both video and audio streaming over the Internet is now built in. You can access many common live radio and video streams from the browser. For instance, you can navigate to npr.com in the web browser and click on the 'live audio link' the media player will launch and start streaming NPR's live radio feed to the Treo. You can also visit a some movie preview websites such as Netflix.com and watch the streaming movie trailers. Unfortunately, flash video based websites such as YouTube and Google video do not work without additional third party media programs such as the Kinoma Player.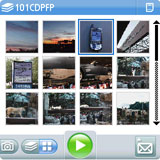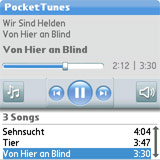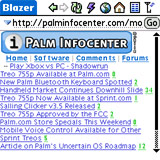 Email
The latest version of Versamail (v3.5.4) is included for email. This version brings out of the box support for Microsoft's Direct Push Technology with Exchange Server 2003 with SP2 or Exchange Server 2007. This provides automatic wireless updates of email, calendar and contact information directly to the device and the ability to sync with Exchange based systems. It also supports regular It supports POP3 and IMAP accounts. There are built in settings to quickly setup Gmail, Yahoo Mail, hotmail, .Mac, AOL email and other providers.
Web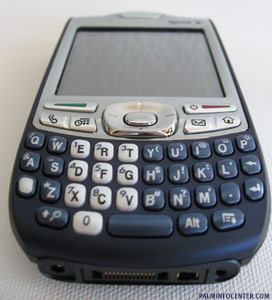 Blazer v4.5 is included for browsing the web. This is the same version from the 700p and 680, so no improvements or work has been done here either. Blazer is a decent browser for the most part, but can sometimes take a long time to render and display larger non mobile optimized websites. It does a good job of reformatting content for the smaller screen and when combined with EVDO can be speedy on some sites. The main drawback is the time it takes to display some larger more complex graphical sites, even with a faster EVDO connection. It was an exceptional browser a few years ago, but is really starting to show its age and development has been sparse. Competing devices have shown more improvements in mobile web browsing, while Blazer has received only relatively minor improvements over the past 4 years or so.
The software CD includes the Palm Desktop v4.2 for Windows XP/2000 and Mac OS X (10.2 and above) as well a Microsoft Outlook synchronization conduit for Windows. Microsoft Windows Vista users may experience some incompatibilities with the current version of the Palm Desktop. Palm has promised to release a new beta version of the Palm Desktop sometime this summer to restore full compatibility.
In addition to the usual Quick Tour feature guide, Palm has included a electronic version of the entire user manual on the device. Located within the My Treo application, it also provides a usage guide that helps explain how to perform various functions with the Treo.
Palm is expanding is new device tech support program and includes free, live telephone customer help desk support for 90 days after the purchase date. This is a great service that is intended to help new smartphone users get their devices setup properly. Customer service agents will answer questions and help troubleshoot any issues from setting up email accounts to customizing ringtones.
Summary
The Treo 755p offers very little new in terms of technology and design, yet it remains one the most powerful and easy to use smartphones available. The 755p is a nice minor update from the 700p, but as a power user I wish more had been done to improve the software and overall user experience. Nevertheless, the 755p is a good choice for people looking for a productive mobile device, as it continues to offer Palms blend of an excellent user experience with the ease of use and software choice the Palm OS platform provides.
The Palm Treo 755p will be available beginning mid-May from Palm stores and online at Palm.com. It also will be available from Sprint beginning at $279.99 after available discounts and promotions. It is available for $579.99 without a service plan.
Article Comments
(59 comments)
The following comments are owned by whoever posted them. PalmInfocenter is not responsible for them in any way.
Please Login or register here to add your comments.

Only the first 50 comments are displayed within the article.
Click here for the full story discussion page...