Palm Centro Review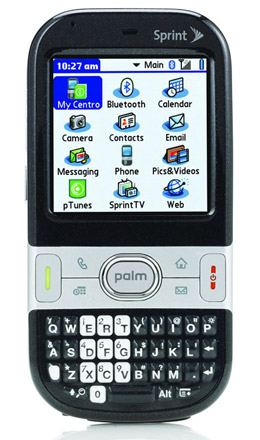 By: Ryan Kairer
October 18, 2007
© PalmInfocenter.com
The Palm Centro made its debut in Fall 2007 as the smallest and lightest Palm OS based smartphone to date. It is the third new model from Palm this year after the Treo 755p and Treo 500v. Palm basically took all that's good about the 755p, and packed it into a much leaner and lighter body. The Centro brings a number of high end smartphone features including 3G wireless data and a full qwerty keyboard into the $99 range.
Presently traditional smartphones only make up a miniscule 5% of the US market for mobile handsets, estimated to be around 8 million sold annually (IDC). Of course the number of smartphones sold is widely expected to climb, but Palm's hopes today are that the Centro's new looks and low price will help them to tap into and compete with the significantly larger "feature phone" market segment which is in the 160 million unit range in the US alone.
The approach with the Cento is to appeal to a younger demographic by functioning as a personal communications device first. More than likely the fresh design and smaller form factor will appeal to new and first time smartphone users, who may have been put off by the bulk and business like reputation of previous devices.
Design
The Palm Centro is initially available in a choice of two colors from Sprint, onyx black and ruby red. The casing is a smooth plastic with silver trim accents that wrap around the sides, back and front buttons. The cases colors have a nice subtle sparkle finish to them when viewed up close. Overall the new design is a good refinement of the classic Treo form factor, though the Centro does have a much more plasticy feel to it than previous Palm devices. Palm still can't seem to make it much thinner, but the compactness and pleasantly symmetrical rounded design of the Centro provides a positively smaller impression.
Present along the top of the device is the ever convenient silent mode switch. On the top of the front is a small LED charge indicator and the ear-speaker along with the Sprint logo. The screen is followed below with a newly designed flat button array. Again the screen is sunken a few millimeters into the body of the device. Making the screen flush with the surface of the device (a la iPhone) would to a tremendous amount to make this a much more classier sleeker looking device. That said, the buttons are mostly flush against the surface and do lend a nicer, smooth look. The circular racetrack directional pad protrudes out a bit and hides a fittingly subtle Palm logo on the inside center selector.
The sides of the device are mostly smooth with the aforementioned chrome-ish silver band running around the perimeter. The left side contains the volume buttons and customizable side key, while the right consists of the now seldom used IR window and hidden memory card door. The memory card door is a bit of an unintuitive design peculiarity as you can't access it without first removing the rear battery cover (more on that later).
The bottom of the device has the 2.5mm headset jack, the "athena" multi-connector and power port and the mic inlet. An odd addition is a new lanyard loop. This is a small little post where you can attach a wrist strap or one of those "phone charms" that are so popular in Japan. Sony used to include one of these on each of their Clie PDA devices, however I don't think I've ever seen one of these on a Palm device before.
I have to give Palm poor marks for the rear of the device with the removable battery door being the primary culprit. Even when attached normally the door feels somewhat squishy and will exhibit a tendency to creak and flex when held tight. It is also a magnet for fingerprint smudge buildup with its glossy sheen. Sliding it off can be a real challenge as well as there is no specific point to apply pressure in order to create friction to disengage the cover. It can also be awkwardly difficult to get the door back on as it is not very intuitive how to reattach it properly. Normally this wouldn't be so much of an issue, but in order to access the memory card door and to reset the device you have to physically remove and replace the back cover.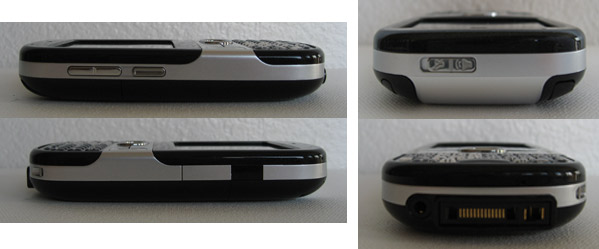 The included stylus is one of the flimsiest I've ever seen included with a device. It's a good thing it's not used very often, as this one is only slightly thicker than a toothpick and easily gives to pressure. The Centro also continues the recent no reset button policy. One must simply disconnect the battery in order to reboot the Centro. The same procedures apply for hard resets, you have to remove and reinsert the battery while holding down the power button as the device restarts.
SPECIFICATIONS

Size & Weight:
4.22" (L) x 2.11" (W) x 0.73" (D) (107 x 54 x 18.5 mm); 4.2 ounces (119g)
Processor:
312 MHz Intel PXA270
Operating System:
Palm OS Garnet v5.4.9
Memory:
128 MB nonvolatile RAM; (68.8 MB user accessible)
Expansion:
microSD slot
Screen:
320x320 pixel; 65k-color; transflective back-lit
Audio:
2.5mm jack; rear speaker
Power:
Replaceable Li-Ion Poly (1150 mAh)
Connectivity:
CDMA (1xRTT, EVDO Data), Multi-Connector, IrDA, Bluetooth (v1.2)
Centro Hardware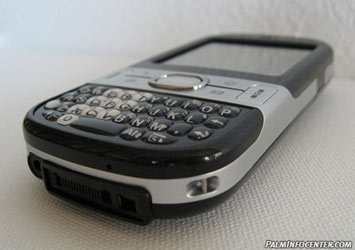 The Centro is powered by a 312 MHz Intel PXA270 XScale processor. This is the exact same chip found on all previous Palm OS Treo models since the Treo 650 was released in 2004. Palm must have made some positive changes to boost performance because the Centro feels slightly more responsive and snappy, compared with its predecessors. You can move around the OS with less lag and switching between apps actually feels a bit faster. This is most likely attributable to improvements made to the internal memory architecture and file system, however I can only speculate as Palm won't comment on any specifics regarding performance and says the Centro's internals are similar to recent Treo's. It also seems like stability has been addressed as well as the Centro did not spontaneously reboot on me through the course of my evaluation.
A 128 MB non-volitile (NVFS) chip is on board for program memory, of which about 68.8 MB is user-available for storage. CorePlayer reports the dynamic heap as 8097 kb. A microSD slot is present for memory expansion which can accommodate microSD cards up to 4 GB in size.
Display
The Cento has a 1.56" x 1.56" inch, 320 x 320 pixel TFT display that supports up to 65,000 colors. It's a nice screen and the smaller size isn't an impediment, it actually looks a lot sharper due to the increased pixel density. It's also plenty bright and is more than adequate for daily use when toned down to about 50% on the brightness slider. The screen does tend to wash out a bit in bright, direct sunlight, but is still readable. My hat goes off to whoever figured out or thought to remove the useless 2 pixel white border that commonly surrounds the displays on Palm OS devices. This is actually the first color Palm OS device I've seen that does away with this odd border artifact.
Keyboard
Palm calls the Centro one of the slimmest candy bar form-factor phones with a full qwerty keyboard. In order obtain the smaller size the keyboard area and keys had to be condensed. The spaced out smile arrangement has been reworked into a miniature linear grid of clear bubbly like domes. Not only are the keys smaller, but they are packed in much more tightly as well, only a fraction of a millimeter apart.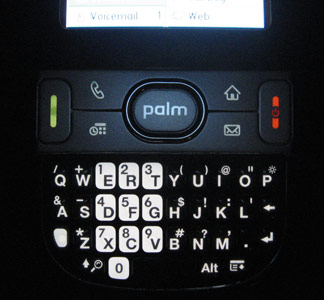 Despite the smaller size and arrangement, the keyboard is still quite usable, but requires adjustment. I wouldn't call it a deal-breaker, however I definitely found myself making more mistakes and typos than usual, but I improved over time. The Centro does work well for the quick IM, sms or email but it takes much more concentration to produce error free typing. If email and document editing is your primary motivation for buying a smartphone, you would be much more comfortable with a device with a larger keyboard such as the Treo 755p. After using it exclusively for awhile going back to my 680's keyboard felt like a world of difference.
Phone
The phone uses a digital dual band (850/1900 MHz) CDMA radio. The Centro can access high speed EVDO wireless data networks and can fall back on a 1xRTT connection when out of range of an EVDO signal. Current EVDO speeds generally average around 200-600kbps, bursts of up to 2 mbps are possible when downloading larger files. Of course, actual speeds will vary depending on signal strength and other conditions. You can also use the Centro as a wireless modem for your laptop or desktop computer via Bluetooth or USB cable if you have the appropriate data plan.
Palm has finally made some good improvements to the phone experience. Call volume through the earpiece is now sufficiently loud. Treos have had a notoriously soft earpiece volume in past incarnations, which is why apps like VolumeCare are consistently among the best sellers. The overall volume is now quite loud and seems clearer as well even when maxed out. Phone call quality was also good in my informal tests. I never really experienced much trouble with background noise or other issues hearing other callers. The speakerphone has also been given a respectable boost in volume and clarity as well. The rear speaker seems to be considerable louder and doesn't sound as distorted as past models at higher volume levels.
There has also been a slight improvement in the phone's SAR rate. SAR is a value that corresponds to the maximum relative amount of RF energy absorbed in the head of an active user of a wireless handset. The GSM Treo 650 and CDMA 700p were ranked among the highest radiation emitters in the US with a SAR of 1.51 and 1.48 W/kg respectively. 1.6 W/kg is the permissible limit set for mobile phones in the US by the FCC. The Centro comes in with a 1.35 W/kg absorption rate to the head, which is 0.09 W/kg lower than it's recently released CDMA big brother the Treo 755p.
Camera
The Palm Centro includes a 1.3 megapixel digital camera built into the rear of the device next to the speaker grill. It can take photos at a max resolution of 1280 x 1024 pixels and has 2x digital zoom. It can also record video clips with audio at a 352 x 288 resolution. The camera quality is pretty standard for a phone-cam. Outdoor scenes and good natural lighting conditions will give you the best results, while indoor and low light scenes will often yield unexpected results (if any). Below are a few raw, unedited Centro photo examples taken at the maximum resolution in various lighting conditions (office lighting, sunny landscape, indoors, outside closeup):
Bluetooth
The Centro also has built in Bluetooth v1.2 wireless capabilities. This allows for wireless accessories such as GPS navigation kits and wireless Bluetooth headsets. Native Bluetooth stereo A2DP support is still missing, but there is always Softick Audio Gateway if you'd like to use wireless stereo headphones.
Audio
Like previous Treos, the Palm Centro has a dual speaker design, with the front earpiece speaker used for phone calls only while the rear handles the speakerphone, sysytem sounds, games and music. If you want to listen to digital audio via a headset with standard headphones you'll need to use a 3.5mm stereo adapter accessory. The rear mono speaker can get quite loud and can even function as a small portable stereo in a pinch if you're in a non-noisy environment.
There is a varied selection of ringtones that can also be used as alarm sounds. The Centro has a mix of the classic Treo ringtones as well as a set of new musical ringtones. Most of the new ringtones are quite funky, and I don't mean that as a compliment. The new sounds are an unusual assortment of bad techno and cheesy rock songs. It's a good thing that you can transfer most .wav and midi files via Bluetooth, beaming or hotsync from your PC for use as ringtone sounds. A new freeware utility has been released that will let you create mp3 ringtones on the device from your personal collection. The sound manager application also allows you to record your own custom audio clips that can be used for ringtones and alarms as well.
Battery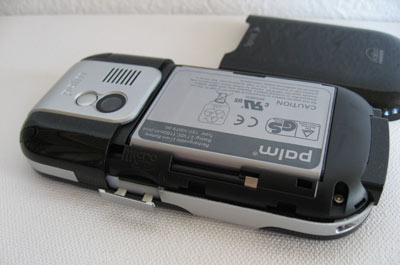 The battery life is one area where the Centro has not seen an improvement. The Centro has a 1150mAh removable battery that is good for a claimed 3.5 hours talk time and 3 days standby. This is the slimmest and smallest capacity battery incorporated on a recently released Palm phone. That fact combined with the power hungry 3G radio make for much shorter battery cycles. If you're a heavy voice and or data users you'll most likely have to charge up every day. More casual users can expect the Centro to last roughly 2-3 days between charges. If you leave on background data services such as push email or Versamail's auto-sync you can expect a further drain on those precious milliamp hours. Hopefully some third party after-market OEM sized batteries will eventually be released to help extend battery times. Until then, it's good to know the included USB cable can also function as a second charger.
Software
The Palm Centro runs the Palm OS Garnet operating system v5.4.9. This is basically the same Palm OS 5 that has been around since mid-2002. While there are a couple of new tweaks here and there nothing has really been done to improve the underlying OS for some time now. Nevertheless, the Centro does include a nice updated software bundle and a good amount of added applications and services from Sprint. The Centro also has a updated set of included multimedia apps that further enhance the out of the box capabilities of the handset.
The Centro carries over the same phone dialer and call management software as the 700p and 755p and not the new and improved suite from the Treo 680. It's a perplexing that Palm could not dedicate the resources to take advantage of its own improved dialing and calling interface found on its similar GSM product.
Phone Functionality
The Phone application is the main center of of the Centro's phone functionality. It provides phone information such as signal strength, new email and message indicators and can be setup to show your next appointment as well as display a custom wallpaper or number pad. It also controls dialing, call logs, viewing contacts and accessing your favorites shortcut buttons. From here you can simply start dialing numbers, or type in letters and it will display a matching contact list. The favorites function allows you to setup quick shortcuts to frequently dialed numbers, groups of contacts, device applications, emails and web links. It has a scrolling animation when you expand the list, which can store up to 70 custom buttons.
New on the Centro is the ability to launch some of your defined favorites keyboard shortcuts from within any other application. For instance holding down the "W" key to jump to the web browser at any time. You can also hold down the home button in any app to pop up a list recently used apps. By going into the buttons pref pane you can also define another level of button shortcuts by pressing the white option key before hitting one of the app buttons.
Tapping the green phone button from within the phone app will bring up a shortcut list of your recently dialed calls and can jump to your call history or the numeric dialer. When a call is in progress, call related options and functions are available as large on screen buttons. With one click you can start a conference call, mute the mic, switch lines on call waiting or exit out to the device to lookup something in your datebook or other application and remain on the call.
When you have an incoming call, the phone displays the name and caller picture (if you have one assigned). On the Sprint model, if the number is not found in your contacts, the screen will show which US state the call is coming from based on the area code. The "Ignore by Text" option is also present on the incoming call screen. This feature enables you to decline a call and quickly type in an sms message letting the caller know you are busy with a text message note. Another unique and useful feature on the Centro is that it will ask you to save unknown numbers as new contacts or add to an existing contact when you dial or receive a call from a number not already stored on your device.

One things Palm OS Treo's are known for is the excellent messaging application. SMS conversations are saved and grouped by each individual person in an threaded IM chat style view. When composing a new text or mms message the software will automatically bring up your lists of contacts so you can just type the first few letters or numbers of a recipient and it will show matching numbers and email addresses from your list of contacts. If you want to send out a MMS message attaching pictures and media is quite easy.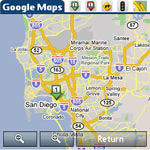 Sprint includes a IM messaging application on the Centro, first seen on the Treo 755p. The app supports AOL IM, MSN/Windows Live and Yahoo! Messenger protocols and background operation so you can leave the app and remain signed in. One downside to the Sprint IM app is that it actually charges you by the message, each message sent or received will cost you for the standard sms fee of 15 cents per. If you have an unlimited messaging plan this isn't so much of an issue, however without one you could rack up a heavy charge pretty quickly. Most IM users would be better served with a more economical and feature-rich app such as Mundu IM or IM+ that has a single one time fee and no associated messaging charges.
Another nice addition that is now becoming a standard feature is Google Maps. The Google Maps client for Palm OS provides all of the usual features such as detail street and satellite maps, driving directions, traffic conditions for select cities and local business searches. Palm has also added a "map" button to the contacts list, that will automatically open up the selected contact's address in Google Maps and display the specific location on a map.
Sprint also includes another service, the SprintTV streaming media application. This app includes a number of subscription based channels that you can stream to your device, similar to MobiTV. The app is basically a channel browser and all of the streams open up in the embedded Kinoma Player. Some of Sprint's data plans now include a selection of free channels based on which plan you signup for. You can also purchase individual channels for about $3-6 a month. There is also a selection of music channels and SIRUS satellite channels available.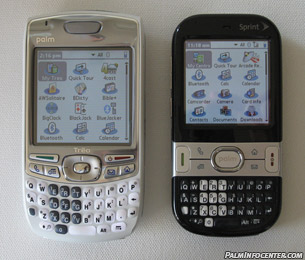 Pocket Tunes Deluxe is included for MP3 digital audio and music playback. Pocket Tunes is an all around great music player with support for playlists, background play and sorting through artists and tracks intelligently on memory cards. It's nice that Palm decided to build in the full "Deluxe" version on the Centro. This allows for all of Pocket Tunes features including Internet streaming, PlaysForSure music store support, custom skins, album art and much more.
The Centro also incorporates the streaming video and audio media features via the embedded Kinoma player. You can access many common live radio and video streams from the browser. For instance, you can navigate to npr.com in the web browser and click on the 'live audio link' the media player will launch and start streaming NPR's live radio feed to the Treo. The mobile version of YouTube is now supported as well and you can browse the site in Blazer and the videos will stream in through the built in player.
Sprint also includes a few other extra's on the Centro that further add to the robust software bundle. A free copy of OnDemand is included, which is a re-branded version of Handmark Express. It's a nice utility for news, weather, sports, movie times and other little Internet applets. Mobile Voice Control is a impressive bit of technology that functions as a voice dialer and voice command recognition utility. A free trial is included, however it will cost you $7 a month if you want to keep it which is almost prohibitively expensive. It works by holding down a key, by default the third side key, and issuing voice commands such as "Call Jeff at Work", "Add Appointment, meeting with the sales team at 10 AM" or "goto website google" and the software will automatically perform the dictated task. Finally the only game included is a nice one, Astraware's Sudoku.
Voice Recorder is available for voice memos (but you still can not save to a memory card), Pics&Videos does a adequate job organizing and displaying your photos and videos shot with the Centro and the classic Calculator and World Clock are also in the rom. In addition to the usual Quick Tour feature guide, Palm has included a electronic user guide and support knowledge base on the device. Located within the 'My Centro' application, it also provides a usage guide that helps explain how to perform various functions right on the device.
Office Documents
The Centro also includes the latest version of DataViz's Documents to Go. Docs2Go v10 brings full Office 2007 support to the Palm OS with the ability to view, edit and create native Word, Excel and Powerpoint documents. It also includes the ability to view Adobe PDF files and the new .docx and .xlsx Open XML format in Microsoft Office 2007.
Email
A new version of Versamail debuts on the Palm Centro. Versamail v4.0's main highlights include background operation, easier setup (just enter your email address and password for most popular email services), bug fixes and more intelligible error messages. The program also features out of the box support for Microsoft's Direct Push Technology with Exchange Server 2003 with SP2 or Exchange Server 2007. This provides automatic wireless updates of email, calendar and contact information directly to the device and the ability to sync with Exchange based systems. It also supports standard POP3 and IMAP accounts and you can setup automatic email retrieval schedules. It seemed more stable this time around, but I don't like how the program doesn't really tell you what its actively doing anymore. It used to display how many messages it was pulling down from the server when checking email and it would briefly show the subject lines, now it just spins a little blue progress indicator in the corner while it goes about its business.

Web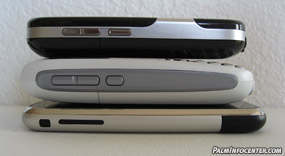 While an updated version of Blazer is included (v4.5.8), it is only a very minor update that includes a few minor bug fixes and no other notable differences. While Blazer was a speedy and efficient web browser a number of years ago, like most of the Palm OS it has not been significantly updated in some time and competing products are now shipping with much better browsers. For the most part Blazer works well, but complex sites and graphically heavy sites are slow to load and difficult to navigate. Most times the bottleneck isn't the the Internet connection, but the browser itself along with the slower processor. Also if you want a slightly better browsing experience it helps to use the smaller font setting in the options menu.
The software CD includes the Palm Desktop v4.2 for Windows XP/2000 and Mac OS X (10.2 and above) as well a Microsoft Outlook synchronization conduit for Windows. The installer will auto-detect if a PC is running Windows Vista and will provide a link to Palm's latest Vista compatible Desktop and Hotsync application on the web currently in beta. In addition to the Palm Desktop and Hotsync software the CD includes Sprint Music Manager and bonus software including Vox blogging application, Solitaire, Palm Files, and a MobiTV trial.
Palm is continuing its free help and tech support program with the Centro. Customers can access free live help from a toll free number for any kind of help or issue for 90 days after the purchase date. This is a nice service that is intended to help new smartphone users get their devices setup and running properly. Customer service agents will answer questions and help troubleshoot any range of issues from setting up email accounts to setting up desktop synchronization.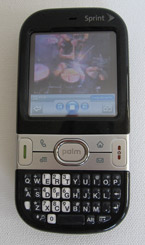 It almost goes without saying but with the Centro you also get the full range of classic Palm OS PIM apps. The elegantly simple PIM suite includes the usual contacts, calendar, to-do list and memos. In addition, since the Palm OS is an open platform there are thousands of commercial titles, freeware applications and games available for the Palm OS that you can download and install to your device in addition to what is built-in. You can also visit the PIC mobile site on your device and download new apps directly on your device over the air. There is a substantial range amount of Palm and Treo specific programs and utilities out there that are compatible with the Centro and can do a lot to improve and extend your smartphones functionality.
Summary
For longtime Palm fans, you can't hide the fact that the Centro is yet another rehash of the Treo 600 design that Palm acquired in the Handspring purchase back in 2003. Be that as it may, this time around Palm has made some reductions in size and weight that add up to an overall leaner, more pocket friendly mobile device. The Palm OS is certainly long overdue for a new graphical look and complete overhaul, yet it still remains competitive due to its ease of use and wide range of third party software solutions.
To the new user, the Centro is a feature packed, powerful phone that offers much more functionality than the standard run of the mill 12-key cell phone. Because of the Centro's positioning and lower price target you have to overlook the omission of certain features. After all, even with its ripe age, tired look and intermittent faults the Palm OS still remains one of the most intuitive smartphone experiences. By no means is the Centro perfect device but the smaller size and updated software bundle combined with the low price provide a decent value for a capable smartphone.
The Palm Centro is available now from Palm.com and Sprint. It is also available in local Sprint stores and at Palm retail stores. It debuts for $99 with a two-year service agreement and an additional $50 instant savings and $100 mail-in rebate. Customers will have to sign up for a data plan that is $25+ more per month, such as the Ultimate Pack, the Pro Pack or one of the Phone as Modem plans in order to qualify for the $99 deal.
Article Comments
(111 comments)
The following comments are owned by whoever posted them. PalmInfocenter is not responsible for them in any way.
Please Login or register here to add your comments.

Only the first 50 comments are displayed within the article.
Click here for the full story discussion page...