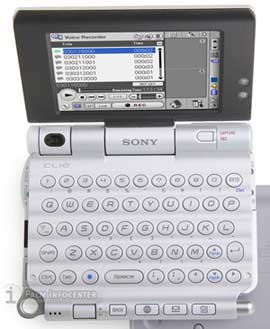 Sony Clie PEG-UX50 Review
By: Ryan Kairer
October 26th, 2003
Design
The first thing that struck me about the UX50 was it's size. It is a very small and compact device, much like a shrunken down laptop. It is only slightly larger and thicker than a compacted Tungsten T. It is solid and well constructed device without being too heavy or bulky. There are no creaks or rattles.
The UX50 physical dimensions are 4" x 3.4" x .7" inches (103 x 86.5 x 17.9mm). It weighs 6.2 ounces (175 grams). It is very pocketable, and won't weigh down your pants. The casing is a light silver color and is made of magnesium. It is very smooth and is both scratch and fingerprint resistant. I gave it a stress test and tried to keep the device in the same pocket as my sharp set of keys. After two weeks of heavy use, the outer case remained scratch free, very impressive!
The Sony UX50 features a wide screen, landscape orientated design. The screen lifts up to expose the keyboard. The screen can also be rotated around to use the handheld in a tablet like manner, but you still have to use it in a horizontal orientation. The screen is surrounded by a black, presumably magnesium, border. To the right are two status LED's that indicate a bluetooth or Wi-Fi connection.
The Bluetooth light is a bit of an overkill and can get pretty annoying especially when using the unit in a dark room. When Bluetooth is enabled you're treated to a constant bright blue pulsing flash, the Wi-Fi LED is a steady green when connected to an access point. I think the wireless status LED's would be better served as items on the screen's status bar, and not actual physical LEDs. This might allow more room for some extra screen space.
The hinge is a bit like a cylinder. The left end hides the swivel camera and the other side has a dedicated capture button for the camera and a 1/8th inch headphone jack on the side. The unit does not include an audio wand, and there is no port to plug one in. Underneath is the typical logo and serial number area, as well as the speaker holes and the battery contacts for the cradle.
The left side of the UX50 has the power/hold slider and a bicolor LED to indicate power and recharging status. Next is the IR port, which is a standard IR port, not the enhanced one that Sony typically uses. Keep going and you'll see the mini usb port, which is hidden by a flush pop-out cover.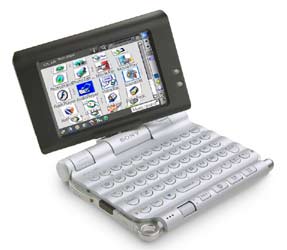 To sync the device you have to use this port as the cradle does not include a syncing port. It is pretty annoying to have to manually attach a cable to the handheld each time you want to sync. Furthermore, the usb sync cable can not recharge the handheld as a substitue for the cradle either. A good way around this annoyance is to stick to wireless hotsyncing over Bluetooth or Wi-Fi.
Coming around to the front of the handheld on the immediate left is a rather large lanyard loop. Because I was curious as to why Sony always includes a rather prominent lanyard Ioop, I found out that the Japanese like to attach straps (typically with some sort of cartoon character on them) to their mobile devices. Then there are three small openings for the internal microphone, a jog dial, back button and three application buttons (web, email and the datebook). The right edge contains the stylus silo. Around to the right side is the memory stick pro slot and two more LED's, one for memory stick activity and a recording indicator. I wish that memory sticks would insert more flush into the device, because they are prone to possibly pop-out and activate your handheld in your pocket.

Sony includes a new flat cradle, which is more like a docking station. It is only used to attach the power cord to charge the handheld, the sync cable attaches to the handheld itself. The included stylus is Sony's small toothpick thin metal stylus. It has been miniaturized even further with a manual expand and compact design. IMHO, this is the worst iteration of a stylus ever.
Keyboard
The built in keyboard is the largest and most spacious ever found on a Clie. While spacious, it is still a thumboard and requires your two opposing digits to operate. There are 5 rows of keys with a dedicated number row at the top. The keys themselves are large and are the same silver color as the case. They have an orange backlight for night typing that will shut off after 10 seconds of inactivity. Overall, the keyboard is comfortable and easy to use with your thumbs, however it is far from perfect.
The keys do offer some tactile feedback, but not very much. The keys are large enough that even with pretty big fingers you won't have a problem with unwanted letters and hitting two keys at a time. The keys are absolutely flush with the casing and do not really protrude. While the actual keys themselves are not raised, the alternating rows of the keyboard are slightly pronounced. This makes it easier to tell where your fingers are but doesn't do much for the ease of pressing the keys.
One final note is that Sony needs to put much more work into using the keyboard to do common task that require a stylus tap. There are too many instances where you have to grab the stylus and readjust your hands, just to do a single tap on the screen. Sony does have some keyboard shortcuts that mimic some stylus actions (bring up a list by typing CTRL+K), but there is plenty of room left for improvement.
With as large a keyboard area that sony had to work with I'm very surprised they left out a d-pad that could control on screen events and taps. There actually are 4 way arrow directional keys, but they are basically just used to control the cursor and can't scroll items on the screen. Another keyboard caveat, is that the "?" key just seems out of place. It is the first key in the "asdfg" row, and is very easy to miss type when you're just looking for the "A" key.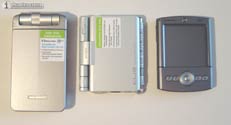 Games?
One major design flaw that takes some of the "fun" out of the device is the lack of the four standard palm os buttons and the up and down hardware buttons. Sony only includes three application buttons and decided to altogether leave out the traditional up/down buttons. There are software up/down buttons on the on screen "status bar" or you can also use the keyboard for page up/down after putting it in a sticky blue mode. However those two workarounds are often not a suitable substitute for the real buttons. Because of the lack of buttons, some games will be incompatible, uncontrollable or might even be very uncomfortable to play.
Processor and Memory
The UX50 has a system total of 104 MB or RAM. Of that 16 MB is available for traditional storage of files and programs, another 16MB is used for the dynamic heap. Another 16 MB or non-volatile memory is dedicated for system back up to save the contents of RAM when the battery is low. Finally, there is an additional 29 MB available for media storage, that acts as a traditional memory stick and allows you to store native pictures and music files. The remaining RAM houses the Palm OS and bundled applications.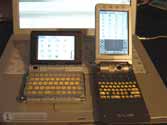 The UX50 debuts Sony's new handheld processor system, suitably dubbed the handheld engine. Under the hood of the "engine" is a Sony manufactured ARM926 based processor, a Digital Signal Processor (DSP), and a CXD2230GA graphics accelerator. The processor speed varies between 8 MHz and 123 MHz, depending on the demand. The system and the dedicated graphics chip support a version of OpenGL. The UX50 runs the latest Palm OS version 5.2.1
So far I can say that the performance is just about on par with Clie's that run the 200MHz XScale PXA255 processor. I've rarely experienced any noticeable slowdown or problems with performance. The system passed my standard torture test with flying colors. I surfed the net over wireless connection and listened to an MP3 (with Audioplayer) at the same time with no lag.
Screen
The screen is a swivel design that can be rotated and used in both the flip up and tablet mode. It is a TFT color backlit display with 480x320 pixel, 65k color screen. The screen itself is very small and the pixels are packed in densely, creating a very crisp display.
The screen is bright and very evenly lit, there are no "stage lights" or light waves in the display at all. The screen is pretty bright, though at full strength is a little less bright than its NX series cousins. The screen is ideal for indoor and office use, but slightly fades and loses visibility in bright sunlight.
Now here comes the kicker, the display can only be used in the horizontal landscape mode. While some may gawk at the lack of a portrait mode, I've found with use that most of the time I am using the keyboard and only need landscape mode. However, it would be nice to have a portrait mode so you can use the device like the traditional clamshell clies in tablet mode. I hope Sony can address this with a software update and add screen rotation, but for me this was not a deal breaker.
Sony has updated all of the core palm os applications to take advantage of the widescreen display. Programs that work with the high res+ format will not work with the new size and much be made "UX" aware. Most of the Sony specific software has also been updated to take advantage of the screen including the movie player, Netfront, Flash, Clie Mail and others. Many existing applications (including Docs2Go) can be "forced" into wide screen mode, with a free utility called codedriver.
Wireless
The UX50 has both integrated Wi-Fi (802.11b) and Bluetooth (v1.1) wireless. The UX40 model only includes Bluetooth and is $100 less. Having dual wireless is very convenient. You can use high speed Wi-Fi from home or the office and use Bluetooth with a mobile phone while on the road. Dual wireless options are a new high end handheld necessity. The Wi-Fi range is excellent and is much more receptive to 802.11 signals than the Palm Tungsten C.
Sony has beefed up the Wi-Fi support and now offers a scanner that will search out wireless access points within your range. The application will report back SSID's, signal strength, WEP and IP information and makes it easy to connect to a new access point.

When Wi-Fi is not available, or I while i was out of the office or on the road, I used the UX50 extensively with my Sony Ericsson T610 phone via Bluetooth. The two devices make an excellent pair. I used the phone's GPRS connection to surf the next and composed, sent and viewed my SMS messages on the UX50, with the phone in my pocket the entire time. I also hotsync wirelessly over Bluetooth with my iBook, and routinely installed applications by transferring the file over Bluetooth (no hotsync needed). If you have a Bluetooth enabled digital camera or camcorder, you can control it with the UX and take pictures remotely!
The included web browser, Netfront v3, takes advantage of the wide screen and does a great job at rendering most websites. It is a proxy-less browser and supports animated gifs, tables, CSS and javascript. On the lowest zoom setting some sites actually render almost exactly as they would on a desktop due to the widescreen layout. Just check out this screenshot of how the PalmInfocenter homepage renders on the UX.
Camera
The digital camera is a VGA, 300k pixel camera and has 3x digital zoom. The camera supports up to VGA (640x480) resolution, you can also record and play back video (MPEG4, 30 fps, 160x112). While not the highest resolution camera out there, the UX does take good pictures for a VGA camera. It bests most VGA camera phones as well as the Zire 71 in both quality and color accuracy. Below you'll find three unedited sample images taken with the UX50 under various lighting conditions.
Audio
The sound on the UX is quite loud and clear, though it won't shatter any windows. The speaker is located on the bottom of the handheld. Another first for Sony, they switched over to the PalmSource sound API. Because of the change, developers no longer need to make separate versions of their software to work with the enhanced sound on a clie handheld. This also means that popular third party MP3 and other audio players can now run on the UX50.
Battery Life
With all the wireless features and the widescreen, the UX50 requires a lot of juice. It is powered by a non removable lithium ion battery. Battery life is not the UX's strong point. In my fairly heavy use, I've gotten roughly 3-4.5 hours of use out of a full charge. That is with heavy use, with lots of wireless and camera action going on. If you are used to charging daily, this may not be a big deal.
For those that can't live with the standard battery life, there is an extended battery clip on accessory, the PEGA-ED40 that will increase battery life up to 3 times the standard capacity. It costs $120 and attaches to the bottom of the handheld. Strangely, Sony will not answer our question about the internal mAh battery capacity.
SPECIFICATIONS

Size & Weight:
4" x 3.4" x .7" inches (103 x 86.5 x 17.9mm); 6.2 oz (175 g)
Processor:
Sony Handheld Engine (Sony CXD2230GA); Palm OS 5.2.1
Memory:
16MB RAM; 104MB total, see review
Expansion:
Memory Stick (MS PRO-compatible)
Screen:
480x320 pixel; 65k-color; transflective back-lit
Audio:
stereo headset jack; bottom speaker; mono mic
Power:
Rechargable LiIon Poly (? mAh)
Connectivity:
USB cable, MSIO, IrDA, Bluetooth (v1.1), Wi-Fi (802.11b)
Software
The UX50 includes sony's standard application set, which includes: Audio Player, Clie Album, Camera, Clie Files, Clie Memo, Movie Player/Recorder, Clie Viewer, Sound Utility, Voice Recorder, Alarm Clock, Photostand and Remote Camera. There are also a number of bundled third party applications included on the CD including: Acid Solitare, Bejeweled, Agendus, Palm Reader, Vindigo, powerOne personal and others. The UX50 also includes the Decuma input system, but you have to use an on-screen input area, not the graffiti area, which makes for a cramped screen. Picsel Viewer allows you to view (and not edit) Microsoft Office documents and other files. Flashplayer is also an entertaining addition.
New on the UX is Sony's "3D launcher." It is an optional replacement for the launcher screen and after some getting used to is quite nice. It is very animated, the list of icons acts like a pseudo slot machine and everything scrolls out smoothly or slides out into place. You can zoom in and out to fit more icons on the screen as well.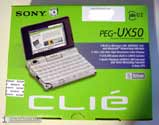 Summary
I have really enjoyed using the UX50. In fact, it's the first handheld to come out that I'd consider replacing my year old daily PDA with. The dual wireless, camera, great screen and large keyboard in a small form factor make for an extremely portable and productive device. It's amazing to see how Sony continues to raise the bar. The UX50 is another innovative handheld and an advancement for the Palm OS from Sony. If you're looking for a top of the line, connected productivity device, the UX50 may bring you a step closer to handheld enlightenment.
The UX50 and UX40 (without Wi-Fi, darker casing and $100 less) can be ordered from SonyStyle.com. The PEG-UX50 retails for $699.99 and the UX40 is $599.99 USD. Some online retailers are offering the UX-50 starting at $559 USD.

PROS

CONS

Small & Compact
Duel Wireless
Widescreen
Large keyboard

Expensive
no portrait display
Fragmented Internal Memory
Lacks Buttons
RATING: 9 / 10

Design:
attractive and functional, but a few quirks
Features:
Feature Packed, Dual Wireless
Screen:
great res, but small, no portrait mode!
Battery:
Wireless use quickly drains
Value:
you pay a lot, you get a lot
Article Comments
(98 comments)
The following comments are owned by whoever posted them. PalmInfocenter is not responsible for them in any way.
Please Login or register here to add your comments.

Comments Closed
This article is no longer accepting new comments.

Only the first 50 comments are displayed within the article.
Click here for the full story discussion page...