Sony Clie PEG-TJ37 Review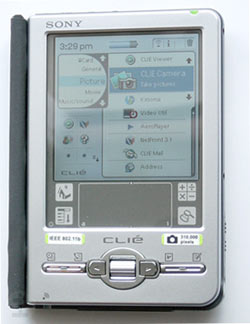 By: Ryan Kairer
April 26th, 2004
The Sony Clie TJ37 is a new mid range personal entertainment organizer from Sony. The TJ37 incorporates a high resolution screen, built in WiFi wireless and a digital camera. The TJ37 brings a number of high end features into a lower cost business friendly package. It is also the least expensive model on the market with integrated WiFi.
The Clie TJ37 has a more professional business orientated design with a very strait-forward reserved appearance. it has a somewhat of a boxy feel with rounded corners. The casing is a silver plastic with a darker grey center which wraps along the top and sides. It has a square screen with a fixed silkscreen input area. It physical dimensions are 4.5 x 3 x .53 inches (114 x 76 x 13.5 mm). While the TJ37 won't take home any fashion awards for being slim or lightweight, it is certainly pocket friendly considering the built in functionality.
On the top of the handheld starting from the left is the memory stick slot, which is ms pro compatible, and a orange LED to indicate memory stick activity and a dust cover. The 1/8th inch (3.5mm) standard streo out jack is in the center followed by the Ir window (with a curious wlan label) and the stylus silo on the top right corner. A bi-color charging LED is on the top front right, that is orange when charging and green when the handheld is on.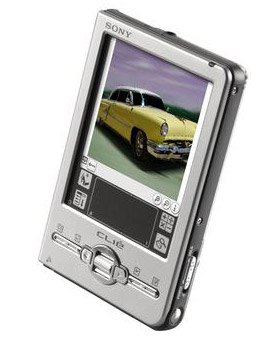 The bottom right edge side of the handheld contains the power/hold switch (first seen on the SJ33) closely followed by the camera capture button. The bottom side of the handheld has a green WiFI status LED that is illuminated when the WiFi radio is active. The bottom also contains Sony's standard T-series port and on the right corner is a small slider that opens and closed the camera lens and also servers to activate the camera application. The bottom also hold the Clie standard lanyard loop in the bottom left rear corner.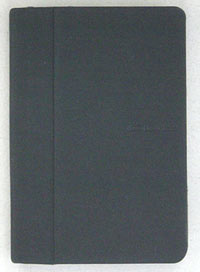 The unit comes with a nice dark grey plastic flip cover that has fixed mounting holes on the left hand side. When closed with the cover the handheld almost looks like a small felt covered address book. The cover folds behind the handheld when in use and leaves room so the camera lens and speaker are still exposed and unimpaired.
Sony has made a few interesting usability changes such as a center placed jog dial and directional buttons and a more camera like design. Unfortunately there is no back button, which can be disappointing if you're used to previous Clies with the Jog dial and back button combo. It has 4 customizable application buttons, and 2 navigational buttons between the jog wheel. In typical Sony fashion, the buttons are on the small and narrow side. The two application buttons on each side are connected and can not be pressed at the same time, which can be an issue for gamers. While the jog dial is a beneficial feature, I'd prefer it did not replace the standard up/down buttons and Sony employed a more usable directional pad.

As is more common these days the handheld comes with a set of cables rather than a cradle. Sony provides a awkward and tangle prone 2 chord system. The sync and charge chords a separate but can be attached at the same time with the included port adapter. This unit also uses Sony's infamously small telescoping stylus. It is metal and extremely thin, you're better off with a different replacement stylus for longer input sessions.

Hardware
The TJ37 runs Palm OS 5.2.1 on a 200Mhz Motorola i.MXL processor. It has 32MB of RAM with 23MB actually usable. The other 9MB is reserved for the dynamic heap memory space. The unit has a Memory Stick Pro slot which accepts all types of Memory Sticks for expansion.
The MLX processor delivers an overall good performance. The handheld has more than enough power to handle daily tasks and multimedia. I was able to surf the web over WiFi while listening to a mp3 in the background with no noticeable slowdown.
Screen
The TJ37 has a high resolution 320x320 pixel TFT 65k color display. The screen has 3 different levels of brightness and I found that it is a a bit dimmer than most other Sony handhelds and other models in this price range. The screen does perform exceptionally well outdoors and in direct sunlight.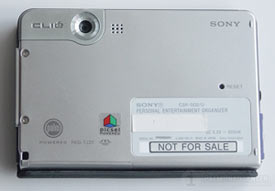 Audio
The handheld has both a standard stereo out jack and a rear speaker, it does not come with headphones. Sony includes a registered version of the Aeroplayer software for listening to MP3's. When using the unit as a media player battery life can be significantly extended by putting the handheld into hold mode. The TJ37 does not come with a microphone so voice memos and any future voice over IP use is out of the question. Kudos to Sony for providing a few extra quality, modern sounding alarm sounds. While they only add three new sounds, anything other than the ancient alarm beeps is welcome.
Wifi
The TJ37 includes and integrated 802.11b WiFi wireless radio for connectivity. The wireless reception was excellent and easily bests the Tungsten C in range. Sony includes a WiFi scanner that will search out wireless access points within your range. The application will report back SSID names, signal strength, WEP and IP information and makes it easy to connect to a new access point with a single tap. Establishing a connection is fairly quick, usually under 10 seconds.
Web browsing
The included web browser, Netfront v3.1, does a great job at rendering most websites. It is a proxy-less browser and supports animated gifs, tables, CSS and javascript. It has three levels of zoom that optimizes pages for the small screen. Sony also includes their Clie Mail POP3 email client on the software cd.
Camera
The TJ37 has a 310k pixel VGA (640x480) digital camera. The camera application can be activated by the shutter button or by opening the lens cover slider. Once launched the screen rotated 90 degrees for the camera mode. The lens and shutter button are placed so that you hold the handheld and use the viewfinder much like how you would a standard digital camera.
The camera quality is pretty standard for a VGA camera, which is mediocre at best. Its good to have for the novelty and convenience of always being able to take a quick snapshot. With the built in wireless you can quickly capture and share your photos. The camera has 2x digital zoom, a self timer, brightness and white balance controls and a B&W and sepia effect. The camera can only capture still images and does not do movie clips. The following are some unedited images taken with the TJ37.
Battery
The TJ37 comes with a rechargeable Lithium ion 800 mAh battery. It has a removable battery door that is sealed with a screw, however Sony does not advertise it as user replaceable. With moderate wireless use in power save mode. I was able to get about 4-5 hours out of a single charge. With heavy Wifi, I was able to get 3.5 hours of life before the handheld disabled the wireless radio when it reached 25%. Overall, I found the battery performance to be acceptable, but it really depends on how the device is used.
SPECIFICATIONS

Size & Weight:
4.5 x 3 x .53 inches (114 x 76 x 13.5 mm); 5 ounces (142g)
Processor:
200Mhz Motorola i.MXL; Palm OS 5.2.1
Memory:
32MB RAM; (23MB user accessible)
Expansion:
Memory Stick (MS PRO-compatible)
Screen:
320x320 pixel; 65k-color; transflective back-lit
Audio:
stereo headset jack; rear speaker
Power:
Rechargable LiIon Poly (800 mAh)
Connectivity:
USB cable, MSIO, IrDA, Wi-Fi (802.11b)
Software
The TJ37 includes Sony's standard Clie application set and a few others including: Aeroplayer, Clie Album, Camera, Clie Files, Clie Memo, Kinoma, Clie Viewer, MS Backup, Alarm Clock, Photostand and Remote Camera. There are also a number of bundled third party applications included on the CD including: Acid Solitare, Bejeweled, Agendus, Palm Reader, Vindigo, powerOne personal and others.
The TJ37 uses the standard Palm OS PIM applications. For office and other documents, Picsel Viewer allows you to view (and not edit) native Microsoft Office files, PDF and html files. Sony also gives users the option to obtaining a free copy of Documents to Go Professional when registering the handheld.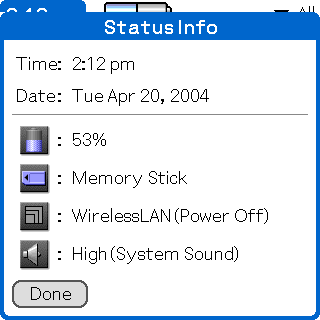 The TJ37 also includes the Decuma input system as well as the standard Grafitti 2. When Decuma is enabled, it is activated by taping the small "a" in corner of the input area usually reserved for bringing up the on screen keyboard. It opens up a Decuma input window which takes up half the screen and makes for a bit of a cramped input area.
A new system software feature on the TJ37 is a new "Status Info" dialogue. It is brought up by dragging the stylus from the input area to the middle left corner of the display. The handy utility mimics much of the functionality of the status bar found on Sony's larger screen handhelds. It provides a window with the current time and date, battery life and activity, memory stick and file information, wifi signal strength and sound controls.
Conclusions
The TJ37 brings together a nice mix of multimedia and productivity software. It's has a more professional look and WiFi wireless will lend itself well to business users and consumers alike. The TJ37 is an excellent Palm OS 5 wireless handheld with a attractive price for the built in features, combining many typical high-end features to a more affordable package.

PROS

CONS

Good Value
WiFi Wireless
Good 3rd party software package

Average Screen
No Movie/Voice Recorder
Small Buttons
RATING: 7 / 10

Design:
No frills Professional look/Small buttons
Features:
Feature Packed, WiFi
Screen:
Average Screen
Battery:
Wireless use quickly drains
Value:
Impressive Features for Price
The Sony TJ37 Handheld retails for $299 USD from SonyStyle.com, you can also search for the lowest price online ($242) with PriceGrabber.com.
Article Comments
(42 comments)
The following comments are owned by whoever posted them. PalmInfocenter is not responsible for them in any way.
Please Login or register here to add your comments.

Comments Closed
This article is no longer accepting new comments.