Even More WebOS Tablet Details Emerge
Wednesday, January 19, 2011 3:22:58 PM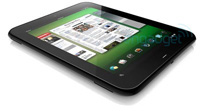 The dust has not even settled on yesterday's breathtaking WebOS tablet leak and we've already got a fresh batch of new info, again courtesy of Engadget.
Citing their usual "trusted" anonymous tipsters, the second Engadget piece reveals that the smaller of the WebOS twin tablets, codenamed "Opal", will be roughly similar in size to the Samsung Galaxy Tab. Having extensively used a Galaxy Tab over the past few months since its launch, I can confirm that it a very comfortable form factor that can be easily held in one hand or used in two hands for proficient thumb typing. Screen resolution for the Opal is said to be 1024x768, the first WebOS device supporting this resolution and a solid notch above the slew of Android-based 7" devices with 1024x600 screens. This resolution also conveniently matches the first-generation Apple iPad resolution, albeit with much greater pixel density.
The larger tablet, codenamed "Topaz", is now reportedly going to ship three months prior to Opal and will be almost identical in overall dimensions to the current iPad, though with a half-inch smaller screen size. Engadget is claiming that their source is not certain about this device's screen resolution but it could likely be the same 1024x768, though a subsequent Precentral report says it is more likely to be 1316x936, which is a non-standard panel resolution--1366x768 seems like a safe bet for a 9" screen. If the reports are true, this will now introduce some frighteningly Android-like fragmentation into the WebOS world, with at least 4 (possibly more once the smartphones arrive) resolutions for developers and users to worry about.
Additional details from the report are that both tablets will have some kind of Touchstone-style inductive charging capability, though compatibility with existing Palm Pixi/Pre Touchstone docks is highly improbable. I just hope that HP sees fit to truly leverage this novel piece of technology beyond more than the basic desktop charging dock employed by Palm. Speaker-wise, HP's much-ballyhooed "Beats" by Dr. Dre audio technology is also supposedly in tow as is full Adobe flash support and the usual WebOS multitasking capabilities. Amazon is also thankfully being leveraged as a heavy supported for Kindle e-book integration as well as mp3 and various media store duties.
Most interesting in the report is a large amount of cloud integration for the tablets, courtesy of a leaked consumer survey recently conducted by HP. The survey suggests that "tens of gigabytes" of cloud storage will be available to users to utilize not just for backup or media storage but for full application storage and execution from the cloud. Familiar Palm WebOS buzzwords such as "Synergy" and "Touchstone" are also mentioned in the survey, as is an expanded of WebOS 2.0's Exhibition mode currently available on the current Pre 2. While this heavy cloud integration is quite intriguing, too little offline functionality could severely hamper the usability of an unconnected tablet, especially a wi-fi version where no connectivity is available. Also, many consumers will be loathe to pay any additional monthly fees for cloud-based storage.
Integration with WebOS smartphones is also mentioned with the report, with the primary example being the ability to receive an incoming call on a WebOS smartphone with the WebOS tablet. This will presumably be done via Bluetooth but there is no mention if current WebOS devices will be able to utilize this feature if they are eventually updated to WebOS 2.x.
Finally, very little was mentioned about any upcoming WebOS smartphones other than they are ready to be launched but they are "nothing too amazing". Of course, it's unknown if the tipster's reference point of comparison is one of the slew of high-end 4G handsets seen recently at CES or the aging Pre and Pixi.
Article Comments
(74 comments)
The following comments are owned by whoever posted them. PalmInfocenter is not responsible for them in any way.
Please Login or register here to add your comments.

Only the first 50 comments are displayed within the article.
Click here for the full story discussion page...