WebOS HP Tablet Rumors Continue...
Wednesday, January 26, 2011 2:19:31 PM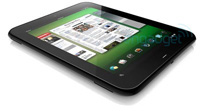 Fox News host Clayton Morris is the latest to add to the massive rumor pile on HP webOS Tablet plans. If his latest blog post is to be believed, HP is quite displeased with the recent leaks and held a emergency employee-only meeting reminding HP staffers that leaking such information can result in termination only yesterday. Mr. Morris goes on to detail that plans for an "EduPad" version of the tablet targeted at educators has been scrapped and select collegiate partners will instead receive a 4G/Wi-Fi version of the Topaz. Additionally, word has leaked out about a Sprint 3G CDMA (not Wi-Max) version from an HP insider and the known concerns about what to actually call these devices when they hit the market.
The most interesting part of the report goes on to detail that the specs leaked to Precentral are not indicative of the final, production-ready version of the Topaz. The case design has been modified slightly and the device's battery was reduced in capacity to bring its weight down to 1.5lbs. The rear-facing camera is also gone, a likely casualty of cost and weight considerations. There is also a ruggedized version for military use coming in 2012 despite HP currently not having a government contract to supply the armed forces with tablets.
Manufacturing in China of at least one style of tablet has reportedly already begun, but no solid release date is revealed. A list of assorted minor details follows before the post concludes with a tantalizing tidbit about HP attempting to develop their own music store and future convertible and netbook applications for WebOS:
Touchstone v2 type charging
Unlimited cloud storage for a new music store (Meaning HP has a music store!?)
Tap-to-share for bump transferring between devices
Netflix, Hulu Plus, and Amazon support by the end of the year
Flash support
WebOS Exhibition mode when docking (See below)
Call Transfer: the ability to transfer text messages and phone calls to the pads from a WebOS phone.  
Amazon Kindle will have software ready for WebOS shortly after launch
HP has applied for THX certification for simulated surround sound
Angry Birds has been spotted on the pad.  'Nuff said!
WebOS pads are said to have around 6,000 phone apps ready at launch
At the developers event HP will announce a 1 million dollar app contest
Expect the pads to show up on TV shows in March. The marketing team is working with studios to include them in shows like 'Law and Order,' and 'CSI.'
Cloud Canvas is likely to be the new name for Exhibition Canvas which is what it's called in the SDK.
All in all, between this report and the earlier Precentral and Engadget leaks, HP may have very little new tablet info to report next month in San Francisco aside from final pricing, carrier partner, and release date details. Presumably, whatever HP has to reveal in the way of new WebOS smartphones is being kept under tighter wraps than their tablet plans.
Article Comments
(15 comments)
The following comments are owned by whoever posted them. PalmInfocenter is not responsible for them in any way.
Please Login or register here to add your comments.