WebOS 2 Update Not Coming to Earlier Pre, Pixi, Pluses
Thursday, February 10, 2011 9:45:57 AM

Engadget sat down for a talk with Jon Rubinstein today and in the process received confirmation of stunning bit of bad news: all of the older Palm-branded legacy WebOS devices-Pre, Pre Plus, Pixi, Pixi Plus-will not be receiving an update to WebOS 2.0 despite numerous earlier promises by HP to the contrary. As recently as last month, a leaked WebOS update schedule hinted that the rollout would start by March.
According to Engadget, Rubinstein stated that Palm "missed a product cycle" due to its financial woes last year and that the older devices lacked the horsepower to run not only WebOS 2.0 but any future variants of the OS. This sounds like more of a business and carrier partner-related decision than one tied to specific hardware limitations. At the very least, one would imagine that the Pre Plus' 512mb of RAM would ensure a WebOS 2.0 experience reasonably comparable to that of the Pre 2.
With this move, along with the removal of the legacy codebase necessary to support Motionapps' Classic emulator last fall, HP does not stand to gain any goodwill from its remaining loyal user base. Long-suffering original Sprint Pre and Pixi users desperate for any kind of an upgrade or update will likely take this as the final straw and jump ship from WebOS entirely. On a brighter note, the Pre 2 is shipping now with WebOS 2.0 alongside a 1Ghz CPU and will be fully upgradable to future OS versions, according to Precentral.net.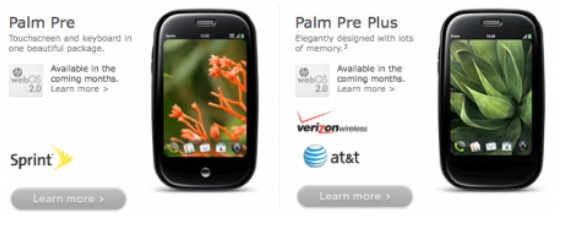 Engadget has not posted the full transcript of their interview with Ruby but they did leave on a slightly optimistic note that HP "would do something special for owners of older hardware." So it looks like the rapidly-aging WebOS v1.4.5 is the end of the road for the legacy WebOS devices.
A minor bit of further clarification and drama was added to this story by a Tweet from Lisa Brewster, part of Palm's developer relations team. She Tweeted: We've broken a promise to our most faithful users, and that has my heart heavy tonight. Ppl keep asking if I'm ok. followed by "it's for the best, dude. We'll help you through it."
We will be eagerly awaiting a formal press release or additional announcements from HP as this story develops, as well as confirmation of Ruby's "something special" he promised to Engadget.
Article Comments
(19 comments)
The following comments are owned by whoever posted them. PalmInfocenter is not responsible for them in any way.
Please Login or register here to add your comments.