Handspring Announces Treo 90
Monday, May 27, 2002 9:40:02 PM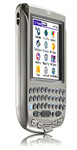 After weeks of rumors and speculation, Handspring has just officially announced the Treo 90, a new mid-range color handheld. Despite being part of the Treo line, the 90 isn't a smartphone. It also isn't a Visor, as it lacks the signature Springboard slot. Instead, the Treo 90 is the first Handspring model to have an SD slot. In another first for the company, this is the first Handspring model to use Palm OS 4.0. It also has a built-in keyboard and 16 MB of RAM.
The Screen
The screen has 12-bit color, rather than the 16-bit color on most other color Palm OS handhelds. This means it can display over 4,000 colors. It is the same screen as on the just-announced Treo 270. Like the rest of the Treo line, this screen is slightly smaller than the display on most Palm OS handhelds, though it uses the standard 160 by 160 pixels.
The screen is CSTN, or Color Super-Twist Nematic. Though a passive matrix type of screen, the newest CSTN displays have good refresh rates, wide viewing angles, and bright color that compares well with TFT displays. And they cost about half what TFT screens do.
According to Handspring, the screen is usable outdoors, though the colors aren't as good as they are inside.
SD Slot
Handspring has dropped the proprietary Springboard slot for this model and is instead using the more standard SD one. Several other Palm OS licensees have SD slots in their handhelds, including Palm Inc. and HandEra.
With over 70 different types of Springboards, from modems to cameras, the Treo 90 is giving up functionality but it is saving on size.
The SD slot, which also can use MMC cards, will allow the Treo 90 to expansion memory cards for backups and storing more applications and files. Of course, it uses the VFS standard.
One fact about the 90's SD slot that is sure to disappoint some is it doesn't support SD Input/Output (SDIO). This means it won't be able to use Palm's SD Bluetooth card or any other SDIO devices that get introduced in the future. However, Handspring is considering offering a software update for this model that will let it support SDIO.
There are cables which allow this handheld to be connected to many types of mobile phones and it can connect to some mobile phones with infrared.
Motherboard
The Treo 90 has 16 MB of RAM and is the first Handspring model to make the jump from Palm OS 3.5 to 4.1. This is probably because it made it much simpler to support the SD slot. It runs on a 33 MHz Dragonball processor.
It doesn't use flash ROM so its operating system can't be upgraded. However, even if it could be upgraded, it wouldn't be able to use Palm OS 5.0, which should be out soon, because it has a Dragonball processor that isn't compatible with the new operating system.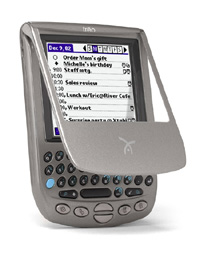 Casing
The Treo 90 is 4.2 by 2.8 by .65 inches (10.8 x 7.1 x 1.6 cm), which is very close to same size as the rest of the Treo line. It weighs only 4 ounces, making it the lightest Palm OS device available.
The casing is plastic, which is part of the reason the unit is so light, and is colored a metallic bronze-brown.
It uses essentially the same QWERTY keyboard as the rest of the Treo line. Because of these, the 90 has no graffiti area. Handspring has no plans to introduce a version without a keyboard.
Accessories
The Treo 90 doesn't come with a cradle. Instead it has a USB cable that allows it to HotSync. This is a single USB cable that splits with one strand for data and another that plugs into a wall socket for power. It uses the same HotSync port as the rest of the Treo line and therefore a cradle can be purchased separately.
It has a removable flip cover with a clear window in it that allows the screen to be seen without having to open the cover.
Software
Along with the standard Palm OS apps, it comes with Datebook+ and a new app called Contacts, which is an improved version of the Address Book.
The Treo 90 also comes with a copy of Blue Nomad's WordSmith word processor, which allows Microsoft Word documents to be accessed on the handheld. It has both Mac in Windows conduits.
It also comes with the Blazer web browser; One-Touch Mail, which is POP3 compatible; and the Palm SMS messaging app.
History
Last month, Donna Dubinsky, Handspring's CEO, said her company would be releasing a new device that is not a Visor . She said it would borrow some of the design characteristics of the Treo line but not be wireless. Clearly, the Treo 90 is this device.
Handspring looks on the Treo 90 as an entry-level model. It hopes people who get a one and are satisfied with it will eventually upgrade to one of the versions of the Treo with a built-in mobile phone, like the Treo 270.
Related Information:
Article Comments
(245 comments)
The following comments are owned by whoever posted them. PalmInfocenter is not responsible for them in any way.
Please Login or register here to add your comments.

Comments Closed
This article is no longer accepting new comments.

Only the first 50 comments are displayed within the article.
Click here for the full story discussion page...