Next Generation Handspring Treo Shown
Tuesday, June 03, 2003 11:15:19 AM
UPDATE: with picture The next generation Treo was just shown and on display at a recent Sprint PCS Business conference in Dallas. Early details show that the Treo 600 runs Palm OS 5 and includes and ARM processor, Camera, SD slot, a thumboard and a smaller design.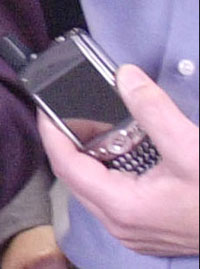 Update: The official picture released by Palm Inc to the media for the merger, shows Jeff Hawkins holding what would appear to be the Treo 600 in his hand.
TreoCentral is reporting the device was on display and shown in a video presentation from Jeff Hawkins, Founder and Chief Product Officer. While no official announcement or details are available some information about the new model was revealed.
The Treo 600 has a smaller and more narrow design than it's predecessors. Some accounts say it's shape now more resembles a phone like candy bar design than a traditional PDA form factor. It has a smaller QWERTY thumboard on the bottom, with domed keys. Above the thumboard are the four standard palm app buttons and a D-pad in the center.
The device has a camera built into the back of the unit (flash and resolution unknown) and a SD (SDIO compatible) memory card slot at the top. The screen is reported to be a TFT STN Screen (SuperTwist). The screen size is smaller than the previous Treo 300, and is also brighter and reported to offer better visibility in sunlight. The screen resolution is unknown at this time.
Not too many internal specs are know but TC reports, it will run a version of Palm OS 5 on an ARM processor and will have 32MB of RAM. The battery is claimed to have a 1600 or even 1800mAh capacity, which would give the model a very long battery life in the 4-6 hour range.
The device may see an October release. Like the Treo 270 and 300, Handspring will likely make both a CDMA and GSM/GPRS versions of the communicator. No pricing or carrier information is known.
Thanks to gfunkmagic and ConfusedVorlon for the tip.
Article Comments
(80 comments)
The following comments are owned by whoever posted them. PalmInfocenter is not responsible for them in any way.
Please Login or register here to add your comments.

Comments Closed
This article is no longer accepting new comments.

Only the first 50 comments are displayed within the article.
Click here for the full story discussion page...