Projection Keyboards See the Light
Thursday, July 31, 2003 11:48:00 AM
Canesta has begun to take the wraps off of its electronic perception technology. One of the first applications that made possible is a projected virtual keyboard that can be integrated into mobile devices such as PDA's and smartphones. The comany expects products to incorporate the virtual keyboard chipset by next year.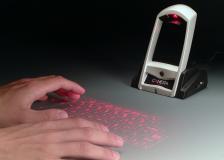 The chipset, when integrated into cell phones, PDA's or other mobile devices, enables such devices to project the image of a keyboard on a nearby flat surface, and then read the finger movements of a user who types on that image, as if it were a physical, full-sized keyboard. Canesta's electronic perception technology resolves the user's finger movements in real time into keystrokes electronically provided to the device.
According to details on News.com, the chipset consists of three basic parts: a light source that beams a blanket of infrared energy onto a surface, a sensor that tracks finger movements, and a pattern projector that displays an image of a QWERTY keyboard in red. The sensor, the key part of the equation, pinpoints where the light is reflected. It then transmits data about where reflective surfaces (the back of your fingers) move and stop. The processor then translates this into keystrokes.
Canesta is demonstrating the technology at the SIGGRAPH 2003 Conference In San Diego, CA. Two other companies, VKB and Virtual Devices are also working on similar technology.
Thanks to Steve B. for the tip.
Article Comments
(23 comments)
The following comments are owned by whoever posted them. PalmInfocenter is not responsible for them in any way.
Please Login or register here to add your comments.

Comments Closed
This article is no longer accepting new comments.