Jeff Hawkins Numenta Interview on NPR
Monday, February 27, 2006 3:55:36 PM
Jeff Hawkins gave an interview this morning on National Public Radio. A clip of his appearance is now online. In the interview, Jeff talks about his current work at his new company Numenta, his theory on how the brain works and potential commercial applications for his new pattern recognition and machine learning technology.
The Hawkins interview is available to listen to at NPR via a RealAudio stream.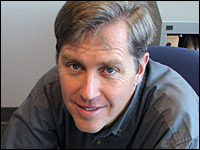 The interview runs for a little over 15 minutes. He mostly talks about his thoughts on human and computer intelligence and the challenges of how to get computers to think more like humans. He details that his company Numenta is building a more intelligent optical vision and patern recognition computer technology platform. He calls it a "major advance in technology" and discloses that he has already built a small scale prototype.
He goes on to mention some possible practical applications for this technology. One example he states is searching through your digital photo library for a specific person and he says that auto manufacturers have been interested in sensors for cars that can visually recognize the alertness state or condition of the driver.
The company was formed based on theories from his book On Intelligence.
"My goal at Numenta is to put my brain theory into practice," said Hawkins. "We have the opportunity to build intelligent memory systems to solve difficult problems in computer science and artificial intelligence for which no other known solutions exist, such as general machine vision, language understanding, and robotics."
Donna Dubinsky, who was formerly co-founder and CEO of Handspring, as well as CEO of Palm Computing, is Numenta's CEO. "I'm delighted to be working with Jeff again to formulate a business out of his theories," said Dubinsky in the announcement press release. "The Numenta vision is large in scope and long term. Although it may take several years before we have commercial products, the possibilities for this technology are exciting and broad."
Thanks to Gaurav for the tip.
Article Comments
(14 comments)
The following comments are owned by whoever posted them. PalmInfocenter is not responsible for them in any way.
Please Login or register here to add your comments.