Wi-Fi Positioning Tech Comes to the Palm OS
Thursday, December 4, 2003 11:27:43 AM
A company called Ekahau has developed a new software based technology for determining a clients physical location within a wireless Wi-Fi network. The company has just announced support for the Palm OS and the Tungsten C handheld.
The Ekahau Positioning Engine (EPE) now supports the Tungsten C handheld from palmOne, to enable a variety of wireless location based services for handheld users. . Ekahau has developed a Palm OS version of the Ekahau Positioning Engine (EPE ) that allows the accurate positioning and tracking of connected handhelds.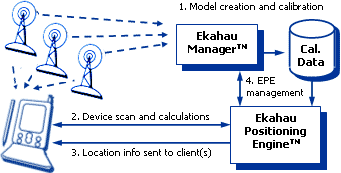 EPE is a software-based location platform that allows WiFi enabled devices to be located anywhere within the footprint of a WiFi network. It provides precise real-time location information of mobile clients, such as PDAs, laptops and WiFi tags, along with device travel speed and heading. As one of the key features, EPE enables wireless applications to provide mobile users with location-sensitive information based on their exact location and profile.
Ekahau Positioning Engine is a positioning server that provides PC, PDA, and asset TAG location coordinates (x, y, floor) and tracking features to client applications. EPE includes a stand-alone Manager application for drawing the Ekahau Tracking Rails, recording site calibration data, tracking wireless devices on map, and statistically analyzing the positioning accuracy. The patented positioning technology features up to 1 meter (3½ ft) average accuracy, enabling people and asset tracking both indoors and outdoors.
"We are very excited to be extending the capabilities of Ekahau to the palmOne user community worldwide. By location enabling palmOne devices, we see very exciting growth opportunities for Ekahau and palmOne in areas such as healthcare, education, hospitality, retail and general enterprise applications," stated Antti Korhonen, CEO of Ekahau. "palmOne users can now harness the power of location capabilities which will allow them quickly to locate people and assets in large campus environments such as hospitals and universities" stated Korhonen.
The company is also is extending its relationship to the Palm OS developer community to develop and deliver leading edge location-based solutions. These solutions will be targeted at a variety of industries such as retail where shoppers will be able to navigate large shopping malls and easily locate goods, to healthcare to allow caregivers to be located in emergencies and to be directed to find hospital equipment, patients and other caregivers.
Ekahau is targeting commercial availability of WiFi location enabled palmOne devices for early Q1 2004. Pricing is not known at this time.
Article Comments
(15 comments)
The following comments are owned by whoever posted them. PalmInfocenter is not responsible for them in any way.
Please Login or register here to add your comments.

Comments Closed
This article is no longer accepting new comments.