AT&T Getting the Pre and Pixi Plus
Monday, March 22, 2010 9:16:27 AM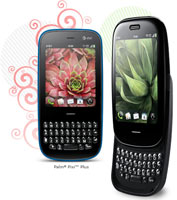 AT&T and Palm Inc. officially announced the upcoming launch of the Pre Plus and Pixi Plus on AT&T Wireless this morning. While no specific date was mentioned aside from "the coming months", pricing and device specifics were thankfully discussed in the initial press release.
For starters, the Pre Plus will retail for $149.99 after the usual $100 mail-in rebate and 2yr contract. The Pixi Plus will ring in at $49.99 under the same terms. Both devices will be full UMTS/HSDPA/GSM/EDGE compatible but otherwise offer identical hardware to their slightly older Verizon siblings. The only hardware change of note is that a blue Touchstone back available for the Pixi Plus. The new devices otherwise look identical to the existing "Plus" variants.
However, four exclusive AT&T-only software enhancements differentiate these WebOS devices from their CDMA predecessors. First of all, Palm's new AT&T releases trade off the Verizon-exclusive (and costly) wi-fi Hotspot feature in exchange for free wi-fi connectivity and automatic hand-offs at over 20,000 AT&T wi-fi hotspots nationwide. For navigation needs, an AT&T Navigator app will be available for turn-by-turn direction for an unspecified monthly fee. Additional AT&T-exclusive software tweaks include the AT&T Address Book to synchronize online contacts to the users' device and YPMobile for local Yellow Pages business search.
"AT&T and Palm have a history of smartphone leadership, and today's announcement is a significant milestone for us," said Jon Rubinstein, Palm chairman and chief executive officer. "With Palm webOS phones coming to AT&T, Palm can help most anyone in the United States stay connected so they never miss a thing."
"We're offering our customers even greater choice by adding Palm Pre Plus and Palm Pixi Plus to the nation's best smartphone portfolio," said Jeff Bradley, senior vice president, Devices, AT&T Mobility and Consumer Markets. "Palm webOS plus included access to the nation's largest Wi-Fi network and the ability to talk and surf the web at the same time is a powerful combination."
Today's announcement represents the first new Palm products officially available on AT&T with full carrier subsidies and support since the glacier white AT&T Centro of February 2008 and the electric blue Centro of July 2008. You may remember last year when the oddity of a retailer-subsidized, unbranded AT&T "compatible" version of the Treo Pro was available exclusively through Best Buy Mobile retail locations.
Palm Pre Plus and Palm Pixi Plus will be available in AT&T stores and online at wireless.att.com in the coming months for $149.99 and $49.99, respectively, with a two-year service agreement and after a $100 mail-in rebate. AT&T already has a webOS-specific page on their website where interested users can sign up for an email reminder when the devices become available. The full text of the press release is available here.
Article Comments
(13 comments)
The following comments are owned by whoever posted them. PalmInfocenter is not responsible for them in any way.
Please Login or register here to add your comments.