Verizon Sweetens Buy One, Get One Free Offer
Wednesday, February 17, 2010 9:28:54 AM

Ever since the launch of the Palm Pre Plus and Pixi Plus on January 25th, Verizon Wireless has been continuously running a BOGO ("Buy One, Get One Free") promotion. Now TechCrunch brings news of an offer already confirmed to be live on Verizon's web store.
In what should both address the grumblings of customers hoping to have a two-Pre household and give a nice boost to Palm's sales figures for the quarter, Verizon has now re-launched the BOGO promotion with more flexible terms. Effective February 15th, customers can choose any combination of Verizon WebOS and Android-powered handsets alongside a handful of non-smartphone "multimedia phones" as eligible devices for the promotion. So, in short, you can now get a "free" Pre Plus with the purchase of another Pre Plus or even tip a toe into the competing smartphone OS waters and get an Android phone alongside a WebOS device.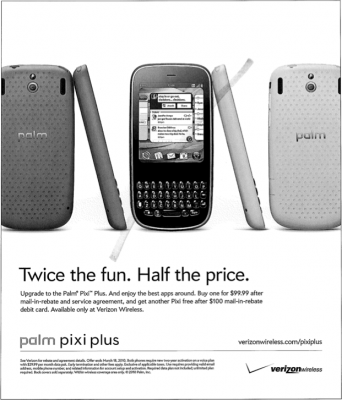 Prior to these new terms, purchasers of a new Pre Plus or Pixi Plus were eligible to receive only a Pixi Plus as part of the promotion. Of course, all of these offers require a new activation alongside the requisite 2-year contract, mandatory data plan and recently-raised early termination fee.
Verizon and Palm continue to make news together, with a spate of new television, radio and print ads such as the one below giving a surprisingly strong push to Palm's latest webOS devices.
Thanks, PreCentral.net.
Article Comments
(10 comments)
The following comments are owned by whoever posted them. PalmInfocenter is not responsible for them in any way.
Please Login or register here to add your comments.