Behind the Creepy Palm Pre Ad Campaign
Monday, August 3, 2009 11:37:17 AM

Advertising Age has published an article that takes a look at Palm's much maligned advertising for the Palm Pre. The editorial takes a look at the mixed reaction the ads have been generating online and offers a preview of additional new Palm campaigns that are in the works.
The article also features a number of quotes and explanations from the executive director of Modernista, the firm which developed the campaign. Mr. Koepke doesn't quite get the creepiness factor and defends the Tamara Hope spots saying:
"We weren't trying to creep people out, but one thing I have learned now in this digital age is people can be as rude as they want as long as they don't have to look you in the face," Mr. Koepke said. "The Pre is probably being talked about more than other phones right now because of the marketing and advertising, and that's a good thing. Could the ads work harder to show exactly how the phone works? Yes, but we knew it would be polarizing people to have a woman not shout at them and tell an interesting story."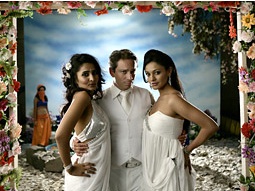 The article also reveals two new Palm Pre campaigns that have yet to air. Palm will be sponsoring some kind of Bollywood show on the International Film Channel beging August 6th. These commercials will feature SNL vet Chris Kattan in a mini-series where Kattan uses a Pre to help him out of different scenarios.
Palm will also soon begin a YouTube video campaign that includes a series of webisodes. Titled "Peter Mehlman's Narrow World of Sports," this campaign is set to kick off on August 9th.
Related: YouTube Link (parody)
Article Comments
(40 comments)
The following comments are owned by whoever posted them. PalmInfocenter is not responsible for them in any way.
Please Login or register here to add your comments.