ChatterEmail Sales Discontinued by Palm
Wednesday, March 11, 2009 11:50:40 AM
While we reported in December on ChatterEmail developer Marc Blanc leaving Palm for reasons unknown, the general consensus amongst the Palm OS faithful was that ChatterEmail would live on for the foreseeable future to serve the e-mail needs of Palm OS Garnet users. Unfortunately, it appears that Palm has decided to quietly let ChatterEmail die a faster-than-expected death by is no longer directly processing new registrations for the app.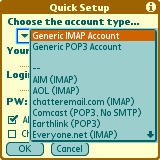 Despite being available for purchase just a few months ago, the ChatterEmail "Buy Now" box now leads to an empty page. The Palm Software Connection store's ChatterEmail product page still provides support documentation and FAQ links to ChatterEmail. In additional, a functional 30-day trial version of the app is still available for download and no actual product EOL or discontinuation notice has been announced by Palm or posted to the ChatterEmail page. So while unlikely, it's still possible this may just be a short-term glitch that Palm will eventually rectify.
A rather glum-sounding post to the ChatterEmail support forums by Josh recently confirmed that the registration links have disappeared and that users will need to contact Palm directly. Registration of ChatterEmail via Palm support e-mail and chat appears to be fruitless, according to one user's frustrating experience.
Since the mid-December 2008 departure announcement of Marc Blanc and Josh M. from Palm, the company has announced their new WebOS initiative alongside the new Pre smartphone, so these events are not entirely unsurprising. While the famed app's primary development ceased after Palm acquired both ChatterEmail and the services of Mr. Blanc, a few minor updates to the app continued through 2007. These updates culminated with version 3.0.9's release in October 2007 to support the then-new Palm OS-based Centro.
As always, and with any kind of electronically distributed software, existing users of the registered versions of any app should take this as a cautionary warning to archive a copy of the program somewhere as well as preserve their registration information.
Article Comments
(10 comments)
The following comments are owned by whoever posted them. PalmInfocenter is not responsible for them in any way.
Please Login or register here to add your comments.