Apple Hints at Smartphone IP Battle to Come
Wednesday, January 21, 2009 3:54:35 PM
In what could be interpreted as a hint of a legal battle to come, Apple's COO Tim Cook today made some possibly foretelling statements about iPhone competition and the broad series of patents Apple has secured around the iPhone platform. During todays Apple Inc. quarterly conference call he was asked specifically about smartphone competition and the Palm Pre and Android:
Q: "There are other iPhone competitors coming to the market: Android, Palm Pre. How do you think about sustaining leadership in the face of these competitors?"

A: "It's difficult to compare to products that are not yet in the market. iPhone has seen terrific rating from customers. Software is the key ingredient, and we believe that we are years ahead of our competitors. Having different screen sizes, different input methods, and different hardware makes things difficult for developers. We view iPhone as primarily a software platform, which is different from our competitors. We don't mind competition, but if others rip off our intellectual property, we will go after them."
Following that response he was asked a direct follow up question about the Pre:
Q: "The Palm device seems to directly emulate the iPhone's innovative interface. Is that what you're referring to?"

A: "We don't want to refer to any specific companies, so that was a general statement. We like competition because it makes us better, but we will not stand for companies infringing on our IP."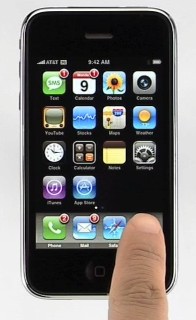 When the iPhone was first introduced Apple CEO Steve Jobs made it a point to stress that their newly developed multi-touch features were highly patented and that they would be aggressive in defending their intellectual property.
"And we have invented a new technology called multi-touch, which is phenomenal. It works like magic. You don't need a stylus. It's far more accurate than any touch display that's ever been shipped. It ignores unintended touches, it's super-smart. You can do multi-finger gestures on it. And boy, have we patented it." - Steve Jobs - January 2007
Apple's own patents pertaining to multi-touch gesture technology can be found online.
Many of the gestures shown so far on the Palm Pre closely mimic ones also present on the iPhone. A report out today suggests that Palm is incorporating multi-touch touchscreen hardware and technology from Cypress Semiconductor in the Palm Pre.
(Via MacRumors)
Article Comments
(89 comments)
The following comments are owned by whoever posted them. PalmInfocenter is not responsible for them in any way.
Please Login or register here to add your comments.

Only the first 50 comments are displayed within the article.
Click here for the full story discussion page...