Palm Black Friday Handheld and Smartphone Discounts
Wednesday, November 26, 2008 4:14:34 PM

In a welcome reprieve from the usual policy of a handful of pre-selected discounted products, Palm is offering users some flexibility for their annual Black Friday sale. Effective immediately, Palm is offering two different automatic discounts for users to purchase whatever they desire. Users can take $50 off any purchase between $150 and $299.99 and $100 off any order of $300 or more. We've combed through Palm's online store to find the best deals and uses of this discount, which is currently ongoing and expires December 1st 2008. Full details about the sale can be found here.
By far the best deals for the $50 discount would be a Palm TX (Slightly over $200 after discount if the order is padded to $300+) or perhaps the older and less capable Tungsten E2 ($150 after discount) handheld. For the remaining PDA faithful, this Palm sale may very likely be one of the final chances to pick up a brand-new, factory-sealed Palm OS handheld with warranty and from a reputable seller. To date, the Palm TX remains Palm's only current Palm OS device with WiFi wireless networking and its only product overall with a 320x480 screen resolution (review here).
Another good use for the $100 discount would seemingly be one of Palm's newer unlocked GSM smartphones such as new Treo Pro ($450 after discount) or one of the various flavors of the Palm Centro ($200 after discount for the unlocked GSM version). The Sprint's Treo 800w is another option.
Users currently unable to extend their wireless contracts for a discount on a carrier-subsidized new device should consider purchasing a CDMA Centro. The $100 discount makes even the traditionally cost-prohibitive CDMA devices realistic upgrade propositions. Verizon's version of the "old" 64MB Centro, the recent recipient of a new ROM update, is now only $250 after discount and the refreshed 128mb Sprint Centro is only $300 after discount…and best of all, this discount involves no contract extension with your wireless provider. You can see Ryan's first look at the olive green 128mb Centro here.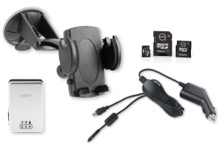 For prospective purchasers needing a cheap filler item to get over the $300 threshold, a spare pack of genuine spare Palm styli is always a wise choice. In fact, Palm has a special holiday sale on a multi-colored 5-pack of Centro styli for just $9.99 or a two-pack of metal Treo Pro styli for the same price. A pack of screen protectors is also another cheap but handy item to use as padding to reach the $300 threshold and Palm's Crystal Clear screen protectors are available in a 2-pack for all 320x320 Treos for just $4.99. I actually have one of these installed on my 755p at the moment and find it just as effective and "clear" as the pricey Brando and PDAir screen protectors I used in years past. Centro users might want to also consider Palm's transparent Air Case, on sale for just $9.99 or Palm's no-frills Centro Desktop Hotsync Cradle for $12.99.
Of course, you could just purchase an assortment of accessories for your new smartphone from Palm's online store and still take advantage of the discount offer. Palm's two most recent GPS Navigator packages just received their EOL notification but are still available at closeout prices. Palm's TomTom Navigator 6-based GPS Car Kit for the Treo 680 and 700p is available now for just $69.99 and last year's newer Garmin Mobile XT package with a Bluetooth GPS receiver is available for a limited-time Thanksgiving pricing of $137.99. Of the two, the newer Garmin Mobile XT package seems to be a much wiser purchase due to its inclusion of a microSD memory card, newer bundled map data, official Centro support, and a major recent update (September '08) from Garmin.
To give holiday shoppers another incentive to shop their online store, Palm's usual free shipping promotion on any order over $49 is still valid.
Article Comments
(20 comments)
The following comments are owned by whoever posted them. PalmInfocenter is not responsible for them in any way.
Please Login or register here to add your comments.