Palm's Future in the Clouds Editorial
Thursday, August 07, 2008 11:01:07 AM
1src columnist Alan Grassia has posted a new piece entitled "Up In the Air" concerning the possible future plans of Palm not involving their Nova OS or their future hardware offerings. Grassia's piece makes for quite interesting reading in light of the recent MyPalm closure.
Grassia's piece begins with the suggestion that Palm may attempt to capture an Apple-sized bit of the online software market with a new Software Connection storefront, whether or not the new PocketGear management is onboard with Palm or not. With the arrival of nearly ubiquitous wireless 2.5G & 3G connectivity, as well as a more robust future version of the Palm OS, Palm may feel that the time is ripe to transition from a Hotsync-based software installations to OTA downloads and installers.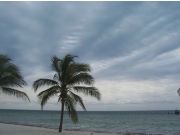 In fact, even under the Garnet OS, a number of Treo-oriented apps such as mVoice and Pocket Tunes employ automatic version checking and downloading from within the app. Furthermore, Palm's most notable non-hardware efforts this summer have been the launch of the two pieces of "lifestyle" software leveraging their devices' wireless connectivity: the location-enabled version of Google Maps for Centro devices and a Palm OS-specific Facebook app.
Palm's efforts on cloud-based computing, thus far only barely hinted at with last year's Palm Backup beta software release, could even culminate in a strategy of future devices with different formfactors intended for different tasks. Companies such as Asus with their newer SSD-based EEE PCs are already mitigating the devices' limited onboard storage capacities by offering customers a free 20GB online file storage account, a strategy that Palm would be wise to mimic if their hints for a future Foleo follow-up ever come to fruition. Even the recent news of Access's repositioning of ALP to target Mobile Internet Devices could be skewed without much effort to point to a wireless-only future that will outgrow the display limitations imposed by conventional smartphones.
By successfully leveraging their existing smartphone base, Grassia states, Palm could combine the inherent standalone strengths of their smartphone devices with the best limitless possibilities offered by OTA data delivery and cloud computing. With Palm's distant cousins at Access now electing to support to a MID-centric strategy, a combination of fierce competition and diminishing margins in the smartphone sector and an increasing push on cloud services could perhaps even compel Palm to break out of the boundaries imposed by their conventional square-screened, QWERTY keyboard smartphone formfactors.
Article Comments
(24 comments)
The following comments are owned by whoever posted them. PalmInfocenter is not responsible for them in any way.
Please Login or register here to add your comments.