Access Repositions ALP for Mobile Internet Devices
Wednesday, August 6, 2008 8:29:02 PM
While seemingly having little uptake in the smartphone market, Access have now set their sights on the nascent Mobile Intent Device (MID) market. The company has just announced that the Access Linux Platform will ad support for the emerging MID format.
Larger than a classic PDA and even more portable than a "netbook", MID devices are a relatively new niche in the mobile computing market.They typically come in a tablet like form factor with larger screens optimized for browsing the web. Nokia has made some strides with its Internet Tablet series, and other tech heavyweights such as Microsoft, Intel and Ubuntu are also working on MID projects.
Access said in a statement that they will be supporting the growth of the Mobile Internet Device (MID) market with the capability of running ACCESS Linux Platform on the emerging MID form at, giving MID manufacturers the same complete, flexible, commercial-grade, Linux mobile platform available for mobile handsets. The flexibility of ACCESS Linux Platform will enable licensees to create differentiated experiences, including UI innovations and support for larger displays.
The Access Linux Platform was first announced in in late 2006. It features a Linux core and also includes the ability to run Palm OS Garnet, Java and native Linux applications. It has been up until now primarily marketed towards smartphones. There has yet to be a commercial device available offering the operating system. A handset was partially announced earlier this year by Samsung and Orange, but due to recent reports it has been canceled.
The Access Linux Platform for MIDs is available to licensees immediately. Access is currently demoing the new functionality on Texas Instruments Zoom Mobile Development Kit at the LinuxWorld Expo going on this week in San Francisco.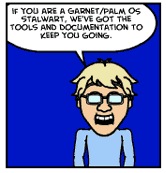 "Mobile Internet Devices will allow people to browse the web better than they can on today's smartphones," said Philip Solis, principal analyst at ABI Research. "Some of these devices will have support for full cellular voice and, in some cases, will replace handsets. This market will begin later this year and grow to about 90 million devices in 2012."
Update to ACCESS Linux Platform SDK released
Access is also releasing a new update to its ALP SDK. The new features include support for touch user interface; improved audio and video support; updated ALP-Glade (user interface designer) to support new ACCESS Linux Platform widget components; and added support for the SDK to run on the latest Ubuntu 8.04 release, in addition to the earlier version 7.10. The ALP v2.4 Update 1 update will be available for download from the ACCESS Developer Network (ADN) website at accessdevnet.com later this month.
Thanks to Mike Cane for the tip.
Article Comments
(25 comments)
The following comments are owned by whoever posted them. PalmInfocenter is not responsible for them in any way.
Please Login or register here to add your comments.