Palm PDA & Black Friday Sale Going on Now
Tuesday, November 20, 2007 11:12:54 AM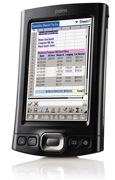 Black Friday may still be a couple days out, but the deep discounts are already going on now at the Palm.com store. Two Palm PDAs are being substantially discounted as part of the Palm Store's "Black Friday" specials. Both deals sweeten the offer with a free bundled Palm accessory with each PDA in addition to free ground shipping and the opportunity to avoid the crowds at local malls and stores.
The Palm TX is currently on sale for an ultra-low $199.00 after a $100 instant rebate. This is the first time to my knowledge that a new Palm TX has been available under $240 and definitely the first time it's been available under $200 from a reputable seller. Palm is bundling a Palm Wireless IR Keyboard (a $69.00 value from the Palm Store) with each TX purchase. I personally own this exact keyboard and while it's not as pleasant to use as the newer, pricier Palm Bluetooth keyboard, it's a solid unit if you can live with the usual limitations of Infrared. Users whose needs require a dedicated PDA and wi-fi or a 320x480 screen should definitely jump on this deal ASAP.
The Tungsten E2 is on sale for $149.00, a full $50 off of its standard MSRP. Its bundled accessory, a T|E hard case, isn't quite as attractive as the TX's free keyboard but is still a nice freebie.
Another superb value is the Palm GPS Navigator Smartphone Edition 3. This is on sale for $149.00, a huge $100 drop from the usual $249.00 price, and also has free ground shipping from the Palm Store. The $149 price is valid only until November 24th, upon which it will return to $188.00, which is still a considerable bit less than this GPS packed had at launch. See my review of the essentially similar GPS Navgiator Edition 2 here. While this is Palm's newest GPS bundle featuring the TomTom 6 software, it is not officially supported by the Palm Centro (but has been reported to work fine if installed to a separate microSD card) and is going to be phased out next year by the new Palm/Garmin GPS bundle designed to work with the Palm Centro.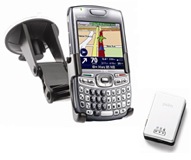 While the Palm TX deal is definitely the better of the two handheld deals due to its superior specs and included keyboard, either deal is still a great value for someone looking to acquire a backup PDA or make one final new handheld purchase. The Palm store's offer looks to be the last and best gasp from the slowly dying PDA market this holiday season, especially with Palm's handhelds swiftly disappearing from Palm's remaining brick and mortar retail chain partners.
Both PDA deals at the Palm store are set to expire at 11:59 PM Monday, November 26th or, as Palm states, "while supplies last" so it's very likely this deal could disappear prior to the 26th.
Article Comments
(40 comments)
The following comments are owned by whoever posted them. PalmInfocenter is not responsible for them in any way.
Please Login or register here to add your comments.