Palm Treo 700w Now Available from Verizon
Wednesday, January 4, 2006 3:50:41 PM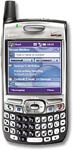 Palm and Verizon today announced the Palm Treo 700w smartphone goes on sale tomorrow, January 5th. The Treo 700w smartphone is the first Treo smartphone to run the Microsoft Windows Mobile operating system. It is also the first Treo to operate on Verizon's high speed EV-DO data network.
The Palm Treo 700w combines a mobile phone with high-speed wireless data access to email and business applications. The newest member of the Treo family builds on the award-winning design of the Treo 600 and Treo 650 smartphones and takes advantage of Windows Mobile 5.0, offering Microsoft Office applications for Windows Mobile, Internet Explorer Mobile and Windows Media Player Mobile; as well as direct access to Microsoft Exchange Server 2003 for mobile access to information.
The new smartphone delivers a unique suite of software enhancements on top of Windows Mobile that includes the following:
Today Screen enhancements, which feature the ability to "dial by name" with a few keystrokes on the keyboard, perform a web search directly from the Today Screen and perform one-touch dialing with personalized photo speed dials;
Ability to manage a call directly from the Today Screen and stay on top of voicemail with on-screen, VCR-like icons, such as rewind, delete and fast-forward controls for easy navigation; and
Ability to ignore a call and quickly compose a text message such as "In a meeting" or "Can't talk right now" by selecting the "Ignore with text" option from the incoming-call screen.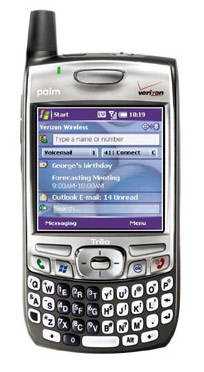 Verizon Wireless' EV-DO (Evolution Data Optimized) BroadbandAccess network gives customers a fast, convenient way to conduct business while providing employees the speeds required to work efficiently outside the office. Today, about half the U.S. population, in more than 1,180 major metropolitan markets across the nation, can get average download speeds of 400-700 kilobits per second.
"We are ushering in a new era of mobile solutions that provide access to email, Microsoft Office applications and many other functions that extend the value of the PC," said Steve Ballmer, chief executive officer of Microsoft Corporation. "Businesses worldwide are using mobile devices to increase their competitive advantage, and they need solutions that are scalable, low-cost, and easy to deploy. The Treo 700w showcases the dynamic blend of Palm's innovative design, Verizon Wireless's EV-DO network, and the power of Windows Mobile software to connect professionals to their critical information on the go."
"Customers have long been asking for a Palm Treo smartphone on the Windows platform, and we're thrilled to say it's here on the Verizon Wireless network," said Ed Colligan, president and chief executive officer of Palm, Inc. "The Treo 700w smartphone is powerful, flexible and easy to use, while also being enterprise grade right out of the box."
Some of the features of the Treo 700w:
312 MHz Intel XScale processor
240x240 pixel TFT screen
128MB of memory and 60MB of dedicated user storage
1.3-megapixel digital camera for images and videos
Integrated Bluetooth 1.2 wireless technology Expansion card slot (SD, SDIO, and MultiMediaCard compatible)
Removable battery and non-volatile memory
Voice Command for voice dialing
Ability to send and receive email from multiple corporate and personal email accounts, with built-in support for Microsoft Office Outlook Mobile, Hotmail, Yahoo!, AOL, and other POP3 and IMAP accounts
On-device access to Microsoft Office Word Mobile, Office Excel Mobile and Office PowerPoint Mobile for viewing, editing and creating Word and Excel Mobile documents, as well as viewing PowerPoint Mobile presentations. In addition, with Picsel PDF viewer (included on installation CD), customers can view PDF documents
Unified messaging application, including email, SMS and MMS
Support for Wireless Sync to provide the convenience of push email and easy access to personal information-management tools, such as contacts and calendar, as well as enterprise tools, such as device management and file synchronization.
The Palm Treo 700w smartphone from Verizon Wireless is available for $399.99 after $100 instant rebate with a two-year service agreement when accompanied by a voice plan of $39.99 or higher and an unlimited PDA/smartphone data plan. The Treo 700w is available at the 1,900 Verizon Wireless Communications Stores, Verizon Wireless Communications Stores at Circuit City, or on the web.
Enterprise customers are encouraged to contact their Verizon Wireless Business Specialist at 800-VZW-4BIZ.
Article Comments
(81 comments)
The following comments are owned by whoever posted them. PalmInfocenter is not responsible for them in any way.
Please Login or register here to add your comments.

Only the first 50 comments are displayed within the article.
Click here for the full story discussion page...