Palm Treo 700p Release Date Leaked?
Friday, March 17, 2006 1:48:28 PM
Rumor A copy of what appears to be an internal Sprint Document has been posted on TreoCentral's message board. The poster claims the document was shown to him at a Sprint store and he was permitted to take a photocopy. If accurate, this story would confirm earlier information told to PalmInfocenter that a Treo 700p was planned to be released by Sprint in the May/June timeframe. Read on for the details.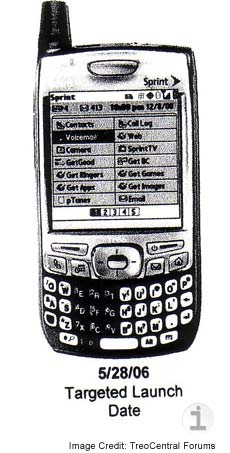 The scanned document from TreoCentral lists the following features:
Treo 700p
Power Vision EVDO support
128 MB memory
1.3 Megapixel camera
Bluetooth, SD expansion slot
Refined industrial design, complete upgrade to the Treo 650
Software: Sprint TV, On Demand, Streaming music
Bluetooth DUN modem support
Launch Date: 5/28/06
The document can be found on page #9 of the forum thread. Photos and similar details about the Treo 700p were first posted in early February.
As with all message board rumors, keep in mind that something like this could easily be cooked up. The targeted release date listed falls on a Saturday, which kind of casts a little bit of doubt on the accuracy of that expected launch date. It is possible that could just indicate a general time frame for availability.
UPDATE: The Palm Treo 700p has been officially announced.
Thanks to Surur for the tip.
Article Comments
(20 comments)
The following comments are owned by whoever posted them. PalmInfocenter is not responsible for them in any way.
Please Login or register here to add your comments.