New Palm Centro Image and Details
Saturday, September 8, 2007 5:48:32 PM
Rumor: Just days before the unveiling of Palm's latest smartphone (presumably a Windows Mobile-powered GSM Treo), additional details have surfaced on PhoneNews about the upcoming Palm Centro. The Centro a.k.a. "Gryphon" is generally acknowledged to be the equivalent CDMA device to the GSM Windows Mobile Standard Gandolf rumored to be announced this week.
The Centro is expected to debut on October 14th for Sprint's CDMA network. The latest leaked photos from Sprint's 4th quarter 2007 roadmap verify the black and silver color scheme first seen in detail here in addition to the white and silver color seen here.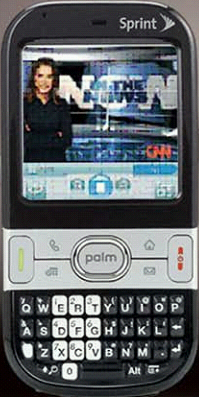 Based on the handful of details provided on the PhoneNews article, the Centro's software bundle and preliminary specifications appears to be an almost mirror image of the Treo 755p's aside from a smaller screen, keyboard, and (presumably) battery. Listed on the Phonenews report for the Centro are both Sprint TV (as seen in the leaked image) and Sprint Music Store. Additional bundled apps are Sprint Mobile Email, Google Maps, VersaMail, Sprint Instant Messaging (likely what was depicted onscreen in the previous Centro image), and Pocket Tunes Deluxe (the first time the Deluxe version has shipped standard on a Palm device). No hardware specs are detailed in the report other than a 1.3 megapixel camera.
Based on the preliminary specifications, strong software bundle, and rumored $99 price point, the Centro appears to be a far better value proposition than its pricier 755p sister device in the Sprint lineup. Even if the Centro lacks Documents To Go, PTunes Deluxe is a superb choice to be bundled the device, especially if Palm is targeting the media-savvy youth market with this release. Previously leaked photos have confirmed that the Centro uses the updated Phone app first seen on the Treo 680 and not included on the Treo 755p. Earlier reports also indicated that the Centro will have EVDO Rev. A but this has not yet been confirmed at this time.
(Thanks Surur, via the TreoCentral forums.)
Article Comments
(28 comments)
The following comments are owned by whoever posted them. PalmInfocenter is not responsible for them in any way.
Please Login or register here to add your comments.