Access Linux Platform Shown at LinuxWorld
Tuesday, April 4, 2006 11:05:18 AM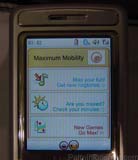 PalmSource is exhibiting at the LinuxWorld conference going on this week in Boston. PalmInfocenter is live on the scene to bring you this exclusive new preview of the Access Linux Platform.
Read on for more about the Access Linux Platform and check out some new screenshots of the current ALP prototype being shown at LinuxWorld.
Access Linux Platform Overview
The ACCESS Linux Platform is the next mobile software platform from PalmSource. It has its roots in the Palm OS for Linux project. ALP is a combination of a number of technologies including Palm OS for Linux, the NetFront mobile web browser and a number of open source projects.
Linux is the core of the new operating system and ALP is based on the version 2.6.12 of the Linux kernel. ALP contains a number of programming options for developers. There are four main options available:
MAX Applications (the native ALP interface)
Palm OS 68k Emulation layer
GTK+ (native linux like environment)
J2ME (Java Virtual Machine)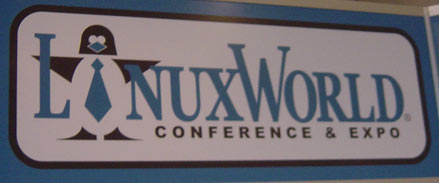 Before you get used to saying the ACCESS Linux program or ALP, keep in mind this is not the final name of the operating system. ALP and MAX are both still working code names for the platform.
MAX
The main new user interface is the MAX application framework. It is said to be an evolution of the "zen of palm" user experience. It is the main preferred developer framework that PalmSource wants developers to take advantage of.
MAX is designed to support both traditional one handed phone operation (with a 5-way navigator and two dedicated soft keys) and touch-screen and stylus based handsets. MAX will also finally bring multitasking and concurrent applications to the Palm OS faithful. It fully supports multiple concurrent applications and background tasks.
A new feature of the MAX interface is something called "access panels". When a application is running on ALP, a small bar along the bottom of the display will show small icons that provide shortcut access to common tasks for open applications.
All of the pre-installed ALP applications will use MAX. This includes updated "more modern" versions of the PalmSource PIM suite, multimedia and messaging applications. Access' Netfront will be the default built in web browser. The latest version of Netfront will support AJAX technologies (Asynchronous JavaScript + XML), SMIL2.1 specification (W3C SMIL Mobile Profile and W3C SMIL extended Mobile Profile) as well as a new plug in architecture that will allow videos and office documents to be displayed in the browser.
PalmSource has not yet committed to a date to make development tools available to developers. For more information on ALP check out our article More details on the Access Linux Platform.
PalmInfocenter Exclusive ALP Screenshots
The following screenshots show a few aspects of the Access Linux Platform. Please note that these are not representative of the final shipping version of the Access Linux Platform. They are from the ALP demo prototype that is being used by PalmSource to demonstrate at tradeshows. The actual phone is a Haier linux smartphone. It is solely being used for demonstration purposes, as Haier is not a licensee or involved with ALP.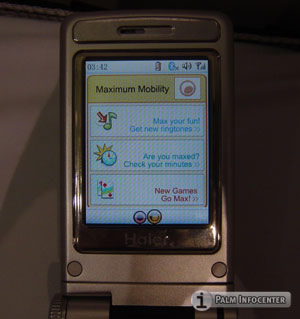 This is a mock up of what a carrier could use to customize a typical MAX display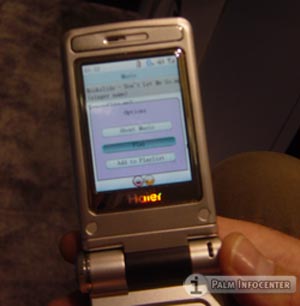 This is an example of a "access panel" showing music controls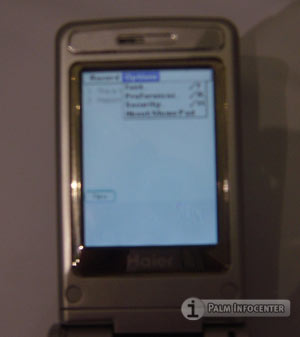 A blurry shot of ALP Palm OS emulation layer running memos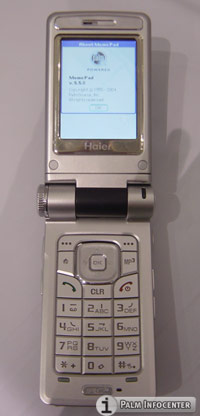 The about screen for the Palm OS memopad under ALP
Article Comments
(56 comments)
The following comments are owned by whoever posted them. PalmInfocenter is not responsible for them in any way.
Please Login or register here to add your comments.

Only the first 50 comments are displayed within the article.
Click here for the full story discussion page...