Limited-Edition Black Tie Treo 650
Monday, June 5, 2006 10:55:49 AM
According to a message board thread on the Mapaland.org Palm forums, a special limited-edition batch of "Black Tie" Treo 650s have been produced for select markets in the Asia/Pacific region.
According to the poster and a e-mail announcement from Palm, the specs are identical to a standard Treo 650 save for a a special black styling and silicone coating on the unit's housing. In addition to the cosmetic changes, a multifunction pen stylus and the new Palm Treo hard case are also included in the bundle.
While the original Palm Zire 72 was infamous for its notoriously fragile, chip prone rubberized blue paint, subsequent releases from Palm such as the Zire 72 and LifeDrive aluminum cases have had a much more durable black version of this coating. It's quite possible that this is what Palm is using for these limited and very stylish Treo 650s.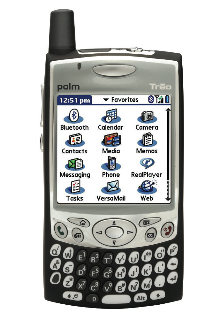 Also of note is that the new "Palm" branding is present on these limited edition Treos; to date they are the only Treo 650s without the original "PalmOne" logo.
Apparently the Philippines and Singapore are two of the regions receiving limited edition Treos. Palm's Singapore web site also lists a limited edition teal blue Treo 650. It looks suspiciously like the Cingular and (Sprint-powered) Earthlink Treo 650 that Office Max carries.
Article Comments
(16 comments)
The following comments are owned by whoever posted them. PalmInfocenter is not responsible for them in any way.
Please Login or register here to add your comments.