Xerox Graffiti Lawsuit to be Reconsidered
Thursday, June 8, 2006 12:59:01 PM
The Associated Press is reporting that a U.S. appeals court today revived the Xerox vs. Palm, 3com patent dispute over the Graffiti handwriting-recognition technology. The case first came to court in 1997 and has been tied up in the legal system ever since. The dispute is responsible for Palm ceasing use of the Graffiti input system and moving on to Graffiti 2.
Xerox first filed the suit in April 1997 against U.S. Robotics, then the owners of Palm Computing, alleging that Palm's Graffiti handwriting recognition software infringed a Xerox United States patent relating to computerized recognition of handwriting.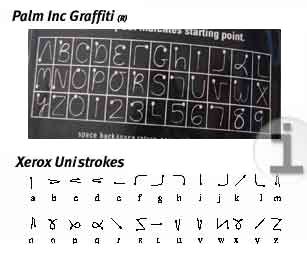 Xerox's input technology is called Unistrokes and was patented in 1997. The patent in question is U.S. Patent No. 5,596,656, which covers unistroke touch screen input symbols. The lawsuit is against Palm as well as its former parent company, 3Com.
Xerox originally filed for its patent in October of 1993. The first handhelds running the Palm OS, the Pilot 1000 and Pilot 5000, were released in April of 1996 by U.S. Robotics. These included Graffiti.
A summary judgement was last issued in May 2004 in Palm's favor. Judge Michael A. Telesca of the United States District Court for the Western District of New York held that the Xerox patent was invalid. The court stated "The prior art references anticipate and render obvious the claim," or that the unistroke system was not a unique invention.
Today's ruling opens the case back up again for reconsideration and further appeals. The court said that the judge had erred in ruling that the Xerox patent was invalid. Palm has taken the position that Xerox was not the first to invent the technology.
Related Articles:
Article Comments
(61 comments)
The following comments are owned by whoever posted them. PalmInfocenter is not responsible for them in any way.
Please Login or register here to add your comments.

Only the first 50 comments are displayed within the article.
Click here for the full story discussion page...