The Foleo Imbroglio Editorial
Tuesday, August 14, 2007 11:32:32 AM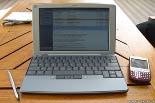 Ross Rubin, director of industry analysis for consumer technology at market research and analysis firm The NPD Group, has posted his latest weekly Engadget blog editorial article "Switched On". In this week's installment (the first of several about the Foleo), Ross' discusses the segmentation of several camps of naysayers that have sprung up on one side of the Foleo fence; power users who prefer maximum Windows-based portable versatility and power no matter the cost, thrifty types who feel that the same amount of money spent on the Foleo ($500-$600) could be better spent on a low-end Wintel machine and "mobile minimalists" who refuse to deal with the clutter and inconvenience of multiple devices.
Of course, the Foleo has its own group of staunch supporters who prize the Linux-based, lightweight, instant-on device like the Foleo.
Next week's Rubin segment promises further discussion of the above user types as well as the implications of the Foleo's Bluetooth DUN implementation and whether the world even needs a "smartphone companion".
Ross Rubin's full blog can be found here. PIC's comprehensive Foleo area can be found here.
Article Comments
(50 comments)
The following comments are owned by whoever posted them. PalmInfocenter is not responsible for them in any way.
Please Login or register here to add your comments.