Garmin Discontinues Three iQue Models
Monday, November 13, 2006 10:18:42 AM
In yet another tightening of the PDA belt, Garmin has quietly posted a notice of discontinuation on their website of two of their four Palm OS GPS-PDA hybrid handhelds. One of the company's Windows Mobile-powered handhelds, the iQue M5 running WinMob 2003SE, is also discontinued. Garmin has not issued an official announcement short of adding the models to its discontinued product list and putting up a discontinued sign on its product pages.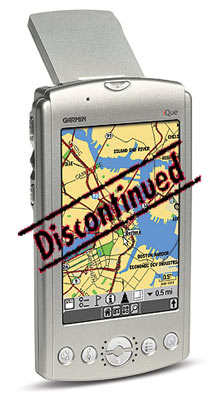 The Garmin iQue 3600 was released in July of 2003 amidst much hoopla. It was the first 320x480 non-Sony Palm OS device released and beat Palm's own Tungsten T3 to market by several months. The iQue also had the notable distinction of being the only non-Palm device to use the Universal Connector accessory connector. Unfortunately this connector design was on its last legs for Palm by the time of the iQue's introduction.
The second discontinued Palm OS model, the iQue 3200, was released approximately one year later as a reduced-feature budget version of the 3600. The 3200 had a 320x320 LCD in place of the large 320x480 of its older stablemate. The 3200 also omitted the headphone jack, mp3 player, voice recorder app, and microphone from the 3600's design. It did, however, improve the 3600's SD-only limitation by offering an SDIO slot.
A slightly modified version of the 3600 is still in production. It is the0 iQue 3600a, intended for aviation purposes and in-flight usage. The iQue 3600a is still a current product, if the information on Garmin's website is correct. This highly specialized model was introduced in early 2005 and has a unique cradle mount and software bundle. It also boasts main memory expanded to 64mb while touting 96mb of pre-loaded ROM data.
The newest addition to Garmin's line of Palm OS GPS-enabled handhelds is the iQue 3000, a restyled, smaller, lower-cost version of the iQue 3200. The iQue 3000 was announced in early 2006 but delayed several times before its eventual arrival to the market. This handheld is listed as a current model by Garmin and still enjoys widespread availability.
Article Comments
(6 comments)
The following comments are owned by whoever posted them. PalmInfocenter is not responsible for them in any way.
Please Login or register here to add your comments.