Garmin Discontinues All Remaining iQue Models
Friday, February 29, 2008 9:39:38 AM
In case anyone has not had their fill of depressing Palm OS-related news this week, we have just received word that Garmin has officially discontinued their final two Palm OS-based handhelds with integrated GPS functionality. In actuality, Garmin's PDA line has been dying a long, protracted death for several years as the company shifted its focus to standalone GPS navigators and add-on mapping software partnered with a Bluetooth GPS receiver such as the Mobile 10, 20 and XT packages.
Garmin's iQue 3600a, the specialized aviation version of the original iQue 3600, has finally been put out to pasture, juding by the product's "discontinued" status on its web page.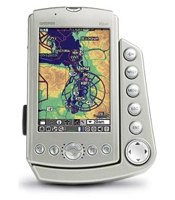 The iQue 3000, Garmin's final Palm OS-based standalone product, has also been discontinued. The iQue 3000 was a smaller, sleeker and restyled version of the older iQue 3200. The 3000 was quietly released in early 2006 to very little fanfare after suffering several launch delays. It holds the dubious distinction of being the very first Palm OS-based device to use microSD cards.
A quick check of some online price listings revealed that the iQue 3000 still enjoys fairly widespread availability in the ~$400 neighborhood from a variety of navigation product, outdoors, and specialty sporting goods retailers. The iQue 3600a is also still available from a handful of merchants, though its $1000+ price tag will likely turn away the casual PDA collector.
Article Comments
(26 comments)
The following comments are owned by whoever posted them. PalmInfocenter is not responsible for them in any way.
Please Login or register here to add your comments.