Another Treo 800w/Gandolf Picture?
Monday, July 9, 2007 6:28:21 PM

Rumor: The MorningPaper blog has posted what appears to be a legitimate but low-resolution shot of what could be the next Windows Mobile Treo device. Apparently clad in a matte black finish reminiscent of the recent BlackJack/Q/BlackBerry models, the Treo 800w appears to basically mimic the earlier pictures of the Treo "Gandolf" mentioned recently with a few design cues from the older Tungsten C and W keyboard-based PDAs as seen in the previously leaked photos. The device also appears slimmer with a larger LCD but this could be just due to the orientation of the device in the photo.
The D-Pad appears to have taken design cues from the older LifeDrive and Z22 handhelds with the "recessed ring" style. The green and red send/end buttons are also vertically-oriented, with the four hardware app buttons surrounding the d-pad much like the old Zire 72 handheld.
According to the article, Sprint's internal roadmap document indicates "HIGH" by this product, signifying its importance to Sprint's future handset lineup. The photo's caption also indicates that this is to be an EVDO Rev. A device, unsurprisingly.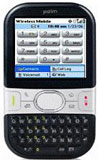 It's still unknown if this device is to run Windows Mobile 6 Standard and not use a touchscreen (as earlier Ganfolf rumors seemed to indicate) or if it will be fully touchscreen-enabled like Palm's current WM5 Treos with the latest Windows Mobile 6 Professional OS. There is no indication at this time of a Garnet or "Palm OS II" version as an 800p on the Sprint roadmap.
Thanks to Surur for the tip.
Article Comments
(14 comments)
The following comments are owned by whoever posted them. PalmInfocenter is not responsible for them in any way.
Please Login or register here to add your comments.