Possible Palm Gandolf Specifications
Monday, June 18, 2007 1:07:38 PM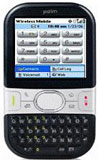 Rumor: The IntoMobile blog, is running an unsubstantiated rumor report on the possible specs of the rumored Palm Treo "Gandolf". In short, the device is expected to be radical departure from current Treos in both formfactor and screen technology.
It is expected to be the first non-touchscreen Treo, and could come in two editions. One for Windows Mobile 6 Standard (smartphone edition) and another with a new version of Palm OS that is designed for use without a touchscreen. No word if this is a Linux-based version of Palm OS or if there will be a Garnet emulation player. Additional details reveal Bluetooth 2.0 with A2DP support and full EVDo/HSDPA 3g onnectivity. Screen size is reportted to be 2.4" QVGA non-touchscreen with 65k color depth. No word if the Palm version and WM6 version will share screen size and resolution.
The new Treos are expected to fall under the Treo 500-series moniker, which makes for surprising nomenclature as relating to current and past Treos. If the above specifications are correct, these 5-series Treos exceed the current Treo lineup in nearly every feature, especially multimedia functionality. Neither Palm nor Handspring have ever released any Treos in the 400 or 500 series range. The Handspring/Palm Treo 600 launched in the fall of 2006 and every model since since the five-year old Handspring Treo 300 has been some variant of the 600 or 700-series Treos.
The full, rumored spec list reads:
Naming convention will be Treo 5XX
One version with Windows Mobile 6 Standard, the other is a new non-touchscreen edition of the Palm OS
Multiple colors
135 grams; 117 x 65 x 13.8 mm
2.4 inch QVGA screen with 65k colors
2 megapixel camera
Bluetooth 2.0 w/ A2DP support
3G + HSDPA
256 MB onboard memory with 64 MB of RAM
Article Comments
(16 comments)
The following comments are owned by whoever posted them. PalmInfocenter is not responsible for them in any way.
Please Login or register here to add your comments.