Howto Enable SDHC Card Functionality on the Treo 700p
Monday, January 01, 2007 9:42:07 PM
As reported on PIC recently, the transition from Secure Digital 1.1 to Secure Digital 2.0 (aka SDHC) has begun due to the Treo 680's compatibility. The recent arrival of sub-$100 8gb SDHC cards and compatible devices is only hastening this process but many owners of SD-only devices have been left in the cold wondering if their devices will ever be updated for SDHC compatibility.
Read on for the full howto tutorial on enabling SDHC compatibility on your Treo 700p.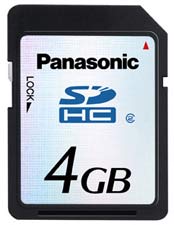 TreoCentral users recently found out that the recently-released Treo 680, despite the perceived limitations of OS Garnet, is indeed compatible with 4gb and 8gb SDHC cards. Now a PalmInfocenter member, drbuzz0, has discovered that it is possible to enable SDHC support via a hack for the Treo 700p! This process basically lifts the SD slot driver from a 680's ROM image and installs it via Filez onto the 700p to enable unofficial SDHC support.
This tutorial is provided for informational purposes only, use at your own risk. PalmInfocenter is not responsible for any loss of data, warranty or other issues as a result of this tutorial.
First, purchase an SDHC card. I bought my Class 2 Transcend 8gb card from Newegg last month and it's worked flawlessly on the devices that can handle SDHC media. Newegg currently offers two 8gb SDHC cards and you can find more via pricegrabber. ADATA cards have a bit of a notorious past so the extra money for the Transcend card might be well worth it.

700p users can download the 680's SD slot driver here

Save the file to a conventional SD card. DO NOT Hotsync the file!

Using a Palm OS file manager program (I recommend Filez), copy the file to your 700p's main memory

Perform a soft reset

Insert the SDHC card into the Treo after the Palm has completed its reset/reboot process

The 700p should now be able to see the card as two ~4gb blocks. Ensure that the SDHC card is filled with either more or less than 4gb to minimize the potential for any Garnet filesystem wackiness.

Detailed discussion and additional troubleshooting information is available on this lengthy TreoCentral thread. In addition, the popular utilities Card Export II and Card Reader work properly with these large capacity cards.
Thanks to drbuzz0 for having the guts to be the first to try this hack. I'm glad the good Doctor can report a successful operation!
Article Comments
(14 comments)
The following comments are owned by whoever posted them. PalmInfocenter is not responsible for them in any way.
Please Login or register here to add your comments.