Palm Desktop for Windows Vista Final Version Released
Wednesday, January 16, 2008 9:06:05 AM

After over eight months of dealing with the quirks and limitations inherent in any beta software release, Palm has finally posted a final release version of the Palm Desktop software for Windows Vista. This new version is still listed at v6.2 but without the beta tag.
This new build is compatible with Windows Vista Basic, Premium, Business, and Ultimate 32-bit editions. 64-bit editions of Vista are not supported. Windows XP, surprisingly, in both Home and Professional 32-bit editions are supported by this version, but only for users of the new Palm Centro. Another surprisingly supported OS is the XP-based Windows Media Center Edition (a notable first for the Palm Desktop).
Several limitations still unfortunately exist in this version of the Palm Desktop for Vista:
Quick Install Tool is no longer available, having been replaced by the Install Tool.
VersaMail Hotsyncing is no longer supported. VersaMail users must sync their e-mails wirelessly. Outlook 2007 synchronization via USB cable is fully supported.
Birthdays and Anniversary reminders do not appear in the Palm Desktop Calendar component. This could be a huge drawback to users who use their Palm Desktop software on their PCs as their primary means of organization and scheduling. Palm advises that these reminders will still be stored during Hotsyncs and will appear on the user's device after synchronization.
Color coding of events in the Calendar is not supported. This is not a huge drawback but still potentially aggravating for Palm OS users used to this long-time feature.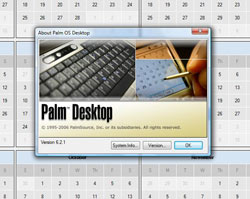 According to Palm Support, Windows 2000, Server, Tablet PC and any 64-bit XP versions are not compatible with this release. Additionally, Palm advises that the Palm Desktop is incompatible with multi-CPU computers such as servers and high-end workstations (multi-core CPUs such as the Intel Core Duo, Core 2 Quad, and AMD's Athlon X2 and Phenom are compatible).
In addition to the aforementioned Palm Centro, the Treo 755p, 700p, 680 smartphones and the TX, Z22 and E2 handhelds are the only devices certified to work with the Palm Desktop 6.2 for Vista. The still-popular Treo 650, despite being a supported device on the previous beta build's release notes, is not mentioned as a compatible device for this release version. The Palm LifeDrive is the newest device to not be officially supported.
Users of unsupported but relatively recent (circa 2004) devices such as the Palm T5, Zire 31 and Zire 72 may still have some measure of success with this release. I have personally tested a Zire 72 (released in 2004) with the previous Palm Desktop 6.2 beta. I found Hotsyncing to be fairly functional despite that device being officially compatible, with the main limitation being an inability to Hotsync photos taken with the Zire's camera.
The Palm Desktop 6.2 and HotSync Manager 7 are available free to download from Palm's support page as a 65.2mb zip file, several megabytes larger than the original beta release.
Thanks to WyreNut for the tip.
Article Comments
(19 comments)
The following comments are owned by whoever posted them. PalmInfocenter is not responsible for them in any way.
Please Login or register here to add your comments.