Sprint Treo 755p ROM Update Released
Thursday, January 31, 2008 12:23:07 AM

Palm has just released a new ROM update for the Sprint Treo 755p. Palm's support page for this update, referenced as ROM version 1.07, is surprisingly short on details, even by Palm standards. The entire list of improvements in this version states:
"This software update is a tune-up that improves audio, stability, software quality and device usability."
Though we can only speculate without any release notes or details, It's possible that some lingering bugs left over from the 700p-era OS in the initial 755p ROM are addressed, perhaps bringing the 755p closer to Centro levels of performance and reliability. Whatever the specifics, this update is certain to be welcome news to Treo 755p users who feel they have forked over considerable more money for a "forgotten" device that has been left in the dust as Palm focuses the majority of their attention on the newer, flashier, and much cheaper Centro.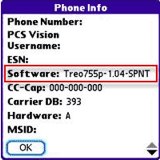 Palm's new 1.07 update for the Sprint 755p is approximately 18.4 megabytes in size and is available in both Hotsync and SD-based installers for Windows uers. Mac users are required to perform the memory card-based install method. Palm advises that the update will take 45 minutes to complete.
The Sprint Treo 755p launched in May of 2007 and the device was recently been rolled out on the CDMA networks of Alltel, Canada's Telus and most recently, Verizon Wireless.
Article Comments
(8 comments)
The following comments are owned by whoever posted them. PalmInfocenter is not responsible for them in any way.
Please Login or register here to add your comments.