Treo Pro Prematurely Announced?
Tuesday, August 19, 2008 9:34:17 AM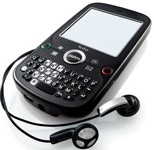 For our longtime readers the title above is somewhat of an understatement, even sometimes expected given the flurry of rumors that nearly always precede a new Palm release. Nevertheless, a number of tech sites posted seemingly official announcements of the Palm Treo Pro smartphone earlier this morning, only to quickly withdraw portions of the article citing a premature release by one of Palm's PR agencies.
In any event, new official looking press pictures of the device have been posted and even a video clip (posted after the break), which appear to have been produced by Palm's marketing department. Oddly these items remain online, while the official announcement statements were requested to be taken down. Initial images confirm that the device is essentially identical to the Treo Pro engineering prototype that have recently made the rounds online.
Word of a official announcement was first posted on Electronista, the Register and subsequently Slashgear and shortly later recapped by Engadget. There is no word of the Treo Pro on Palm.com's site and PalmInfocenter has not received any sort PR statement from Palm regarding the device as of this writing.
By now nearly every aspects of the device has been leaked online including numerous rounds of spy shots from multiple sources, some with uncharacteristically good resolution. The Treo Pro is expected to sport a Quad-Band GSM phone with Tri-Band 3G HSDPA support. It is said to run Windows Mobile 6.1 Professional on a 400 MHz processor with a 320x320 pixel flush touchscreen, 256MB memory, microSD expansion, built in Wi-Fi, Bluetooth and GPS.
Article Comments
(20 comments)
The following comments are owned by whoever posted them. PalmInfocenter is not responsible for them in any way.
Please Login or register here to add your comments.