GSM Palm Pre Spotted in the Flesh
Monday, February 16, 2009 10:41:19 AM

With the 2009 Mobile World Congress in Barcelona now in full swing, several bits of Pre-related news continue to trickle out in the biggest showcase for Palm's new product since last month's WebOS and Pre announcements at CES.
Despite not being demonstrated or officially announced yet by Palm, the first "live" GSM Pre has been spotted in the wild. As reported by Pre Community, a Pre has been photographed with a Vodafone SIM card inserted. So with the eventual appearance of a GSM Pre all but assured by this MWC sighting, the usual questions of pricing, availability and carrier partnerships remain unanswered. The current rumor du jour, however, has the Pre being a Vodafone exclusive at launch and presumably until at least 2010, much like the Sprint tie-up for the CDMA Pre here in the States.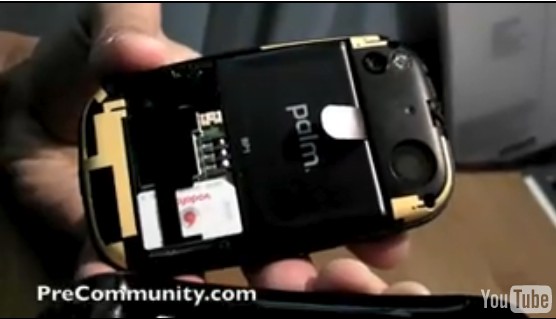 The presence of a SIM card slot is also certain to please conspiracy theorists who remain unsold on the Pre's technical merits. In fact, some will argue the that SIM card slot's presence on a GSM Pre designed simultaneously with its CDMA sibling erves as a total debunking of various Palm staffers' claim that a microSD card slot could not be added to the Pre due to design, formfactor, and engineering constraints.
This sentiment was also echoed in detail by Palm's own Matt Crowley's in a Facebook Q&A session a few weeks ago.
Article Comments
(26 comments)
The following comments are owned by whoever posted them. PalmInfocenter is not responsible for them in any way.
Please Login or register here to add your comments.