Sprint Preps 'War Room' for the Pre Launch
Sunday, May 31, 2009 5:50:41 PM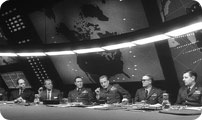 A new Forbes article takes a look at Sprint's extensive preparations and plans for this weeks upcoming Palm Pre launch. Sprint has outfitted each store with specially trained employees, and will have Palm reps and extra employees on hand in many stores come launch day and beyond. The carrier will even have a "War Room" situational center setup in order to monitor the launch, and provide rapid support and tech consultations when needed.
Extra employees will be on hand to manage crowds, says David Owens, Sprint's director of devices. Sprint is also borrowing manpower from partner Palm, which will dispatch representatives to more than 100 Sprint stores across the country. The additional help will stick around for two months, Owens says.
The article also mentions how Sprint is selling calling and Internet plans for the Pre starting at $69.99 a month for the 450 minute everything data package. Sprint says its plans will save customers over the course of the full contract than competing smartphone service packages from AT&T and Verizon.
Sprint will be the only mobile phone company to offer the Palm Pre in the US until the end of 2009. AT&T and Verizon's CEOs both recently made comments that they plan to offer the Pre once Sprint's exclusivity period expires.
Article Comments
(5 comments)
The following comments are owned by whoever posted them. PalmInfocenter is not responsible for them in any way.
Please Login or register here to add your comments.