ALP Powered ELSE Smartphone Announced
Thursday, October 22, 2009 11:46:18 AM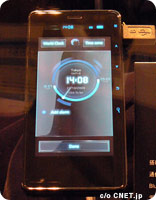 Access and Emblaze Mobile have announced a new Access Linux Platform powered device at an Access developer event going on this week in Tokyo. The device will be branded as the ELSE and is running a specialized version of ALP v3.0 called the Else Intuition platform.
The Else Intuition platform is being billed as a new, complete mobile platform developed by ACCESS and Emblaze Mobile. The heavily capitalized press release states the platform features an advanced new interface engine, accelerated 2D/3D graphics, multitasking and elegant transition effects. Access says that they are actively promoting the device to top-tier mobile operators worldwide, and operator evaluations are currently underway, though there are no other specifics on availability or device specifications (in English at least) at this time.
There is an article on the device with a few photos on CNET Japan. Further details and photos can be found on impress.co.jp [English Translation].
Amir Kupervas, CEO, Emblaze Mobile, said, "Our vision is to create a revolutionary mobile solution that will change users' experience in the mobile arena. Imagine a device that is not a phone surrounded by gimmicks you will not use; where the camera literally replaces your digital camera; you get real-time push email wherever you are on the globe; almost every song and film in the world is one click away; and any one of its multitude of features is reached with no more than one light gesture of your finger and not buried deep inside folders within folders. If you imagine this, you imagine the first ELSE and the capabilities created with ELSE INTUITION. And yes - it is definitely something ELSE. Our relationship with ACCESS and the privilege to leverage ACCESS Linux Platform has allowed us to fulfill our vision and bring it to fruition."
Tomihisa Kamada, president, co-CEO and co-founder of ACCESS, said, "Our goal of providing a complete solution for enabling the creation of advanced mobile devices aligned well with this innovative vision from Emblaze Mobile. ELSE INTUITION provides a perfect showcase for the flexibility and customizability of ACCESS Linux Platform. It underscores our ability to tailor and adapt our technology to suit our clients' requirements and to work directly with our clients to achieve their goals. Emblaze Mobile came to us with a thought-provoking concept to shake up the mobile industry, and I am delighted that ACCESS has been able to provide the software to make it happen."
Thanks to Hokidachi for the tip.
Article Comments
(28 comments)
The following comments are owned by whoever posted them. PalmInfocenter is not responsible for them in any way.
Please Login or register here to add your comments.