Garmin Debuts iQue 3600 GPS Handheld
Wednesday, January 8, 2003 3:58:54 PM
CES 2003: Garmin today unveiled its iQue 3600 personal digital assistant with built-in Global Positioning System (GPS) capabilities at the 2003 International Consumer Electronics Show in Las Vegas. The iQue 3600 is the first product to combine the Palm OS and GPS navigation functionality in a PDA.

The iQue 3600 uses Palm OS 5 and is powered by Motorola's new DragonBall MXL microprocessor, The iQue 3600 boasts internal memory of 32 megabytes, SD memory expansion slot, and a 320x480-pixel transflective TFT display with more than 60,000 color combinations. Additionally the product integrates Garmin's new Que Technology the company's premier application that delivers the benefits of GPS-based location awareness to PDA users.
GPS Navigation
The differentiating feature of the iQue 3600 is its integrated GPS capabilities. Garmin's innovative Que technology delivers location awareness, electronic mapping, automatic route calculation, turn-by-turn voice guidance and map data interface to the iQue 3600. Que technology enables users to see where they are, find a street address or point of interest, know where the next turn is via visual and voice guidance, get back on track when they've strayed off course and navigate efficiently to their desired destination.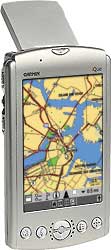 The iQue 3600 features a unique, flip-up GPS antenna that locks in place at two different angles to optimize GPS signal reception and viewing, and it folds discreetly in the back of the unit. When the antenna is in the upright position, it will automatically turn on the GPS navigation function and begin acquiring satellite signals. Likewise, when the antenna is in the closed position, the GPS function will automatically shut off to preserve battery life. The iQue 3600 provides the user with typical accuracy of 20 to 30 feet, or less than 10 feet when receiving corrected GPS data from the Wide Area Augmentation System in the North American coverage area.
Integrated Features
One of the key benefits of technology integration on the iQue 3600 is its patent-pending contact-locator feature. Enabled by Garmin's Que technology, this feature connects the Palm Address Book and Date Book to the GPS electronic map to give the user the ability to navigate directly to a specific address within the user's contact database. Additional integrated features are expected to be available through third-party software developers.
Mapping
On the iQue 3600 installation CD, users can choose a basemap of North America, South America, Europe or regions in the Pacific Rim. The basemap provides the user with generalized information about highways, major city streets, railways, rivers, lakes and state, provincial and national borders. The user-configurable basemap makes the iQue 3600 a versatile companion for the international frequent flyer who travels between New York and London or San Francisco and Hong Kong.
Users gain the additional benefit of detailed street information on the included MapSource CD-ROM. When the street data is downloaded into the iQue 3600, users can look up addresses, restaurants, hotels, local attractions, transportation hubs, emergency services and much more. Once the user has identified an address, he or she can navigate to it with a simple stylus tap via the device's automatic route generation, which guides the user along the shortest or fastest route based on researched traffic patterns. Instead of looking at street signs in an unfamiliar city, users can enjoy the ride with the iQue 3600 by following the audible and graphical turn-by-turn directions. An optional car kit comes with an automotive mount and speaker system to amplify the voice guidance feature.
The iQue 3600 is also compatible with Garmin's extensive line of additional MapSource products, including U.S. Topo, Fishing Hot Spots and BlueChart cartography for even greater versatility in navigation.
Specifications of the iQue 3600:
Operating system: Palm OS 5
Data input: Soft Graffiti (writing area can be minimized for full-screen utility)
Embedded features: MP3 player, voice recorder, infrared communication, vibrating alarm and thumb wheel
Audio hardware: Microphone, speaker, headphone jack
GPS features: Location awareness (10 feet or less with WAAS), address look-up, auto routing, turn-by-turn navigation with voice guidance, off-route recalculation, Contact Locator
Processor: Motorola DragonBall MXL ARM 9
Processor speed: 150 MHz
Unit size/weight: 5.0" x 2.8" x 0.8"/ 5.2 oz.
Screen dimensions: 3.8" diagonal
Display information: 320x480-pixel, transflective TFT with 16-bit, 60,000+ color display; bright white LED backlight; and soft graffiti area
Internal Memory: 32 MB DRAM
Expandable Memory: Secure Digital slot
Battery: Lithium Ion
The iQue 3600 will carry a manufacturer's suggested retail price of $589 and is expected to be available in the second quarter of 2003.
Article Comments
(86 comments)
The following comments are owned by whoever posted them. PalmInfocenter is not responsible for them in any way.
Please Login or register here to add your comments.

Comments Closed
This article is no longer accepting new comments.

Only the first 50 comments are displayed within the article.
Click here for the full story discussion page...