Zodiac Gets SD WiFi Drivers and Free Email Client
Thursday, December 2, 2004 3:10:07 PM
Tapwave has announced a Wi-Fi SD card solution for the Zodiac Palm Powered multimedia handheld. In addition to the Zodiac's built-in Bluetooth, users can now use a SanDisk Wi-Fi SD card or the palmOne Wi-Fi SD card. Tapwave is offering a solution that includes a Wi-Fi SD card, drivers and Zodiac enhanced Web Browser and email client.
Available in the Tapwave Online Store for $99.99, the SanDisk Wi-Fi SD card offers connections to popular 802.11b Wi-Fi Hotspots worldwide, providing the highest performance with the lowest power consumption for the Zodiac multimedia handheld. Tapwave is also offering an enhanced Mail application as a free download. The Web Browser is already included on the CD-ROM shipped with every Zodiac handheld.
"We have been waiting for an excellent Wi-Fi solution and are glad to be one of the first multimedia devices to offer it to our customers," said Peng Lim, co-founder and CEO of Tapwave "Now Zodiac consumers have all the power of a laptop computer in a 6.3-ounce multimedia device that can be slipped into a pocket and go anywhere."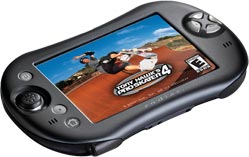 The Zodiac offers a high-resolution (480x320) 3.8-inch color display, Yamaha audio with stereo speakers and vibration effects. The Zodiac can be operated in landscape or portrait mode, allowing Microsoft Word-compatible documents, email or family pictures to be viewed in the orientation that best suits them. The Zodiac also features high-capacity rechargeable lithium batteries for extended use, a touch-screen for direct interaction and text input, and the first ever analog controller with 360 degree of motion in a handheld product.
Both the Zodiac 1 and Zodiac 2 handhelds feature a powerful Freescale ARM9 processor and an integrated ATI graphics accelerator. The Zodiac 1 comes with 32MB of memory and the Zodiac 2 comes with 128MB of memory. Each can be expanded by adding in SD cards in the handhelds two expansion ports, offering up to 2GB of additional storage -- so you can store even more songs, photos, e-books, games, videos, and business documents.
In addition to the Zodiac multimedia handheld and Wi-Fi solution, consumers can choose from over 40 Tapwave Certified titles include: Electronic Arts Madden NFL 2005, id Software's DOOM II, 3D Realms/MachineWorks Northwest's Duke Nukem Mobile, Activision's Tony Hawk's Pro Skater 4 and Midway's SpyHunter, Tiger Team: Apache vs. Hind and GTS Racing Challenge. Along with premiere titles, Tapwave is also offering two game packs -- Z:Pak: Adventure, which will include Galactic Realms and Legacy; and the Z:Pak: Fun featuring Paintball, MegaBowling and Kickoo's Breakout. Zodiac accessories available at retail include the Zodiac Sport Case, Zodiac Cradle, a Zodiac Stylus 3-pack and the Zodiac Deluxe Leather Case. Other announced games for the Zodiac platform include Neverwinter Nights (Atari), Street Hoops (Activision), Motrax MTX (Activision), Tomb Raider (Eidos) and Hockey Rage 2005 (Fathammer).
Article Comments
(26 comments)
The following comments are owned by whoever posted them. PalmInfocenter is not responsible for them in any way.
Please Login or register here to add your comments.

Comments Closed
This article is no longer accepting new comments.