PhoneFavs Mobile Portal Updated
Tuesday, March 24, 2009 12:20:29 PM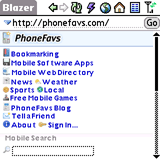 PhoneFavs has recently been updated with a new look and some additional features for mobile browsers. PhoneFavs is a mobile optimized portal, bookmarking service and mobile web directory that provides a number of tools and services for surfing the web on a phone. In addition to a new facelift, the site now has an easy to access mobile search box that can instantly search many leading mobile services such as Google, Wikipedia and others. There is also a new mobile bookmarklet feature that enables users to easily bookmark pages on their device.
Accessible via the shortcut url: pfavs.com, PhoneFavs is a free service designed as a comprehensive mobile homepage. In addition, users can mobilize and import their own desktop bookmarks and access them in a mobile friendly format from any device.
Leave a comment...

Click on the
Start New Comment button
below to begin a discussion.
You must be
registered
and
logged in
to add comments.