AlphaSmart Develops Talking Word Processor for Dana
Thursday, October 21, 2004 9:03:01 AM
Today at the 22nd Annual Closing the Gap Conference, AlphaSmart will preview a new writing solution for their Palm OS Dana unit and Dana Wireless that combines a talking word processor, Write:OutLoud To Go from Don Johnston Incorporated, with its new AlphaSmart VoiceCard, which converts text to speech.
A result of technical collaboration with Don Johnston Incorporated, the leader in learning intervention resources, the solution extends the Dana platform to deliver auditory support capabilities to early writers and those who struggle with the mechanics of writing.
"This new writing solution underscores the importance of collaboration. By working together with Don Johnston Incorporated, we were able to combine their significant expertise in learning interventions, with our ability to create technology solutions that reduce the cost and complexity of computing," said Manish Kothari, president of AlphaSmart. "The result is a unique, affordable, easy-to-use solution that provides early writers and struggling students with an alternative way to master this essential skill."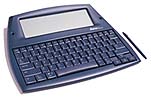 Write:OutLoud To Go provides learning supports that inspire students to evaluate the content of their writing and implement strategies to improve mechanics. Leveraging technology already designed into Dana, students simply plug the AlphaSmart VoiceCard into one of the computer companion's two SD slots and listen to their written words through headphones or speakers.
Auditory support has been proven to have a powerful impact on students who struggle with writing, but until now was only available for use at the desktop. When combined with Dana, students enjoy a versatile, mobile writing solution that can be used anywhere, anytime, and educators benefit from a proven solution that fits their budget.
"This collaboration is critical," said Don Johnston, chief executive officer of Don Johnston Incorporated. "It's essential that we continue to find new ways to provide the considerate supports diverse learners need to be active participants in the content areas. Write:OutLoud To Go and Dana—by delivering auditory feedback—accomplish this for so many students."
Write:OutLoud To Go will begin shipping in November, and will be available for purchase with Dana from either AlphaSmart or Don Johnston Inc. There will be education and discount pricing options available.
About the Dana
Powered by Palm OS 4.1, Dana includes a full-size, integrated keyboard and a 560 by 160 pixel touch screen that is roughly 7.5 by 2.25 inches. The backlit, monochrome screen is 3.5 times wider than what's on the typical Palm OS handheld. The screen image can be rotated both horizontally and vertically. There is also a Dana Wireless version with built in WiFi.
Dana weighs two pounds. It is 12.4 inches wide, 9.3 inches deep and 1.9 inches thick. It is made of strong ABS polycarbonate plastic and has been designed to survive being mistreated. It has an infrared port and two USB ones and can be HotSynced like any other Palm OS model. It comes with a rechargeable battery and an AC adapter. It can also run off three AA batteries. AlphaSmart rates the battery at 30 hours, off of a single charge.
Article Comments
(7 comments)
The following comments are owned by whoever posted them. PalmInfocenter is not responsible for them in any way.
Please Login or register here to add your comments.

Comments Closed
This article is no longer accepting new comments.