Five Tips to Improve the Palm Blazer Browser
Thursday, April 10, 2008 5:15:04 PM

Blazer may not be the fanciest or fastest mobile browser out there, but for Palm users it's what we've got (and have had for the past four years). Whether you're a Centro / Treo user or a Palm PDA diehard, Blazer remains the default browser of choice across Palm's current Palm OS Garnet product line.
Blazer is now going on a few years without a significant update to its NetFront powered core and is starting to show some wrinkles. Yet, with a couple of simple tweaks, Blazer can be fine tuned into a more efficient mobile browsing machine. Read on for our collection of five simple tips to improve your Palm OS browsing experience.
Smooth Those Fonts
FontSmoother is an app that can do wonders to improve the legibility and quality of text throughout the whole Palm OS. In addition to letting your use your own custom typefaces, you can select custom fonts for use in individual applications. In this example we are going to use it to dramatically increase the area of viewable text in Blazer, albeit with a smaller sized font face.
You can generally use any font you'd like, however I'd recommend Tahoma at either a 7 or 8pt size. With this setting pages will look much more pleasant and you'll be able to see much more text on the screen than with the standard font. The screenshots below demonstrate the different font selections on the same page.
| | | |
| --- | --- | --- |
| Blazer Default (Large Font) | Blazer (Small Font) | Blazer with FontSmoother (Tahoma 8pt) |
You can convert Tahoma on your own or download the set here, which we have pre-converted. Make sure you have FontSmoother installed and you have hotsync'd over your converted fonts. In Blazer make sure the Font size option is set to Large, otherwise FontSmoother won't work.
Next launch FontSmoother and select advanced mode, then drill down to web (Blazer) in the app list. From here you can set a custom font for use solely in Blazer. Select the size of Tahoma that you want. 8pt will give you the most improvement, however this comes at the tradeoff of being quite small so your millage may vary. It's best to experiment with different fonts and sizes to find one you're most comfortable with. The custom font may also make the drop down menu and bookmarks display a little wonky, but that is a normal side-effect of the custom font setting.
Blazer Settings
The mysterious Blazer settings menu can make or break your web browsing setup on Palm OS. With these settings suggestions you can speed up and optimize how the browser works.
In the first screen after you press the menu key and tap over to Options, you'll generally always want to have Optimized Mode selected. This generally provides the fastest experience.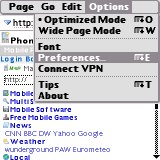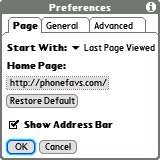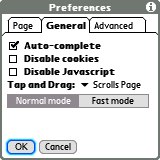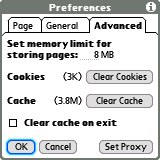 Now head into Preferences. The first screen is the Page tab. Having the "Start With" set to Last Page Viewed is ideal as it lets you resume your surfing from where you left of if you jump to another app or have an incoming phone call. Of course your Home Page should be set to your favorite site or our personal favorite, PhoneFavs.com.
On the General Tab I leave Auto-complete checked, which will let Blazer remember the web addresses and form input values you enter. Some people may want to disable this for privacy reasons. The disable cookies and JavaScript options are best left unchecked and neither will impact your surfing too much.
The "Tap and Drag" setting may be more of a personal choice. I like to set it to "Scrolls Page" as that let you navigate the page easier with your fingers and stylus. Leaving it to "Selects Text" is of course better when you wish to copy and paste from a site, however you can still select words and paragraphs with it in scroll mode by double tapping on the words quickly. Fast mode gives your further options to radically speed up page loads. You can turn off images and page styles completely by enabling this mode, which you can toggle from the main view by clicking on the purple lightning bolt icon.
In the advanced tab, you'll want to set the memory limit for storing pages to something around 8-10MB, or more if you have the free ram to spare. This lets the browser keep a cache of common images and files stores locally so the sites you visit frequently will load faster.
The only other option you need to worry about here is the clear cache on exit checkbox, which should not be checked. If you do check it the browser will have to reload every site and element on each site when you leave the browser. Having this set would also negate the start with last page viewed setting, as you'll have to wait even longer for the site to reload all over again.
SharkLinks
SharkLinks is a handy little free app that enables you to create your application icons for any website or URL. The links you create will show up as shortcuts in the standard Palm OS launcher. When you click on them they will simply launch the site in the default browser. Once you create the shortcuts you can use them however you see fit. I like to setup my own custom category, as seen above, so I have a special dedicated tab for my most frequently accessed sites.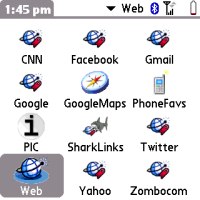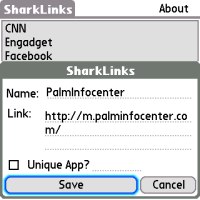 Button Prefs and Shortcuts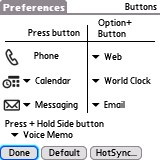 If you don't already have a web button on your device, like on the Palm TX, by default you can easy get to Blazer by tapping the option button and then the phone app key. You can make things even easier but dedicating a single hard button key to Blazer.
Head over to the Palm OS "Prefs" app, scroll down to the Personal tab and select "Buttons". Here you can set your own button preferences and grant yourself one click access to blazer if you'd like.
An alternative option would be to set a "Quick Key" shortcut in the phone app. Depending on your device, select the web tab and hit the menu key, select "Edit Favorites Button" and from here you can assign an unused keyboard key to press and hold in order to launch Blazer.
PhoneFavs
Of course what good would a well oiled browser be without some decent sites to visit? An excellent mobile web starting point is PhoneFavs.com. From here you can find a ton of mobile friendly sites and services. With a PhoneFavs account, you can import your desktop bookmarks and access them on any device in a mobile friendly format.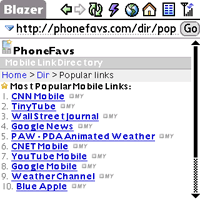 One way to use the site is to setup the PhoneFavs browser buttons on your desktop browser so you can easily add new links to your favs list right from the current page you are on. I like to use this feature to keep a running queue of articles to read later that I stumble across throughout the day at work.
Later in the day when I have some free time, I can access the articles by visiting my "read" tag secion in 'my favs' and catch up on my online reading during downtime on my Treo. You can view a tutorial about this here.
Opera Mini Alternative
Even with all the above tips some users may opt to explore other browsing options. While there are a few alternative choices available, the best in our opinion is the Opera Mini browser. To get Opera Mini setup on Palm OS you must first have the Palm IBM Websphere Java JVM installed. It's no longer available from Palm.com, but you can find a copy here.
Once you get the JVM installed, make sure you set the following options in the main Prefs app > IBM Java VM: check 'Use Double Buffering', check 'Use high resolution coordinates', don't set anything for the HTTP Proxy, set the Memory maximum to at least 4Mb and set the Maximum Java thread stack size to 4kb. Now head over to operamini.com via Blazer and you can download it over the air.
Article Comments
(23 comments)
The following comments are owned by whoever posted them. PalmInfocenter is not responsible for them in any way.
Please Login or register here to add your comments.