Phone Technician Review
by: Kris Keilhack
November 6, 2006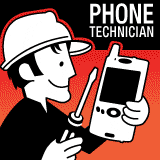 Simply put, in Hobbyist Software's own words, Phone Technician "Makes your Treo a better phone".
A brief rundown of its feature set gives the following improvements:
Mp3/Ogg/WAV/MIDI ringtones
Sound booster to increase speaker volume during calls.
Integrated MP3 player.
Easy conference calling and three-way calling via onscreen prompts.
Easy dialing of a number contained in a message or SMS.
Ability to toggle alarms off during call.
Ability to reduce battery consumption by turning screen off during calls and turning phone on and off at selected times throughout the day.
The recently released version 2.71 adds an 8th feature known as "Call Master" (more on this below).
Testing Methodology & Performance
Due to the comprehensive nature of the application and time constraints for performing this review, I focused on the three aspects of the app that I felt would provide me with the greatest benefit; MP3 ringtones, the in-call volume booster, and disabling alarms during calls.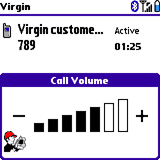 I did spend some brief time using all of the other features and they all worked as expected. I showed the "easy" conference-calling feature to an older, tech-phobic colleague who has consulted me on more than on one occasion in regards to establishing a 3-way call on his cell phone. He claims that Phone Technician's 3-way feature is the "best damn cell phone invention ever".
I already use Pocket Tunes for all of my MP3-playing needs but I did sample the built-in MP3 player for a few tunes. Audio quality was average but this is a BAREBONES, track-by-track player. No detailed track information, no real interface to speak of, and no provision to fast forward or skip through multiple songs. It is worth noting that the audio continues playing after the LCD turns off so take care to pay attention to this to keep your battery from running down.
By far, my favorite aspect of Phone Technician is the volume booster. Of the four people I personally know with Treo 700p's, mine is the oldest, the most heavily used, and the hardest to hear. My hearing is quite good and I still struggle to hear some soft-spoken callers when I am driving or outdoors in a noisy environment. Phone Technician maintains the standard Treo in-call volume bar but adds the little technician icon when the feature is activated. The topmost volume bar also turns red when in "boost" mode. I noticed what appeared to be four additional levels of volume boost past the initial red bar appearance. So my Treo's volume basically goes up to level 14 now vs. the previous level 10. Fantastic. I didn't notice any major distortion in my speaker nor any major impact on battery life. Do note that Phone Technician does not seem to impact ringer or speakerphone volume.
Technical Details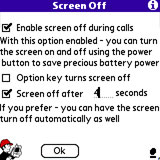 I spent the majority of the review period with version 2.5 of Phone Technician on my 700p but the utility is currently up to version 2.71. 2.71's major addition is the "Call Master" feature, which enables control of phone actions with hard key presses (space bar for speakerphone etc). In brief testing of this new version
The application takes up a mere 98k on the Treo, not counting, of course, whatever space is occupied by mp3 ringtones.
Phone Technician supports the Treo 600, 650, 700p, and presumably, the 680.
A fully functional nagware demo is available for download. Hobbyist Software provides free version updates for a year from date of purchase.
Conclusion
Phone Technician is simply a must-have application for Treo owners who spend more than 10 minutes per day using their devices as a telephone. The combination of Butler and Phone Technician makes for a powerful 1-2 punch. The volume booster part of the PT alone is worth the purchase price. With the added value brought to the table by the other aspects of PT, it's a no-brainer to purchase this app over Volume Care.
My overall rating:

4.5 / 5
Pros:
Solid set of tools to enhance the everyday usability of the Treo as a phone
Gives a fantastic boost to the Treo's earpiece speaker volume
All other features work exactly as advertised, usually with straightforward operation
Menu option to check for updated versions from within the app
Small memory footprint
Cons:
Some features will be of dubious value to many Treo owners
Volume boost does not increase speakerphone or ringer volume
It is very easy to accidentally hang up on callers upon enabling the "screen off during call" feature
Phone Technician is available now for $14.95.
Article Comments
(5 comments)
The following comments are owned by whoever posted them. PalmInfocenter is not responsible for them in any way.
Please Login or register here to add your comments.