Astraware Glyph Review
By: Kris Keilhack
December 27, 2006
Glyph, the latest title in an increasingly flashier line of Astraware puzzle titles, has arrived just in time for the holidays! This latest release from Astraware/Binoteq/Sandlot Games packs a feast for the eyes and ears of Palm OS gamers unaccustomed to such brilliance! Fortunately, wrapped underneath all of the glitz and glamour is a very solid little puzzler that, while not groundbreaking by any means, is certain to appease fans of previous Astraware titles.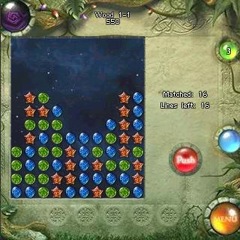 Gameplay and Storyline Overview
While not as addictive or elegantly simple as the Bejeweled series, Glyph, based on the Sandlot PC original version, at least attempts to deviate from the normal puzzle game route by packing a somewhat convoluted storyline into the game about removing stones to rescue the player's dying home world.
Two gameplay modes are present: quest and action modes. I especially enjoyed Glyph's quest mode, as the added trappings of a plot and the additional challenge of a Simon-style memory repetition game make for a more immersive experience. However, once the first "world" has been conquered in quest mode, individual game rounds can become rather lengthy and tedious. I recommend reducing the number of gems required to clear each stage as I do feel this would be a wise move by Astraware for a future program update.
Another small but appreciated touch is the game's ability to support multiple player/user profiles.
Graphics and Sound
The humble Palm OS has never before seen such a showcase audio-visual 2D title. Lush backgrounds and fantastically detailed animations are present on both 320x320 and 320x480 Palm devices. Simply put, I cannot describe how finely-crafted this title looks and sounds.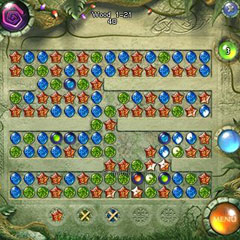 Mere screenshots are a disservice to the game's intricate graphics. I would recommend immediately downloading Glyph's trial as only firsthand experience can do justice to the wondrously detailed graphics! I vividly remember playing Minesweeper and Solitaire on the Pilot 1000 a decade ago, so this is understandably quite a milestone.
My only criticisms with the game's graphics are two minor issues. The first quibble is that the game forces itself into portrait mode on my TX with no provision for landscape mode (I find this orientation more comfortable for extended usage when my TX is in its case). I have no idea how the game would handle the native landscape mode on a Zodiac nor how the LifeDrive's screen rotation button would affect gameplay.
My second complaint is that on my Treo 700p, even with my 20/20 vision, the in-game text has a tiny font that is very difficult to read. With so much occurring onscreen through the game's menus and playfield, I'd really like to have seen an option for enlarging the font within the setup menu or at least blanking the screen during the presentation of hints and tips.
On the audio front, Glyph is probably the Palm OS's finest hour as far as gaming titles go. A rich, varied ambient soundtrack plays throughout the title, menu, and gameplay screens. On several occasions I was nearly lulled to sleep by the soothing new-age instrumentals (think Myst or Columns). The spoken narration is the icing on the cake for this title's technical accomplishments. I just wish that Binoteq/Sandlot had gone the extra mile and enabled voice narration for all in-game text. This would have somewhat mitigated the issue with the difficult-to-read font I mentioned earlier.
Controls and Misc
Glyph occupies 2.6mb of memory, so this install is not for space-constrained Treo 650 users! The game does run properly as a single PRC file from an SD card. Glyph is operated entirely from stylus input and, as a result, will give a Palm device's touchscreen a serious workout.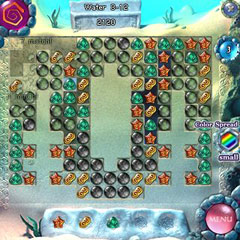 Glyph requires a 320x320 or 320x480 Palm OS 5.x device. The game will not run on 160x160 models. I found no issues whatsoever stability-wise with the 1.00 version on either my 700p or Palm TX.
Conclusion
By sheer virtue of its technical brilliance, Glyph deserves at least a cursory download for anyone curious to see how a creaky old OS without any game-specific APIs can produce a title easily be at home on a PSP or DS.
Given the choice, I would still probably choose Bejeweled 2 over Glyph due to its simpler, more straightforward nature and easier-on-the-eyes graphics that place a lesser reliance on text. Still, Glyph is a notable achievement in every aspect. I applaud Astraware for attempting to meld phenomenal audiovisuals, power-up oriented gameplay, and some modicum of back-story onto what has become a rather staid and worn genre, especially for the Palm OS. All of these factors jazz up what would have otherwise ended up as another rudimentary, run of the mill puzzle title.
Due to its sheer number of levels, two different gameplay modes, and, of course, the astounding graphics and sound, I would heartily recommend Glyph to any Palm OS gamer. Astraware's solid track record for updating their catalog titles with support for newer devices also cannot be overlooked in today's era of frequently abandoned commercial software.
My Rating:

4 / 5
Glyph is available now for $19.95. A Pocket PC Windows Mobile version is also available. A demo version is available for download.
Article Comments
(1 comment)
The following comments are owned by whoever posted them. PalmInfocenter is not responsible for them in any way.
Please Login or register here to add your comments.