Think Outside debuts the Stowaway XT Keyboard
Wednesday, October 30, 2002 11:49:37 AM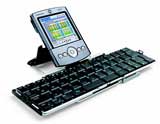 Think Outside, makers of the Stowaway Portable Keyboard (PPK) for handheld devices, introduced their next generation Stowaway XT Keyboard. The XT keyboard is even smaller than the original Stowaway keyboard when closed yet remains rigid when open. The Stowaway XT keyboard is half the thickness and 30 percent lighter than the original Stowaway keyboard. Initially designed to work with the new Palm Tungsten handhelds, the keyboard is marketed by Palm as the Ultra-Thin Keyboard.
Like the original Stowaway keyboard, the Stowaway XT keyboard is touch-typeable, with full-size keys, full-size key spacing, full key travel and tactile feedback, just like the finest notebook computer keyboards. Constructed of an advanced aluminum alloy that is designed for years of rugged use, the Stowaway XT keyboard is quick to open and slips easily into a pocket.
Since the introduction of the original Stowaway keyboard in 2000, Think Outside has sold nearly two million units under the Palm, Targus, Sony, Motorola and Kyocera brand names. In spite of other entries into this market segment - which Think Outside created - the Stowaway keyboard remains the only full-size, touch-typeable folding keyboard, selling more than all other add-on PDA (personal digital assistant) keyboards combined. It has enjoyed a remarkably high user satisfaction level and has won many major awards for computer products and design excellence.
Think Outside's Design Philosophy
The new keyboard advances Think Outside's product philosophy, which is to create truly innovative tools that solve important needs and that take into account physical and sensory realities. The Stowaway XT Keyboard offers mobile professionals full-size, touch typing for doing real work with a handheld, without losing a bit of mobility in the bargain.
"So few products today are designed and built for how real people function," said Bob Olodort, founder and CEO of Think Outside and the keyboard's inventor. "Portable keyboards are an ideal example. Sure, you can shrink the keyboards smaller and smaller, but people's fingers don't shrink, so at a certain point the keys are so small or close together that you lose typing accuracy and comfort. By refusing to compromise on either mobility or touch-typing functionality, Think Outside has set a standard for portable keyboards that has yet to be matched."
Alan Urban, director of accessories and peripherals at Palm Solutions Group, said, "The Palm Ultra-Thin Keyboard is an excellent complement to the new Palm Tungsten handhelds. With the handheld, keyboard and available software applications, mobile professionals and other on-the-go people can compose e-mail messages of any length, write word processing documents, take notes and perform other typing-intensive tasks without having to lug a laptop."
"With the Stowaway XT Keyboard, more people will be able to use their handheld devices for serious computing and communications tasks while mobile," said Phil Baker, president and co-founder of Think Outside. "With so much expected of today's mobile computing devices, the importance of a fully mobile, touch-typeable keyboard cannot be overstated. The original Stowaway keyboard has been a runaway best-seller among users of handhelds and mobile phones, and the next-generation Stowaway XT version takes the full-size, collapsible keyboard concept to the next level of mobility, functionality, convenience and style."
The Stowaway XT keyboard is compatible with versions 4.1 and 5 of the Palm OS software and Palm handhelds that feature the Palm Universal Connector. It meets industry-standard ISO specifications for full-size keyboards, with 18 mm spacing between keys, horizontally and vertically, and 3 mm of key displacement (the distance a key travels when it is pressed). The tactile feel of the keyboard - the way the keys click, for instance - makes the experience comparable to typing on a standard desktop or laptop keyboard. Like the original Stowaway keyboard, Think Outside's newest product uses almost negligible battery power from the handheld device to which it connects, so it does not measurably reduce battery life.
Price and Availability
The Stowaway XT keyboard will be available in Q4 2002 for a suggested retail price of $99 from Palm.com Online Store and other retailers. Think Outside will offer the Stowaway XT keyboard for other handheld devices in the future. Palm and Think Outside will continue to offer the original Palm Portable Keyboard, also known as the Stowaway Portable Keyboard, for a suggested retail price of $79 from the Palm.com Online Store.
Article Comments
(59 comments)
The following comments are owned by whoever posted them. PalmInfocenter is not responsible for them in any way.
Please Login or register here to add your comments.

Comments Closed
This article is no longer accepting new comments.

Only the first 50 comments are displayed within the article.
Click here for the full story discussion page...