Hands-on Review: Clie NX70V
By: Dan Royea,
PalmEvolution.com
March 3, 2003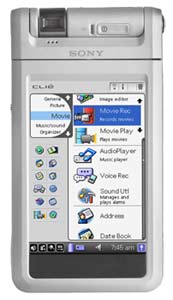 Introduction: When Sony intr oduced their original NR70V, they caused somewhat of a sensation in the PDA world -- it featured an innovative "Flip-and-Rotate" design, a gorgeous half-VGA color screen with "virtual Graffiti", a mini-keyboard, a camera and MP3 playback. The second-generation NX70V is significantly enhanced with a powerful ARM-architecture processor running Palm OS5, an improved camera, optional WiFi wireless capabilities and numerous other refinements. The host of advanced capabilities merit calling this high-end device a "Personal Entertainment Organizer".
Design: The Sony Design Group has crafted some truly iconic consumer electronic designs and the NR-series is a good potential candidate. Why mess with a good thing?
The NX70V is housed in an elegant cast magnesium case with a textured silver finish. (A limited edition "Gunmetal Grey" version sold out very quickly.) It looks very high-tech, and seems very durable.
There are 2 main components, the screen and the base, which are joined by a hinge and a swivel. This allows three basic forms.
- When closed, the screen's metal back is exposed, forming what amounts to a built-in metal case.
- Unfolding the screen section reveals the large display and the mini-keyboard and buttons on the base beneath. In this clamshell form, the base can be held in two hands for thumb-typing, but it feels kind of top-heavy with the screen projecting out. The keyboard itself is made of a grid of circular, very low-profile keys. They are close together and have a layout that you have to get familiar with. It is worth learning though, because it is much less tiring than Graffiti for longer text input. Above the keyboard lie the four application and up/down scroll buttons.
- The screen is swivelled 180 degrees and folded back down to cover the keyboard. This is the more conventional tablet form, which presents the full screen area with Virtual Graffiti. It's really nice, and many users will find this to be their preferred mode of use. The stylus remove towards bottom which takes a little getting used to. The lack of application/scroll buttons in this mode is a potential drawback.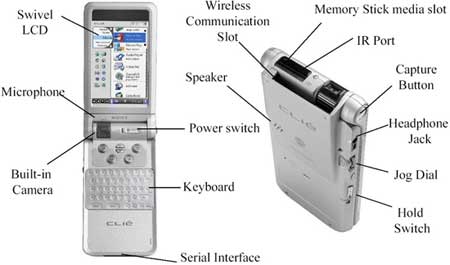 Along the left side of the base are the JogDial, Back button and Hold switch. Above these lies the stereo headphone jack which supports a standard 3.5mm plug . It would be nice to move this jack to the other side so that the other controls could move up to a more comfortable position. A Capture/Rec button on left hinge axis.
The top of the base is straddled by the arms of the hinge, This area contains the rotating camera lens; the Power button (with a bi-color LED that indicates charging status); and a Recording indicator LED. On top are the Memory Stick slot and IrDA/remote window.
Most obvious external difference from the NR is the bulge on the rear of the device to accomodate the "wireless expansion slot" (aka CF slot). It is shaped to fit in the hand nicely but adds to depth, making a device that is already on the largish side a little more bulky.
A speaker is on back, which is reasonably loud for its small size and the Clie Standard Interface connector is on the bottom.
The cradle for the NX matches the handheld perfectly; with a frame of same magnesium alloy and a transparent center insert. Its laid-back style has a big footprint, which is probably necessary - in clamshell mode it would tip over otherwise. A USB cable is fixed to the cradle, but there is a power plug which can be used with the included plug adapter for travel without the cradle. Nice touch.
The NX comes with a pair of basic "earbud"-type headphones and a wired remote first featured with the N760C (the first MP3-capable "Palm"). It is a convenient accessory which allows control of volume; play/pause; skip; hold for music player and movie player applications. Oh, and as has become a standard feature on Clies, there is also a nylon wrist-strap which can be attached to a point on the right hinge axis.
Overall, it's a very nice package.
Hardware: Outwardly, the NX70V looks quite similar to its older sibling, but there are a lot of changes "under the hood".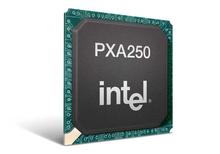 For it's first OS5 device, Sony selected Intel's 200 MHz XScale PXA-250 ARM-processor paired with NeoMagic DSP for multimedia, CF handling and other companion chips. The increased horsepower of the processor in combination with the enhanced capabilities of Palm OS5 allow the potential to be realized. Although the "Palm OS Ready" XScale has sophisticated power management for processor operations, there are many other power-hungry components.
The NX70V has 16MB flash ROM for the Operating System and preinstalled applications and 16MB of RAM, of which only 11MB are available to the user. Memory Stick (MS) removable media is required for music playback and video capture. The MS will have driver upgrade to support the larger capacity and faster MSpro and is IO-compatible for use with the Bluetooth MSIO card.
The screen is a 320x480 pixel, 16-bit color transflective display, with back-lighting. It is very bright, has good color balance, and no "grid lines". It is a big, sharp display area and is essentially the current state of the art. It is very viewable (and much more power efficient) when set to lower brightness settings.
The rotating camera uses a 310k pixel CMOS sensor to capture images four times the resolution (640x480 VGA) of the NR-series camera. It can also capture small sized movies (160x112) with audio. Although the quality isn't the highest, it's a fairly useful tool - if you carry your PDA a lot, you have lots of opportunities to "capture the moment". If you need print quality, you might want to check the 2MP CCD capabilities of the new NX90. If you aren't interested in capturing images at all, the NX60 model is identical to the NX70V except that it doesn't have the camera.
Here are a few sample images taken with the camera. Click on the thumbnail to see the full-size (640x480) image.
The Audio capabilities are great, with a good recording the included headphones sound fine. Higher quality headphones provide *great* sound. :-) The speaker provides decently loud volume for alarms and listening to voice memos recorded with the built-in mic. The NX supports audible alarms through the speaker and blinking LED alerts, but no vibration alert is included.
Power is supplied by a rechargeable lithium ion polymer (LiIon Poly) battery, nominally rated at 900mAh. Claimed battery life is 10 days under "typical" usage scenario: (30 minutes/day with backlight off). Measured powered consumption with backlight off was 115mA; with light from dimmest to brightest: 140-220mA; and when recording a movie to Memory Stick, up to 370mA. Heavy users should get through the day pretty easliy ;-) Recharge time in the included USB HotSync cradle is 3-4 hours for a fully discharged battery.
The NX70V supports a variety of connectivity options: WiFi, of course, is possible with the optional WL100. The standard Sony 20-pin Interface Connector (for USB and serial) also supports the GC10 Game Controller, but disappointingly, not the KB11 Compact Keyboard. The MSB1 Bluetooth Card can be used in the Memory Stick slot, and beaming is avaiable via IrDA.

SPECIFICATIONS

Size & Weight:
5.4" x 2.8" x 0.6-0.9"; 8.0 oz.
Processor:
XScale PXA-250 (200 MHz); Palm OS 5.0
Memory:
16MB RAM (11MB avail.); 16MB flash ROM
Expansion:
Memory Stick (MS PRO compatible)
Screen:
320x480 pixel; 65k color; transflective back-lit
Video:
310K pixel CMOS camera; MPEG4 record/playback
Audio:
stereo headset jack rear polyphonic speaker; mono mic
Power:
LiIon Poly (3.7V, 900 mAh)
Connectivity:
CF II slot*, USB, MSIO, IrDA, Remote Commander LED
*compatible with Sony's PEGA-WL100 Wireless LAN card only


Software: The NX-series is the first Clie to use Palm OS5 on the more powerful ARM processors. This speeds up many applications, and most software seems very "snappy". The majority of pre-OS5 applications are properly written, and typically just work, while an increasing number of applications are being released which take advantage of the power of OS5/ARM.
Sony has made some enhancements to the User Interface, most notably with the Virtual Graffiti area. There is almost universal appreciation for the way Graffiti strokes are displayed as they are made -- it provides great feedback. It can be toggled to Keyboard mode (with alpha, international and numeric layouts) as well as to optional Silk Plug-ins which can show tools such as a calendar display, calculator, etc. in the bottom third of the screen while the main area shows the running application. The bottom of the display has a persistent Status Bar with buttons for Launcher, Menu, Find and Silk Plug-in; indicators for Battery level, Memory Stick, System Volume, Time, and a Silkscreen Collapse button to show more of the application. When this was introduced on the NR-series, the only Collapsable application was PhotoStand. One of the most welcome changes on the NX is that most of the bundled applications support this feature.
The ROM is preloaded with the core set of Palm OS PIM (Address, Date Book, Memo Pad, ToDo List, Calculator) and System applications (Card Info, HotSync, Preferences (with HiRes and Jog extensions), Security) but the NX includes a host of additional programs.
Clie Launcher is an alternate application launcher, which attempts to provide easier JogDial navigation. While it has some intriguing features, and certainly has a more eye-catching design, it is less-efficient than the standard Launcher (still included) which supports the display of "small" versions of Icon and List view -- on a large "hi-res+" screen, that's translates to 40 and 70+ -- a lot of apps :-)
Supplemental productivity applications include Voice Recorder: - offering two modes: SP (22kHz) and LP (8MHz) which can capture up to 520 minutes on 128MB Memory Stick (!); Clie Memo - for quick pen-notes and sketches; and World Alarm Clock. There are also some very useful utilities: Clie Files - McFile-based file manager (replacing MSGate); MS Import - which shows a connected Clie as drag-n-drop external storage in Windows Explorer; Sound Utility - for polyphonic alarms; and the basic but effective MS Backup. Internet applications which are supported by the wireless functionality include Net Front web browser and Clie Mail email client.
As befitting a Personal *Entertainment* Organizer there is a pretty comprehensive suite of multimedia applications too.
For imaging: Clie Camera: - capture up to 640x480 JPEG images; Photo Editor - for adding notes to images; Clie Album - sort and present your images; PhotoStand - displays photos with an optional clock overlay; Movie Recorder - 160x112 MPEG movies with audio (at about 2MB / min); Movie Player - for playback of MPEG1 and MPEG 4; Cross-application integration through Clie Viewer, which lists and allows opening of images, movies, notes, voice recordings; and provides multiple options for opening in a related application, including sending the file as a Clie Mail attachment.
An updated version of Audio Player is provided for listening to either MP3 or ATRAC3 music files. It is skinnable, offers full screen support, has three levels of "Bass Boost" (no graphic EQ yet though) and loses the visualization feature in favor of the much more useful playlist sorting.
A copy of Macromedia's Flash 5 is included along with a couple samples, but for a real treat, load up Tricorder and check it out.
Another exclusive is Clie RMC, which allows remote control of various home entertainment components.

Full versions of DataViz Documents To Go (Standard) for MS Office view and edits; StreetFinder Express mapping software; and PowerOne Personal calculator are included as well as a broad range of trial-version applications (see the NX website for the full list).
Also on the CD are Palm Desktop 4.0.1 for Windows, as well as Intellisync Lite for syncing with MS Outlook and Lotus Organizer. Mac users can use Missing Sync.
Other bundled applications are included for transferring multimedia files between the Clie and the PC: Image Converter and PictureGear Studio for image and movie syncronizing; Sonic Stage for ATRAC3 music file creation and transfer; Sound Converter for alarm creation; MS Export for transferring files; and GigaPocket, which (if I understand correctly) allows export of Vaio DVR software recordings. (!).
The CD also includes on-line manuals: Handbook (pdf) and Applications Manual (html) - people who are overwhelmed with the broad array of supplied applications are well-advised to refer to this ;-).

Wireless: Wireless LANs based on the 802.11b specification (a.k.a. "WiFi") have become an increasingly popular and widespread method of Internet access over the last few years. The HandEra 330 supports WiFi CF cards, and several WiFi "sleds" for other Palm OS handhelds have been developed. With Sony's WL100 CF card (a $150 optional accessory), the NX70V can also take advantage of this form of wireless connectivity.
Once inserted, the card projects out of the top of the handheld by about 3/4". It would have been nice if it had a lower profile, but it's not too obtrusive. Although the Memory Stick slot is accessible with the WL100 installed, the camera lens is partially blocked if aimed to the back.
Setup is relatively straight forward: after syncing a single 114KB driver file, Network Preferences can be configured for connection to WiFi Access Points. Both 40-bit and 128-bit WEP encryption are supported, and multiple profiles for connection to different Wireless LANs can be configured. Once connected, a green "Link" LED on the card blinks to show data transmission activity.
For Internet applications, the NX70V comes with NetFront web browser and Clie Mail email client, both of which work very nicely over WiFi. Third party communication apps like VeriChat and upIRC are also intriguing uses when the Clie is docked at your workstation as a messaging window..
Besides Internet access, the WL100 can also be configured to perform a wireless HotSync and setting up a remote PC-control application such as WinHand is also possible. Very cool. Now who is going to be the first to develop a wireless webcam app?? :-)
Power consumption is specified as 105-185 mA when transmitting (depending on signal strength) and 18mA when idle. This means that there are definite limits to surfing time. Because the NX70V has a non-removable battery, a supplemental power source (such as the PEGA-BC10) might be worth considering.
In testing, I had great range to my WiFi Access Point (a Sony PCWA-A100) even with a fairly "noisy" environment (2.4 GHz cordless phones and Bluetooth).

The WiFi solution is not the only available wireless connectivity option. Although not currently available in the North American market, the NX70V is compatible with the PEGA-MSB1 Bluetooth card when used with OS5 drivers. This enables connection with Bluetooth-enabled devices like cell phones, other PDAs, PCs and an ever-expanding array of other devices. While Bluetooth has a shorter range and slower data rates than WiFi, it is a more power-efficient technology, and enables a broader range of applications. (Of course, it is a complementary, not a competing technology.)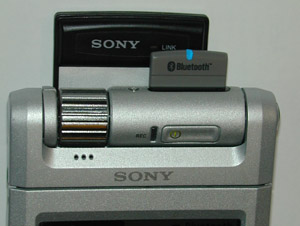 Looking at an NX70V with both the WiFi and Bluetooth cards installed, one has to wonder if Sony engineers have ever been tempted to consider a MS-based WiFi card and a dual MS handheld design...
Market Positioning: Ever since they entered the market with the humble S300, Sony has been calling their line of devices "Personal Entertainment Organizers". In less than three years, their high-end devices have evolved to become powerful networked multimedia devices. The amusement potential is great, and has the potential to get a lot greater seeing as Sony is exploring the home entertainment network in many of their product lines. Although marketed with an "Entertainment" focus, the fact that these are also powerful portable computers shouldn't be overlooked.
Currently, the NX70V ($600) sits in the middle of the range, with the NZ90 ($800) on one side, and the camera-less NX60 ($500) on the other. Even if the high-end devices aren't the top sellers, the Clie NZ- and NX-series enhance Sony's reputation for leading edge audio/video/wireless and influence the consumers regard for the brand, and likely influence sales of their more affordable lines.
So where does the top-end Clie line go from here? The same design path, but further feature enhancement and size increases (a PictureBook micro-laptop running Palm OS one day)? A possibility of the often-hoped-for 320x480 OS5/ARM standard tablet form? It will surely be entertaining to keep tracking this segment of the Clie product line.
Summary: The NX70V is a feature-packed high-end multimedia device that delivers on the promise of the NR-series. It is a powerful OS5/ARM device with WiFi wireless connectivity options. Its a very compelling device for people who really appreciate high-quality high-tech.

PROS

CONS

excellent build quality
loaded with features
great screen
WiFi capable
MSPRO compatible
good application bundle

expensive
battery life
camera is medium-res, no flash
WiFi, Bt require extra accessories
big (-ish)
RATING: 8.4 / 10

Design:
4
elegant, durable, multiple forms
Features:
5
powerful, software, wireless capability
Screen:
5
big, bright and sharp
Battery:
3
adequate capacity, non-removable
Value:
4
pricey, but a great handheld
The Clie NX70V is available now from SonyStyle for $599 USD.
© 2003 Dan Royea, PalmInfoCenter
Article Comments
(29 comments)
The following comments are owned by whoever posted them. PalmInfocenter is not responsible for them in any way.
Please Login or register here to add your comments.

Comments Closed
This article is no longer accepting new comments.