Tapwave Zodiac Pre-orders Begin Shipping
Friday, October 31, 2003 12:39:32 PM

Reader reports have begun to come in that early Tapwave Zodiac pre-orders have begun shipping. The Zodiac is the first Palm OS handheld designed primarily for gaming and mobile entertainment.
Zodiac Shipping Reports
According to user reports, first-day Zodiac preorders are shipping. Customers are notified by an email from Tapwave, that the products ordered are now in stock, and will ship on 10/31. Apparently, Tapwave doesn't ship or deliver on Saturdays, so people who chose the next day delivery option should receive their orders on Monday.
About the Tapwave Zodiac
The Zodiacs focus is on mobile gaming, but it will also feature integrated audio, video and PDA capabilities. The device will also be able to run the already vast library of Palm OS software and PIM apps. There are two versions, the Zodiac 1 comes with 32MB of RAM and costs $299 and has a slate gray finish. A higher end model, the Zodiac 2, comes with 128 MB of RAM and a charcoal gray color and retails for $399.
The Zodiac is based on Palm OS 5.2 and features a 3.8 inch diagonal 480 x 320 pixel screen, analog joystick navigation with integrated triggers and buttons, 3D graphics acceleration, stereo sound and Bluetooth for multiplayer wireless gaming. It will have two SDIO expansion slots for memory expansion, games and accessories such as a digital camera. Internally it runs a 200mhz i.MX1 Motorola ARM9 Processor, and has a ATI® Imageon™ W4200 graphics accelerator (with 8MB dedicated SDRAM) and a Yamaha audio component.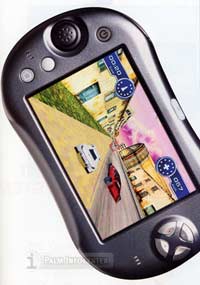 It's dimensions are 5.6" (143mm) x 3.1" (79mm) x .55" (14mm) and weighs 6.3 ounces. The unit will be powered by dual lithium batteries (1540mAh), said to last for 16 hours. The unit comes with a Protective Flip Cover, syncing cable and wrist strap. A cradle is sold separately for $20.
Tapwave has created a comprehensive program to attract and support a broad range of developers and publishers from the professional video game industry and the Palm OS community. Tapwave is will launch with a number of premier video game titles from companies like Activision, Infogrames, Midway, and others.
Launch Games
It will launch with roughly 15-20 games optimized for it including, "Neverwinter Nights," "Tony Hawk", "Spyhunter" and "Doom II." Games will also be sold on SD cards for $29.95. Games that are labeled "tuned" or "certified" for Zodiac are specifically optimized for the console and have passed third-party quality testing. These games must take advantage of specific features found on the Tapwave Zodiac hardware, such as the analog controller, the 480 x 320 display, Bluetooth and more, in order to be awarded with these qualifications.
"The Tapwave Zodiac is an amazing device," said Douglas Edwards, VP of Marketing at Handmark.  "The Zodiac's cool features entice developers to build break-through games that take advantage of its high resolution display, extended battery life, and analog controller. Games like the new Handmark Warfare Incorporated can now deliver a mobile experience comparable to that found on PC size game consoles."
Developer Support
For developers, Tapwave offers a fully customized version of the X-Forge 3D game engine (www.x-forge.com) for rapid prototype and development. In conjunction with the Tapwave hardware offerings, the company will both publish games and continue to aggressively support independent game development specifically for the Tapwave platform. By keeping the platform open, building a strong developer support program, and providing a distribution channel, Tapwave will leverage the thousands of developers focused on mobile gaming and build a strong win-win business opportunity. Since announcing the company in May 2003, more than 500 game developers have signed up for the Tapwave development program and requested the Software Development Kit (SDK).
PalmInfocenter Tapwave Zodiac Forum
Thanks to Craig Simpson and others for the tip.
Article Comments
(20 comments)
The following comments are owned by whoever posted them. PalmInfocenter is not responsible for them in any way.
Please Login or register here to add your comments.

Comments Closed
This article is no longer accepting new comments.